Team / Roster
Active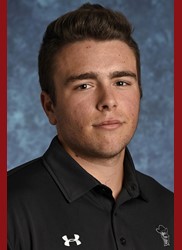 #32

Cooper Williams

Position :

FirstBase

Date of Birth :
Height :

6'1"

Weight :

220

College :

New Mexico State

Bats :

Left

Throws :

Left

Resides :

Gilbert, AZ

School Year :

JR
New Mexico State University College Biography
2018 (Sophomore):
Appeared in 6 games with 8 at bats.
2017 (Freshman):
Appeared in 20 games and made 13 starts as a Freshman…Finished the year with a .250 batting average and 10 RBI…Went 3-for-5 with two doubles and three runs in his second college start on February 19 vs Bryant during opening weekend…Finished 2-for-4 with a walk and a run in a May 2 road win at New Mexico.
Campo Verde HS:
Starred at Campo Verde HS in Arizona…batted .500 as a Senior with five home runs…Broke the single-season school record for doubles (17)…Went 6-3 with a 2.58 ERA on the mound…First Team All-Division 1 and First Team All-District.
Personal:
Born Cooper John Williams on Jan. 25, 1998 in Chandler, Arizona…Son of Steve and Jacque Williams…Has two younger brothers, Hunter (17) and Tucker (17)…Undecided on a Major.