Team / Roster
Active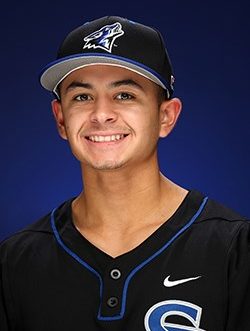 #1

Gabe Chavez

Position :

Infielder

Date of Birth :

08/29/1997

Height :

5'6"

Weight :

160

College :

CSU San Bernardino

Bats :

Right

Throws :

Right

Resides :

West Covina, CA

School Year :

SR
CSU San Bernardino College Biography
2018 (Junior):
Played 2B all season long… One of three Coyotes who hit above .300 (.313 60 for 192)… Led team in doubles with 15 (T4 in the CCAA… Second on the team in RBI (35).
2016-2017 (at Rio Hondo College):
Played two seasons… Team captain his sophomore season at SS and 2B… Named 2017 second-team all conference… Helped team reach state playoffs both seasons.
South Hills HS '15: 
Played varsity for three seasons, graduating in 2015… Team captain his senior season… Two-time all league… Team's Rookie of the Year 2013… Team reached CIF all three seasons.
Personal:
Son of Alex and Luzmaria Chavez… Resident of West Covina… Business major… Enjoys lifting weights, going to the beach and avid fan of Disneyland… In-N-Out is a favorite… Never tires watching the exploits of the Griffin family on Family Guy… Team won 13-under Pony League World Series.