News
Three Runs In First Two Innings Propel Saints to 7-3 Victory Over Visiting MLB Academy
By Arroyo Seco Saints July 07, 2019 10:26pm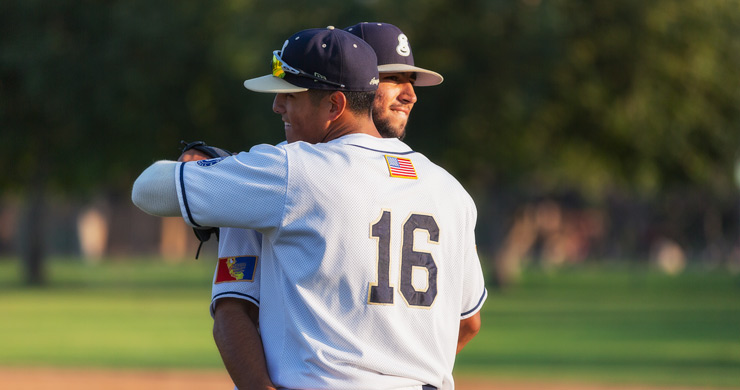 PASADENA, CA – The Arroyo Seco Saints defeated the MLB Academy Barons 7-3 on Sunday afternoon at Jackie Robinson Memorial Field.
The Saints broke the game open in the first inning after the Barons walked left fielder Evan Russell (Tennessee). Russell was able to steal second before making his way home after shortstop Drew Cowley (Pomona) sent a line drive single to center field.
Two more runs were tacked on for the Saints in the second to make the score 3-0. Catcher Thomas McCarthy (San Francisco) was walked to start off the inning. Center fielder Christian Scott (Tennessee) hammered a triple to right field to bring in McCarthy. Scott scored the third run after a sacrifice fly by right fielder Anthony Forte (Richmond).
The runs kept rolling in for the Saints, as they scored four runs in the third inning to take a 7-0 lead. Cowley singled to right field before designated hitter Thomas Luevano (San Diego) had an infield single. With a runner on first and second and no outs, the Saints' newest addition Jayson Gonzalez (Vanderbilt) singled to the gap in left field to bring in Cowley.
"We hit the ball hard tonight and cashed in the runs when we needed to," Gonzalez said. "I just tried to hit the ball hard, get it into play, get in those runs, and help my team win. I want to bring a lot of fun to the team. I want to just help us get to the playoffs and hopefully win a championship."
The scoring continued when second baseman Wyatt Stapp (Cincinnati) bunted down the third baseline before making his way to second on an error, allowing Luevano to score. First baseman Tido Robles slammed a single into the gap in center field to score Stapp and Gonzalez.
The Barons added two runs in the fourth and one in the ninth, leaving the Saints with a 7-3 advantage.
Left-handed pitcher Michael Garza (Incarnate Word) started on the mound for the Saints pitching an impressive four innings with seven strikeouts.
"Our offense was able to jump in front early, so it made my job easier," Garza said. "I was able to throw a lot of strikes and get ahead, it helped me out throughout the game."
Garza was relieved in the top of the fifth by left-hander Hayden Harris (Georgia Southern), who pitched three shutout innings, striking out three. Right-hander Chris Burnette (Pomona) came in to pitch a scoreless eighth inning. Lefty Grant Young (San Francisco) finished the game in the ninth, allowing one run.
"Our pitching is what kept us in the game from the beginning," head coach Aaron Milam said. "Michael Garza is going to pitch on National television on Wednesday night for a reason. The arms definitely set the tempo for the game tonight."
The Saints will take on the San Luis Obispo Blues on Monday at 6:05 p.m. at Jackie Robinson Memorial Field.
—
Contributors
Saints Reporters Grace Mikuriya and Talia Cheatham
Saints Photographer Garrisson Pena
View the live stream of the game on the Saints' Youtube channel
What to Read Next