News
Saints Fall To Blues at Brookside
By Arroyo Seco Saints July 10, 2019 08:05am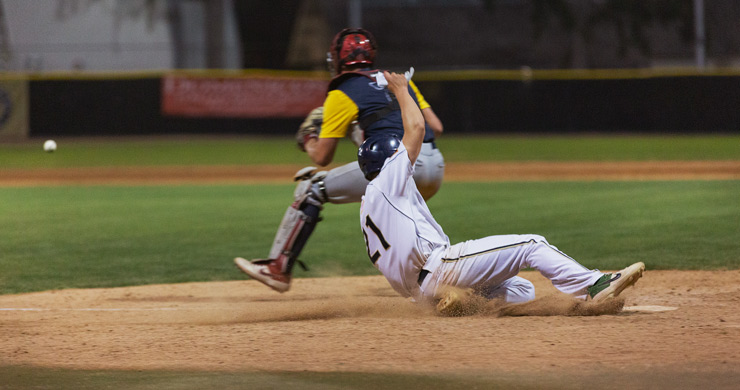 PASADENA, CA – The Saints (13-12) were unable to overcome a large deficit early on in the ballgame before falling, 12-5, to the San Luis Obispo Blues (11-13) at Jackie Robinson Memorial Field on Monday evening. Despite a strong effort to make a comeback, the Blues' lead proved to be too much to overcome.
The Blues scored the first two runs of the game in the top of the first, however, the Saints quickly answered back with two runs of their own. Right fielder Anthony Forte (Richmond) started the inning off with a leadoff double and then scored on an RBI groundout by shortstop Drew Cowley (Pomona). Two batters later, third baseman Jayson Gonzalez (Vanderbilt) collected an RBI single driving in designated hitter Andrew Garriola (Old Dominion).
Right-handed pitcher Drew Atherton (Pomona) started the game on the mound before being replaced by right-handed pitcher Race Gardner (Hawaii-Hilo) in the bottom of the second inning with the Blues in control with an 8-2 lead. Gardner slowed things down for the Blues by retiring the first four batters that he faced.
The Blues scored two more in the top of the fourth giving San Luis Obispo an eight-run lead. One of the highlights from the game was Garriola's aggressive base running in the bottom of the fourth. After reaching first on a single, Garriola proceeded to steal both second and third base, however, was left on base in scoring position.
Left-handed pitcher Jaime Robertson (Emory) replaced Gardner on the mound in the fifth but the Blues would add two more runs in the sixth to take a commanding double-digit lead, 12-2. In the bottom of the seventh, pinch hitter Nik Pagan (Hartford) drove in first baseman Pete Derkay (Tennessee) on an RBI groundout to the shortstop to cut the deficit to nine runs.
The Saints would continue to show progress in the bottom of the eighth after second baseman Thomas Luevano (San Diego) smacked the ball over the left field wall hitting a solo home run to put another run on the board for the Saints. Following the home run by Luevano, Cowley would score on an RBI double by Garriola to make it a 12-5 ballgame.
In the end, the Saints were unable to keep up with the Blues, who collected 19 hits on the evening in comparison to the Saints eight. The Saints hope to answer back in a big way following the teams two days off, because of the 2019 CCL Prospect Game.
Cowley, Forte, Garriola, and Luevano will be joined by right-handed pitcher Michael Garza (Incarnate Word), right-handed pitcher Cage Bullinger (Texas State), right-handed pitcher Colin King (Regis) and outfielder Evan Russell (Tennessee) at the 2019 CCL Prospect Game. The game will be broadcasted live on Fox Sports West on Wednesday, July 10, at 7 p.m. at the MLB Youth Academy in Compton, CA.
—
Contributors
Saints Reporter Armen Shrikian
Saints Photographer Garrisson Pena
View the live stream of the game on the Saints' Youtube channel
What to Read Next