News
Saints Take Game One of CCL State Championship Series
By Arroyo Seco Saints August 05, 2023 12:39am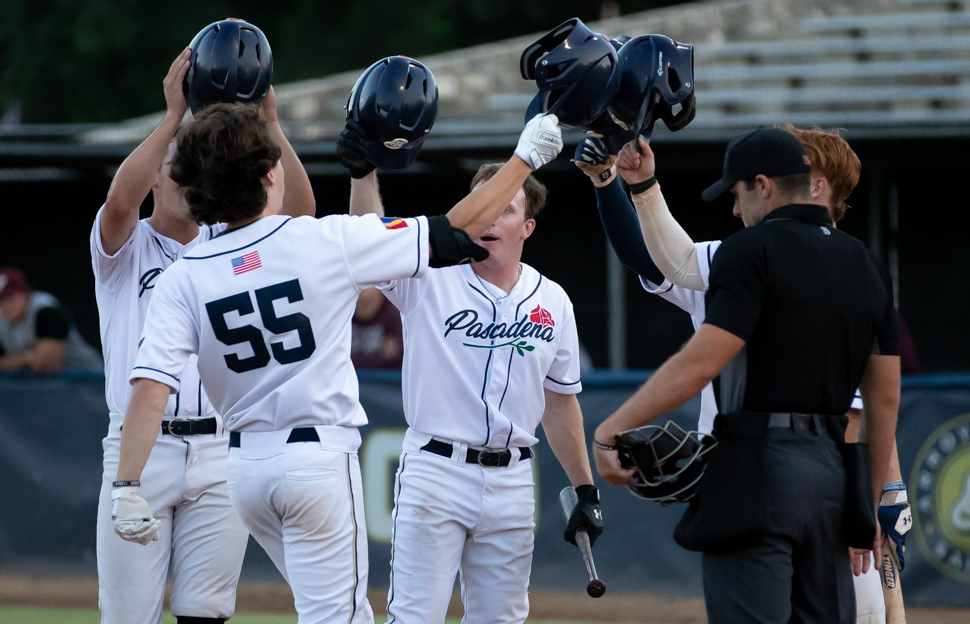 PASADENA, CA — After 6 years playing in the CCL, the Arroyo Seco Saints made their debut in the State Championship tonight. After 8 ½ innings of play, they took game one of the series in a 7-3 victory. 
Despite being #1 in the CCL South, the Saints were the underdogs coming into this matchup. Their opponents, the Healdsburg Prune Packers, have been the league's reigning champions for the past two years. 
The Packers got on the board first off of a double and an error in the second inning. The second run of the at-bat came from an RBI double. Healdsburg added to their lead with a solo home run the following inning. 
The tide finally turned in favor of the Saints an inning later. The fourth inning started with a double from Spencer Rasmussen (Azusa Pacific). Chase Meggers (Oregon) allowed him to score with a single, and the Saints were finally on the board.
With bases loaded and two outs, Connor Bradshaw (Pepperdine) delivered with his second home run of the season. The 383-foot grand slam put the Saints ahead by two heading into the 5th inning. 
Kyte McDonald (Rice), who was responsible for the Saints' sole run in Wednesday's game, extended the lead to three with an RBI single in the 8th. McDonald himself was the 7th run of the night after scoring on a sacrifice fly. 
Meanwhile, Jacob Henderson (Iowa) was holding off the Packers' lineup for the last three innings of the game. He struck out three and allowed no hits to protect the Saints four-run lead. 
"I wanted this to be like just another game," said head coach Aaron Milam. "I didn't change the message — it's always been 'win the week.'"
Another win tomorrow would not only win the week for the Saints, but the State Championship as well. 
Game two will take place at Cal Lutheran University in Thousand Oaks tomorrow at 2 p.m. PST. Tune in to the CCL Youtube to watch live. 
Contributors:
Saints Reporter Sydney Barragan (New York University)

Saints Photographer Sonny Tapia (Cal State Long Beach)
What to Read Next