News
Week 2 Recap: Saints Grab A Pair of CCL Wins
By Arroyo Seco Saints June 20, 2023 01:23pm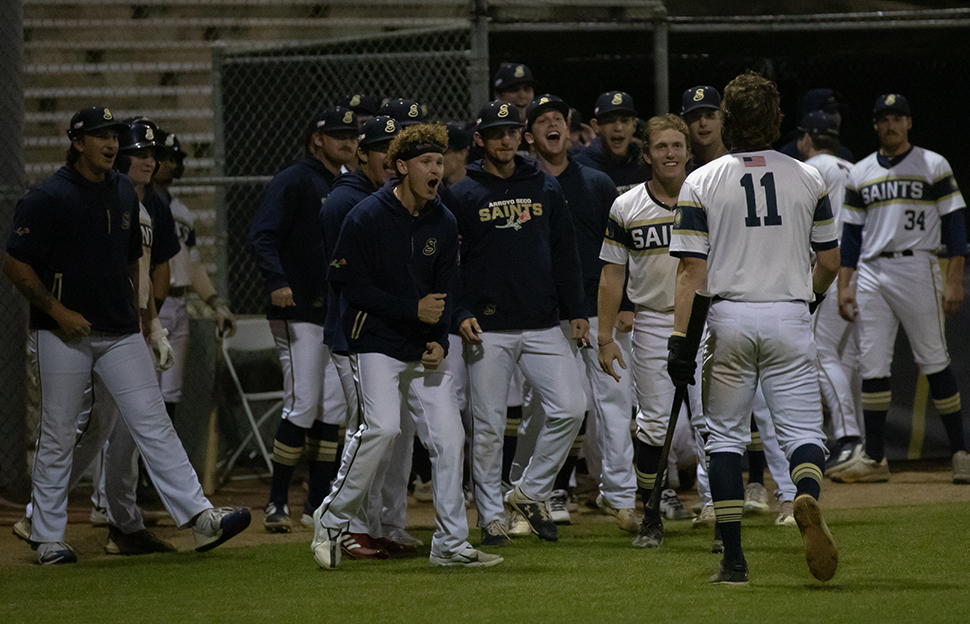 PASADENA, CA – The Arroyo Seco Saints are beginning to get into the rhythm of the rigorous CCL league schedule. With four games in four days this past weekend for the Saints, the team was able to grab their first two league wins of the season. While two league wins are certainly a step in the right direction, the team knows they had a great opportunity to win their third league game Sunday night.
The Saints held the Orange County Riptide scoreless through the first eight innings of Sunday night's matchup at Jackie Robinson Memorial Field. Saints pitchers Bradley Mullan (Oregon), Murphy Brooks (Louisiana), Calvin Bickerstaff (Kent State), and Aaron Treloar (New Mexico State) combined for eight scoreless innings, one hit allowed, and 11 strikeouts.
After a few mental mistakes at the top of the ninth, the Saints were trailing in this ballgame 3-2. While this team easily could have hung their head on a bad half-inning and given up in this game, Jack Little (Wichita State) made sure that wasn't an option. Little connected with a fastball, bashing it over the left-centerfield fence, tying this game up. While this matchup against the Riptide did result in a loss, the energy and chemistry the Saints' displayed in this game are positives they can build on moving forward.
Jack Little's home run in the matchup Sunday was not his only success behind the plate. Little recorded seven hits in 21 at-bats, drove in five runs for the team and stole two bases. This week's impressive performance earned him Saints' Player of the Week honors.
Four of Little's five RBIs came in Friday night's matchup at the MLB Academy Barons. Both of the infielder's hits came in clutch at-bats, scoring a pair of runs on each hit. His four RBIs in this matchup were paired with eight other runs scored, leading to a 12-5 victory and the team's first CCL league win.
Other impressive performances behind the plate in this matchup came from Alex Birge (Wichita State) and Kyte McDonald (Wichita State). Birge roped a bases-clearing triple at the warning track while McDonald drove in two runs and scored four of his own.
On the mound, Carter Herrera (Cal State Fullerton) has been nothing short of amazing for the Saints this season. In this matchup, Herrera threw three scoreless innings, allowing one hit and striking out three batters. The Sophomore pitcher has yet to allow a run this season for the team, a big reason as to why he was named Saints' Pitcher of the Week.
In the Saints' win against the Santa Barbara Foresters Thursday night, the team got a dominant outing from Caleb Reyes (Cal Poly Pomona). Reyes pitched three scoreless innings while allowing only one hit. Relievers Anthony Giannette (Louisiana Tech) and Aaron Treloar (New Mexico State) combined for three scoreless innings as well.
Behind the plate, Alec Jones (Cincinnati) picked a perfect time to deliver his first hit of the Summer for the Saints. His double scored two for the Saints to help extend their lead in this ballgame. Arroyo Seco was able to hold on for a 5-2 win in this matchup.
Moving forward, the Saints face some new opponents this coming week. Arroyo Seco will get a home/away with the San Louis Obispo Blues on Tuesday and Wednesday, then a three-game series against the Conejo Oaks. With five games this week, the Saints have an excellent opportunity to make an early push in the CCL. Contributors:
Saints Reporter Bennett Snyder 

(Ohio University)

Saints Photographer Sonny Tapia (Cal State Long Beach)
What to Read Next