News
Two Up, Two Down: Saints Best Oaks 5-2, Start 2019 Campaign 2-0
By Arroyo Seco Saints June 08, 2019 07:20am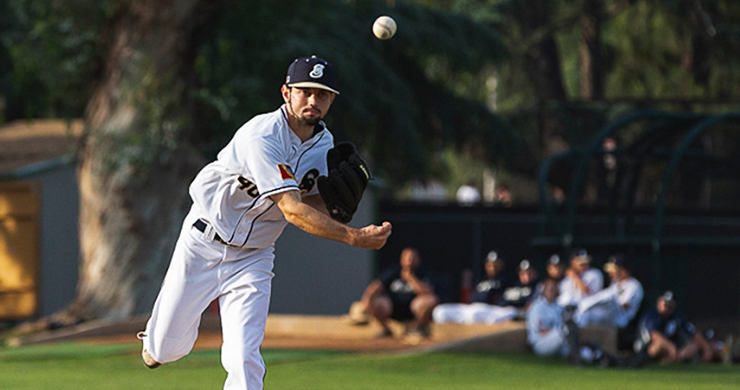 PASADENA, CA – The Arroyo Seco Saints got their second win of the season as they defeated the Conejo Oaks 5-2 on Friday night at Jackie Robinson Memorial Field.
The scoring didn't get started until the bottom of the third inning as third baseman Drew Cowley (Cal Poly Pomona) hit an RBI double to right, scoring Luc Lipcius (Tennessee) from first to give the Saints the early 1-0 lead.
As Saints starting pitcher Colin King (Regis) was cruising in the first three innings, he hit a snag in the fourth as the Oaks got two runs in the inning. With a runner on, first baseman Ryne Yamashiro hit a two-run home run to center to give the Oaks a 2-1 lead.
In the bottom of the fifth, the Saints tied up the game at two as right fielder David Reyna (Arkansas Monticello) hit a single to left scoring Nikolas Pagan (Hartford) from second.
Just an inning after as the score was tied at two apiece, the Saints scored two more runs in the bottom of the sixth. After back to back singles by Cowley and center field Nolan Tressler (Georgia Southern), they were moved over by a fielder's choice. With runners at second and third and only one out, catcher Matt Thomas (Harvard) hit a shot to short causing the shortstop to fumble the ball scoring a run. Shortly after a second run scored on another fielder's choice.
Down two runs, the Oaks were threatening in the top of the seventh. With runners on first and second and only one out relief pitcher, Eli Riechmann (Blinn) got the next two batters to strike out and a fly out to right holding the 4-2 lead.
In the bottom of the eighth, the Saints got an insurance one as Cowley scored on another error by the Oaks.
Cowley finished the game going 2-for-3 with two runs scored and one run batted in.
The Saints bullpen pitched a gem as Richmann and Chris Burnette (Cal Poly Pomona) were combined for eight strikeouts, only allowing three hits and no runs in their five innings pitched of relief.
The Saints will take on the Conejo Oaks once again on Saturday afternoon, but this time the game will be at Ullman Stadium in Thousand Oaks. First pitch is set to be thrown at 4:30 p.m.
—-
Saints Reporter, Jesse Tovar; Saints Photographer, Garrison Pena
View the live stream of the game on the Saints' YouTube channel.
What to Read Next