News
Two RBIs By Forte, Scott Lift Saints Over SLO 5-4
By Arroyo Seco Saints June 29, 2019 12:43pm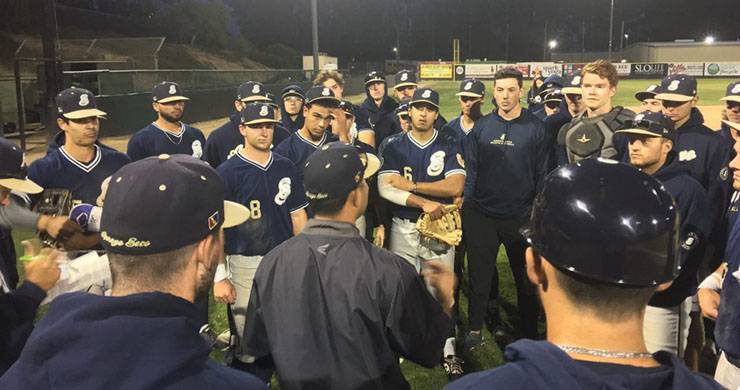 SAN LUIS OBISPO, CA – The Arroyo Seco Saints increased their winning streak to four games after defeating the San Luis Obispo Blues 5-4 on Friday evening.
The Blues took a 2-0 lead in the first inning but the Saints' starting lefty Eli Riechmann (Blinn) was able to silence them for two back-to-back scoreless innings.
The Saints offense heated up in the top of the fourth. Left fielder Evan Russell (Tennessee) walked and advanced to third when shortstop Drew Cowley (Pomona) singled to center. Then, second baseman Thomas Luevano (San Diego) brought Russell home after grounding out.
The Blues managed to add a run in both the fourth and fifth inning, but the Saints scored two runs in the sixth inning to make the score 4-2.
Right fielder Anthony Forte (Richmond) roped a hard grounder down the first base line for a double. Cowley then brought him home with a single to left field.
Left-handed pitcher Trevor Beer (Santa Barbara) relieved Riechmann in the sixth inning.
The Saints' bats came alive in the seventh. First baseman Pete Derkay (Tennessee) walked followed by third baseman Marco Martinez's (Pasadena) single to right field. With runners on first and second and one out, center fielder Christian Scott (Tennessee) sent a rocket to left field for a double to bring in Derkay. Forte then scorched a double to right field scoring Martinez and Scott to give the Saints a 5-4 lead.
"The Blues scored in the first inning and then we did a good job responding, we had good hustle, good at bats, good pitching, and good effort," Forte said. "I was just trying to stay inside the ball and hit something up the middle but he came in again with the cutter and I was a little early, I ran in the barrel and got it down the line, it was a good hit."
Beer kept the Saints on top by pitching a shutout for the remainder of the game, striking out five over the final four innings.
"Biggest thing that happened tonight was, I think, our pitching really gave us a chance to win the game," head coach Aaron Milam said.
The Saints host the Conejo Oaks on Saturday at Jackie Robinson Memorial Field in Pasadena, Calif. The first pitch will be thrown at 6:05 p.m.
__
What to Read Next