News
The Saints Stay Hot and Sweep the Barons
By Arroyo Seco Saints June 29, 2023 02:07pm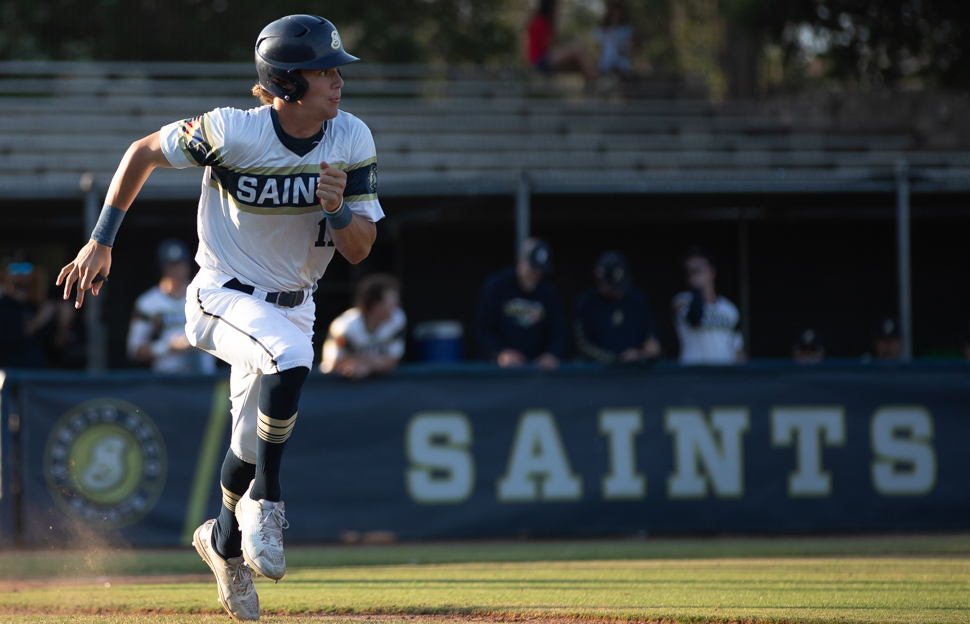 PASADENA, CA — The Saints protected their winning streak with a sweep against the Barons last night at Jackie Robinson Memorial Field. It's the third sweep in a row for Arroyo Seco and the 7th continuous win.
The Barons banked a few hits in their first at bat, but didn't manage to bring a run across. Catcher Chase Meggers (Oregon) nabbed the runner on his way to second to close out the inning. 
Three back to back singles in the Saints' first at bat loaded the bases in time for Alec Jones' (Cincinnati) triple off the wall. James Nelson's (Longwood) sacrifice flyout brought Jones in for the fourth run of the inning. 
The Barons gained some distance on the lead with a solo home run and a two-run double in the second inning. In the first half of the third, they tied the game on a pass ball. 
In the third inning, Saints put runners on second and third with Raider Tello's (Iowa) single and Jack Little's (Wichita State) double. Jones chopped one up the middle which got through the Barons' infield and scored two, reclaiming the lead for the Saints. Richie Morales (Arizona) singled to add another run for good measure. 
The Barons brought in a run in both the 5th and 6th innings. The Saints went to the bullpen with bases loaded in the 6th, and Matthew Holzhammer (Eastern Oklahoma) struck out the last batter to get out of the inning.
Little was 3 for 3 in the 6th with an RBI single up the middle in the Saints at bat to stretch the lead to two. 
There was a bit of tension on the field before the 7th inning stretch after the second Barons' batter took a hit at the plate. Fortunately, the first half of the inning finished without incident. 
An RBI single in the top of the 9th made it a one-run game. Pitcher Hayden Lewis (Arizona) drew a shallow ground ball and took care of the final out himself to secure the 8-7 win. 
When asked if previous wins were the fuel for this team, Little replied, "We just have a ton of fun at the field every day. We've got a lot of chemistry."
The Saints are on the road to play the Santa Barbara's Foresters on Friday. Tune in at 6:00 p.m PST on our Youtube Channel to watch.
Contributors:
Saints Reporter Sydney Barragan (New York University)

Saints Photographer Sonny Tapia (Cal State Long Beach)z
What to Read Next