News
The Journey from the Bright Lights of the College World Series to a Promising Career in Coaching: How Saints Alumnus Mathew Troupe's Career-Ending Injuries Were, in Fact, Career-Beginning
By Arroyo Seco Saints October 17, 2020 10:00am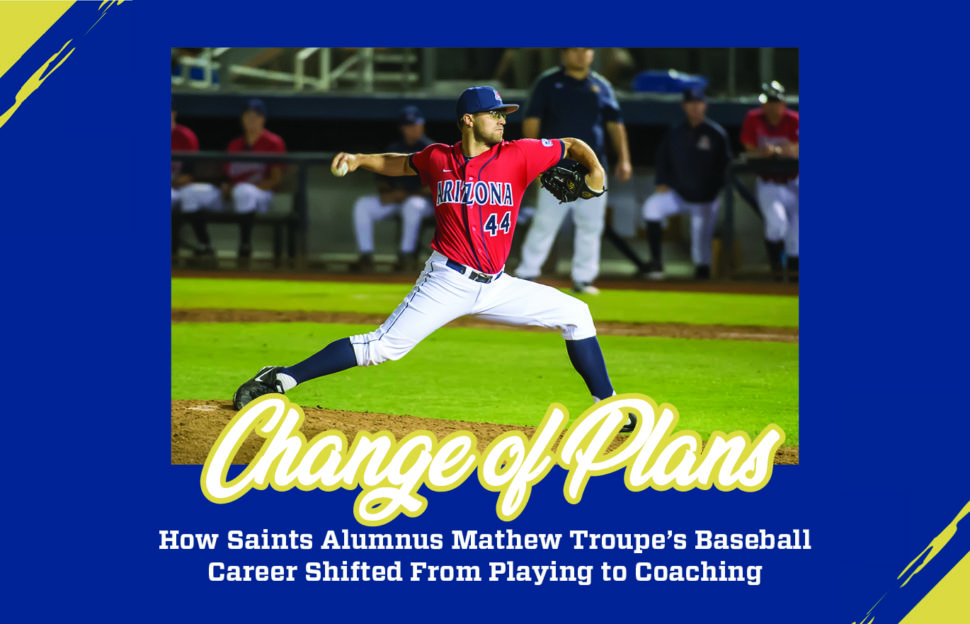 By Hannah Yoshinaga, Saints Reporter
—
For most baseball players growing up, they dream of earning a scholarship and playing for a major college program en route to a career in professional baseball. Former Saints Pitching Coach Mathew Troupe had the same aspirations—and is certainly on that track—but as a coach, instead of as a player.
All the signs pointed towards playing professionally for Troupe. He was recruited by big-name programs while competing for Southern California power Chaminade College Preparatory. He was drafted out of high school by the New York Yankees in the 16th Round of the 2011 MLB Draft, and he pitched at the University of Arizona where he would shine in Omaha on college baseball's biggest stage.
Troupe's playing future was unquestionably bright, but after Tommy John surgery and a shoulder injury cost him his last two seasons at Arizona, his focus would shift towards coaching, and unbeknownst to him, a first step towards a dream career.
"When I was playing in college, when you're in the thick of things, [coaching] never really crosses your mind," Troupe said. "Coaching wasn't even a thought and I just wanted to play pro ball and I was playing at a high level, so the pro route was right there. Coaching was never, ever an option in my mind."
Troupe's baseball career started out like many other athletes' when his dad signed him up for tee ball. He continued on to play baseball, eventually getting good enough for travel baseball. His love of the game translated to much on-field success.
In high school, Troupe earned national recognition as a 2011 Rawlings Second-Team All-American and was named a Perfect Game Underclass Honorable Mention in both 2009 and 2010. In his senior campaign he struck out 91 batters and limited opponents to a just a .157 batting average.
While he was beyond thrilled to be drafted by the Yankees, he ultimately decided to sign with the U of A.
"At that time, I was going to be the first Troupe, the first person in my family, to go to college, so it was a bigger deal to my family," Troupe said. "They used to say, 'Hey, this education will last you a lifetime, whereas baseball, there's going to be an expiration date,' whether that be after playing pro ball or maybe never getting the opportunity to pay pro ball."
Upon his arrival in Tucson, Troupe immediately found himself in a key role on the team. Then-Head Coach Andy Lopez designated him the team's closer even though he was only a freshman, even trusting Troupe with the ball to close the decisive title game of the 2012 College World Series. Troupe delivered the memorial 3-2 fastball and struck out South Carolina infielder Joey Pankake to keep the game tied, eventually allowing the Wildcats to take the game and the series.
Closing out a National Championship was a highlight reel moment for Troupe and he credits playing at Arizona afforded him many valuable opportunities.
"The education was one thing, but the experience was another," Troupe said. "It gave me the opportunity to mature. Going into minor league baseball, I would've had to mature very fast, whereas in college, you still have a little bit of shelter, especially in a baseball program having a lot of people around you and having a lot of support, so it was a good transition for me to grow, to mature as a human being."
After his sophomore year, the injury bug struck, forcing Troupe to get Tommy John surgery and miss his junior season. Although he went through the challenging rehabilitation process and made his way back to the mound for his senior year, he injured his shoulder soon thereafter and was forced to sit out the season again.
With his chances of playing professional baseball diminishing, he chose to complete his final year of eligibility for Head Coach Greg Moore at Cal State Northridge close to where he grew up.
"That is when my role kind of changed," Troupe said. "I realized that I don't have many [throws] left in my arm, my arm's kind of falling apart on me, so I transitioned myself into a leader role and when I did that, I broadened my scope a little bit and put more emphasis on my teammates and was there for my coaches. I started to really enjoy that feeling of stepping outside of yourself to work with others and help others grow both on the baseball side and as humans."
"I started to learn everything on both sides of the baseball, whether it be hitting, pitching, fielding, off-the-field stuff, the academic stuff. I really started to dive into all that on how to best create an atmosphere for my future players."
Troupe devoted himself to mastering the art of coaching, earning himself a job as the Head Pitching Coach at Emory University in 2017.
"I learned really quick that you can't teach one way," Troupe said. "That's easier said than done because I've been taught certain ways my whole life and certain things work for me as a player. You learn that everybody ticks differently, everybody receives information differently and, whether it be mechanically or mentally, they need to work on different things. Everybody is their own person and learns their own way and needs to be taught their own way."
His next stop was a summer-long stint with the Arroyo Seco Saints in 2018, which gave him the opportunity to reconnect with General Manager Aaron Milam, who had coached against him in high school.
"He ran a great operation, everything was laid out for us, as far as everyone else that had something to do with this, whether it be social media, on-field reporters, the livestream, everybody that helped us out as far as the field and made the whole operation run were great," Troupe said. "The California Collegiate League was super competitive as far as having the San Luis Obispo Blues in it, the Santa Barbara Foresters in it, it was great talent, and then our team, so lucky to have some of the guys on our team. I'm super close with them to this day, we get to talk all the time."
 "It was a fun atmosphere to be in, it was a competitive atmosphere to be in, and in the future, more and more college coaches need to be comfortable sending their players to that league because it's run really well and these players have an opportunity to play at a competitive level and develop. The opportunity that Aaron gave me was great and I will always be a Saint for life now and hope to really be able to give back to the program in the future because they treated me so well, and they deserve the same in return." 
"I was coaching at St. Francis in the Mission League when I first saw Mathew Troupe," Milam said.  "It was 2009, he was a sophomore playing for Chaminade…we were under the lights at Brookside Park.  He played shortstop and then came in to close the last two innings.  It was 9pm at night, I was coaching first base.  As he was warming up, it was one of the few times as a high school coach that I did a double take…the other two times that I can remember happened with Matt Bush and Trevor Plouffe.  After he graduated, I followed his career at U of A, closing out the College World Series, and then his final year at CSUN."
"When he was coaching at Emory, we connected on a local player from the area he wanted to place with us.  That next year when we talked, he mentioned he was coming home, and I jumped on the opportunity to offer him a job with us.  From minute one, he was family…it was like he'd been around years.  That same quality is what made the players gravitate to him.  His knowledge and pedigree is what kept them coming back. After that season, Mathew moved on to the next steps in his career, but he knows that he always has a place with the Saints."
Troupe has now coached at universities and in leagues across the country and around the world. Over the course of his coaching career, he has been lauded by players and fellow coaches every step of the way, making his mark as a compassionate leader with a positive disposition and an unmatched ability to connect with athletes.
After a stop at the University of San Diego, Troupe was offered a coaching position with the Orleans Firebirds of the Cape Cod Baseball League, where he played for two summers in college and earned the nickname "Mayor of Orleans" for his impressive play and affable personality away from the diamond.
Troupe has even gained international experience serving as the head pitching coach of Great Britain's national team throughout the 2019 European Championships.
Troupe has now set his sights on a new goal: becoming the head coach of a Division I college baseball program.
"I love the relationship aspect that I get to have with my players," Troupe said. "Sometimes as a pitching coach, you have your pitching staff, you have your 15 guys that you're running, and what I want to do is have those relationships with not only my pitchers, but with the full team and be the same energetic coach that I am on that side of things."
"Some of the stigma around head coaches is that they're very stern, very tough, and through experience, a lot of head coaches are hard to reach as a player. That's the role I want to hop into and ensure my players that we're going to do this the right way with the program that I want to put in place and we're going to have fun doing it and we're going to grow and it's not just going to be on the baseball field, it's going to be in life in general."
Troupe's career may look nothing like what he assumed it would when the Yankees called but over time, he found that his passion lies in positively impacting the life of every athlete who comes his way instead.
"There's always knowledge to be learned as long as you put yourself out there and allow yourself to learn it," Troupe said. "I learn something new from someone every single day and I make it a point to leave the ballfield having learned something. That has been what I focus on through all of these stops. There's always growth and my job is to find what makes every single individual tick."
What to Read Next