News
Texarkana Tough: Saints' Jackson Cobb Back to Work After Two Years of Setbacks
By Arroyo Seco Saints July 20, 2021 07:16pm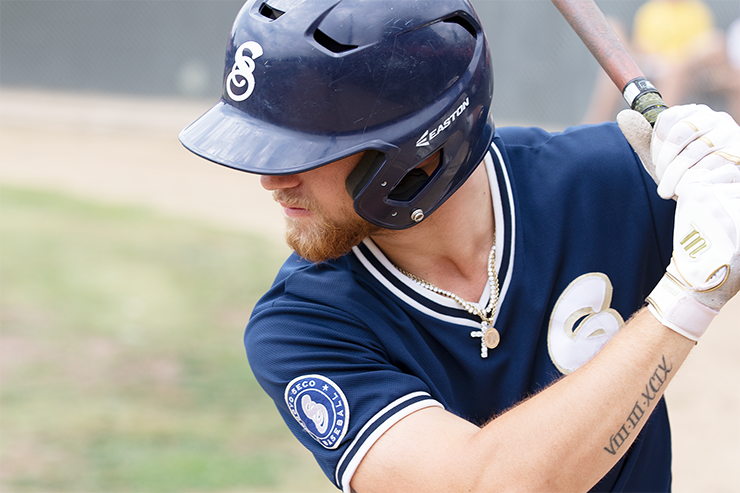 By Joe Pohoryles, Saints Reporter
Jackson Cobb embodies toughness.
He was three years old when, briefly unsupervised, he jumped from a table he was crawling on. His mother, Kristi, gave him an Oreo to stop him from crying.
After a few minutes, he started crying again, so Kristi gave him another Oreo. This process repeated until Jackson's father, Mike, realized the toddler had bitten through his tongue. Due to his age and size, doctors had to stitch it back up without any anesthesia.
"I don't have any memory [of the fall], I just have this scar," Cobb said, pointing to his tongue.
To see a toddler relatively unfazed by a major injury gave Kristi a lasting impression of her son.
"That's why I think: 'Oh, he's just really tough,'" she said.
Now a 19-year-old infielder, that toughness has stuck with Jackson his whole life, and Oreos haven't always been enough to make things easier.
A two-sport star at Pleasant Grove High School in Texarkana, Texas, Cobb played receiver and defensive back in football as well as shortstop on the baseball team. As a senior, Cobb tore his ACL in the first game of the 2019 football season. Cobb's specific injury has a six-to-nine month recovery window; he made it back in five-and-a-half months. Just in time for baseball.
"He was told by a few people, 'just take your senior year off,'" Pleasant Grove baseball coach Riley Fincher said. "He wanted to represent his school and community his senior year, and so he busted his butt."
According to Fincher, who's also an assistant coach for Pleasant Grove football, Cobb routinely went through his rehab routine and still made it back to watch practice. He supported his team all the way through the school's second football state title in three years.
Healed and ready to compete for the 2020 baseball state championship, Cobb batted .563 with five home runs through five games. Fincher noted Cobb's confidence upon return; the shortstop legged out a double for his first hit and slid into second with no fear.
Cobb was poised for an incredible comeback story, then the COVID-19 pandemic robbed him of the rest of his senior season. Unlike most of his teammates, Cobb's baseball career did not end there.
After fielding offers to play football and baseball at a handful of Division II and III schools, Cobb ultimately chose baseball, wanting to play at the highest level.
Originally committed to Louisiana-Lafayette, the Ragin' Cajuns head coach Anthony Robichaux died of a heart attack in July 2019 at the age of 57. With a new coach in place, Cobb decommitted. It wasn't until the day before Signing Day that the University of Arkansas came calling, and so Cobb followed in his father's footsteps.
Mike Cobb played baseball with the Razorbacks in the 1980s, along with stops at Seminole State (a junior college in Oklahoma) and Sam Houston State. He almost signed with the Houston Astros organization, but a separated shoulder cut his career short.
After one semester, the younger Cobb transferred to Texas Tech. Due to transfer rules, he had to sit out this past spring as a redshirt, so this summer with the Saints marks his first full baseball season in over two years.
"It's definitely been a rough few years," Cobb said. "But I just had to keep my head up, really. Definitely the hardest thing I've been through in my life."
Adversity isn't new for Cobb. His sister, Maggie, died in 2010 due to Diffuse Intrinsic Pontine Glioma (DIPG) at the age of 10. DIPG is a rare, inoperable brainstem tumor diagnosed in 150-300 children in the US annually, according to DIPG.org. Initially considered a pediatric disease, adults are increasingly diagnosed every year.
The Cobb family actively works in the cancer research community, partnering with The Cure Starts Now Foundation, the Hero Foundation as well as their own Maggie Cobb Foundation to raise money for St. Jude's and other medical research. Jackson and his twin sister, Georgia, were just eight at the time. He wears a light blue bracelet honoring his sister to this day.
"It profoundly affected Jackson. They were really close," Kristi said. "He actually said, 'she was my best friend.'"
Kristi wants him to become a doctor and cure brain tumors, but supports Jackson's dream of baseball. As far as the medical field goes, Cobb could see himself working in physical therapy, inspired by his own ACL rehabilitation, but he ultimately wants to replace Fincher at Pleasant Grove when his playing days are over and Fincher retires.
"It's really hard to get into PT school, and my passion is sports," Cobb said.
The passion is evident even in the smallest interactions. The Saints were playing the San Luis Obispo Blues at Sinsheimer Park on July 3 when Cobb was coming off the field after flying out to left. A group of kids seated above the Saints' dugout pleaded him to sign some baseballs.
"Did you just get out?" one of them asked Cobb as he took the pen.
"Yeah," Cobb replied, "but I hit it good. All the way to the fence."
After two years of bad luck, Cobb is back playing ball and appreciating every second. When his summer with the Saints is over, Cobb will take his career one season at a time, but his ultimate goal remains clear.
"If I could get better within this next year — like a lot better — and end up getting drafted… that's the dream," Cobb said.
He knows he won't be handed anything, but they say "when the going gets tough, the tough get going."
Among all the hardships, Jackson Cobb keeps going.
For more information about DIPG and ways to support research visit the link below:
https://thecurestartsnow.org/
What to Read Next