Team / Roster
Active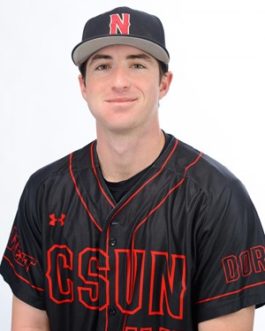 #

Sean Skelly

Position :

Inactive

Date of Birth :
Height :

5'-11"

Weight :

185

College :

CSU Northridge

Bats :

Right

Throws :

Right

Resides :

Mission Viejo, CA

School Year :

R-JR
2019 Season (Redshirt Junior)
Skelly appeared in 50 games, making 41 starts … Served as the team's everyday catcher throughout the year … Led the team in on-base percentage (.432) and walks (33) while he shared the team lead in home runs (7) … Second on the squad in batting average (.288), runs (31) and slugging percentage (.475) … Also tallied 40 hits, 21 RBI and a .432 on-base percentage … Committed two errors on the year … In the Big West, he ranked third in walks, sixth in on-base percentage and tied for eighth in home runs … Hit .301 against league opponents while he registered a .493 slugging percentage and a .469 on-base percentage to go with four home runs … Recorded five home runs, 12 RBI, 12 runs, a .529 slugging percentage, a .443 on-base percentage and a .279 batting average in road games … Collected 11 multiple-hit games on the season … Went 2-for-3 with four RBI, two runs and a home run at Iowa (3/16/19) … Drove in five runs, homered twice, scored three runs and collected three hits in a win over UC Riverside (4/5/19) … Finished 3-for-3 with three runs scored and a walk vs. Hawai'i (4/27/19) … Homered and went 2-for-3 with three RBI and two runs scored at San Francisco (5/17/19).
Orange Coast College 
Skelly played his sophomore season with the Pirates in 2018 … Batted .222 at the plate with six runs, six hits, seven RBI and two doubles in 19 appearances … A member of the Orange Empire Conference title team … Helped the team advance to the CCCAA Baseball State Championship round.
Tennessee 
Skelly appeared in 10 games in his freshman season, hitting .176 with two doubles and two runs scored … Recorded first career hit in his first-ever start vs. Western Kentucky … Made his collegiate debut at Grand Canyon.
El Toro High School
Served as a two-year captain with the Chargers … Earned All-South Coast League honors in his senior season, hitting .355 with 18 RBI … Named to the Scouting News' Top 1,000 Prospects list in 2015 … Also a Perfect Game All-American Honorable Mention … Posted a .430 average with 18 RBI in his sophomore season … Graduated with a 3.8 GPA.
Personal
Born on August 13, 1997 … Parents are Barbara and William Skelly … Has one brother, Liam who played basketball at Chapman University … Favorites include the Los Angeles Dodgers, Kobe Bryant and Future & Young Thug … Lists his mother as his greatest hero … Political Science major.