Team / Roster
Active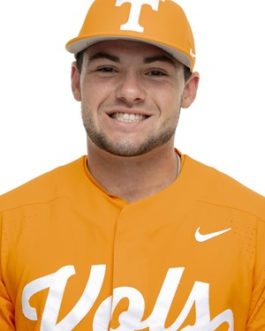 #32

Pete Derkay

Position :

FirstBase

Date of Birth :

01/04/1998

Height :

5'-11"

Weight :

210

College :

Tennessee

Bats :

Left

Throws :

Right

Resides :

Acworth, GA

School Year :

JR
CAREER HONORS
2018 Spring SEC Academic Honor Roll
Tony Gwynn Classic All-Tournament Team — 2017
2019 – JUNIOR
Played in 51 games with 34 starts during the 2019 campaign, hitting .228 with five doubles, three home runs and 21 RBIs
Went 2-for-5 with an RBI in the win over Liberty on June 2 to help the Vols move on to the Chapel Hill Regional Final
Notched a 2-for-4 outing with two runs batted in in a 5-4 loss to Ole MIss (5/18)
Went 1-for-2 with a run scored in a win over Florida (5/11)
Logged a 1-for-4 outing with an RBI in a loss to Missouri (5/5)
Went 1-for-4 with an RBI and a drawn walk in a win over Missouri (5/3)
Went 2-for-5 with two RBIs and a run in a loss to Arkansas on April 26
Hit a homer to right field and got an RBI in a win over Kentucky (4/18)
Homered to right field as well as recording 2 RBIs in a win over Lipscomb (4/9)
Had two RBIs and a .333 average in the series against Mississippi State
Went 1-for-2 and scored two runs in a 5-1 win over ETSU (3/19)
Went 1-for-3 and recorded a double in a win over App State (2/15)
2018 – SOPHOMORE
Played 56 games (55 starts) during the 2018 campaign, hitting .254 with a team-leading 15 doubles and 41 walks, one triple, 32 RBIs and a .402 on-base percentage (second-best on the team).
Tied for 11th in the SEC with 15 doubles and ranked fourth in the league with 41 walks on the year
Notched his team-leading 15th double in the series opener at Mizzou on May 17
Hit .364 (4-for-11) and scored three runs vs. Texas A&M, recording doubles in back-to-back games (4/20-22)
Batted .500 (5-for-10) at No. 13 LSU, scoring twice while driving in two runs (4/13-15)
Collected two hits vs. top-ranked Florida and drove in four RBI over the course of the series (4/7-8)
Doubled and drove in four runs at Western Carolina on March 27
Recorded two hits, scored a run and drew two walks in the series opener vs. Alabama (3/23)
Went 2-for-4 in the first midweek matchup vs. James Madison, hitting a double and driving in a run (3/6)
Hit his first triple of the season in a 2-for-5 effort in Game 2 vs. UNCG that included two RBIs and a scored run (2/24)
Went 2-for-3 and scored two runs while drawing two walks in the series finale vs. Maryland on Feb. 18
Hit his first double of the season in Game 2 vs. Maryland, driving in a run (2/17)
Earned the start at first base in the season opener vs. Maryland, recording one hit in the outing (2/16)
2017 – FRESHMAN
Played 51 games (50 starts) during his freshman campaign on Rocky Top, hitting .288 with six doubles, a home run, 18 RBIs and a team-leading 37 walks (fifth-most in the SEC).
Led Tennessee's lineup in its series opener vs. Missouri, going 2-for-3 (May 18).
Recorded the lone multi-hit game for UT with a 2-for-3 night against Morehead State, helping the Vols to a 4-3 win in extra innings (May 16).
Tied a career-best three RBIs with a 2-for-4 effort in UT's 14-8 win over Belmont (May 9).
Hit 2-for-3 with a walk and two runs scored in UT's rain-suspended/resumed contest against No. 14-ranked Arkansas, helping the Vols to a 5-4 win (May 6).
Collected two walks in UT's 9-3 win at Vanderbilt on April 29, extending his team lead to 31 walks on the season and marking his first multi-walk game since April 4 vs. MTSU (3).
Went 1-for-6 with a two-run double and one walk as part of UT's 5-3 win in 14 innings at No. 20-ranked Texas A&M.
Made his first career start at first base on April 11 at ETSU, reaching base via walk and coming around to score one of UT's two runs in the contest.
Hit .500 (5-for-10) with two RBI, two walks and one hit-by-pitch over three games against No. 7-ranked Florida, helping UT to its first series win in Gainesville since the 2007 season (April 7-9).
Posted a career-high three walks with a 1-for-2 effort in UT's midweek matchup vs. MTSU (April 4).
Combined to go 2-for-11 with one run scored, one RBI and two walks over three games vs. Georgia (March 31 – April 2).
Owned a 14 game streak of reaching base safely, spanning Feb. 25 vs. UC Irvine in the Tony Gwynn Classic (San Diego, Calif.) to the Sunday series finale at Mississippi State on March 26.
Went 3-for-5 in the Saturday contest of UT's SEC Opener series vs. South Carolina (March 18).
Launched his first career home run in Tennessee's 18-4 win over Austin Peay on March 15, going 1-for-1 with three runs scored, three RBIs and two walks.
Hit 3-for-10 with one run and one RBI over three games vs. Norfolk State (March 10-12).
Earned 2017 Tony Gwynn Classic All-Tournament Team honors alongside fellow freshman and teammate Justin Ammons after hitting at a .667 clip over the weekend (Feb. 24-25). He hit one double, one triple and owned a team-best .750 on-base percentage over UT's three games in San Diego, Calif.
Went 4-for-4 with one run scored and one RBI in UT's Tony Gwynn Classic finale vs. UC Irvine, becoming the fourth Volunteer to record four hits in a game on the season.
Recorded his first career multi-hit game on Feb. 24 vs. Seton Hall as part of the 2017 Tony Gwynn Classic, going 2-for-3 with one RBI.
Made his first career start for Tennessee in its season opener at Memphis, going 1-for-3 with two runs scored as designated hitter. He became the first true freshman to start as DH on Opening Day since VFL Nick Senzel did so in 2014.
Was one of four Volunteer freshmen to make the 2017 Opening Day lineup.
Derkay tallied his ninth multi-hit game of the summer on June 22. The Georgia native went 2-for-4, hitting his 10th double of the summer, en route to driving in a run and stealing his first base of the summer in the Bucs' 4-0 win over the Pilots. Derkay was also named to the 2017 ABL American Team All-Star roster
HIGH SCHOOL
Graduated from Allatoona High School in Georgia.
Helped Allatoona to three consecutive Regional Championships (2014-2016), including a 30-5 record in 2015.
Combined for 70 RBI, five home runs and 12 stolen bases during his high school career.
Posted a .392 batting average as a freshman at Allatoona in 2013.
Earned All-Region honors at three different positions (2013-2016).
Tabbed All-State Honorable Mention in 2015 and 2016.
Named to the All-County Second Team three years in a row (2014-2016).
Ranked as the No. 16 catcher and 105th overall player in the state of Georgia. He was also tabbed the 141st catcher in the USA by Perfect Game in 2016.
PERSONAL
Full name is Peter Max Derkay
Born January 4, 1998 in Acworth, Ga.
Son of Howard and Lori Derkay
Has one sibling, Katey
Majoring in Supply Chain Management
Recipient of the Hinkle & Mincey Athletic Scholarship Endowment
Recipient of the Harrison Construction Athletic Endowment