Team / Roster
Active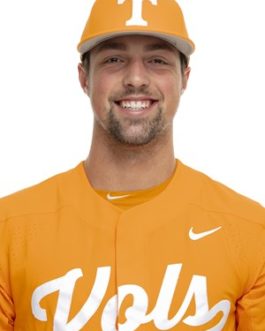 #16

Luc Lipcius

Position :

Inactive

Date of Birth :

05/22/1998

Height :

6'-2"

Weight :

215

College :

Tennessee

Bats :

Left

Throws :

Left

Resides :

Williamsburg, VA

School Year :

SR
CAREER HONORS
2018 Spring SEC Academic Honor Roll
2019 – JUNIOR
Went 2-for-4 with an RBI in a win over Fresno State (3/9)
Notched a triple, three RBIs and three runs while going 2-for-3 in a win over Troy at the Hoover Classic (3/5)
Went 1-for-3 with a home run and batted in runners in a win against Western Kentucky (3/2)
Notched a home run and three runs in a 10-2 win over North Florida (3/2)
Went 2-for-4 in a 2-0 win over MTSU while also scoring a run and a double (2/27)
Went 1-for-3 in a 11-0 win over Indiana on Feb. 23 while also scoring two runs
Also in the 18-0 win over Northern Kentucky, he recorded his first-career triple and just his second-career home run
Hit a new career-high in hits (3), runs (2) and RBIs (5) in a win over Northern Kentucky (2/19)
Got the start on Opening Weekend at first base in a 3-0 win over App State (2/15)
2018 – SOPHOMORE
Played 20 games while making four starts for the Vols primarily at first base. At the plate, he notched three hits and scored four times
Drew two walks and scored a run in loss to No. 14 Texas A&M (4/21)
Had a hit, drew a walk and scored a run in 15-1 victory over UT Martin (4/11)
Went 1-for-2, scored a run and drew a walk vs. top-ranked Florida on April 7 after entering the game as a pinch hitter
Recorded first hit of the season with a pinch-hit single in 9-2 win over Belmont (4/3)
2017 – FRESHMAN
Played 33 games (20 starts) as designated hitter and right fielder during his freshman year on Rocky Top, hitting .256 with a homer and eight RBIs.
Went 2-for-5 in Tennessee's series finale loss at No. 8-ranked Kentucky (May 14).
Launched his first career homer with a two-run blast against Eastern Kentucky, helping Tennessee to a 7-6 win (May 10).
Was 2-for-4 with one RBI and one run scored in UT's 9-2 victory over ETSU in Knoxville (May 2).
Combined for a .429 average (6-for-14) with one RBI and two stolen bases over UT's three games against No. 20-ranked Texas A&M in College Station (April 21-23).
Helped UT to a 5-3 win in 14 innings at No. 20-ranked Texas A&M, going 2-for-6 with one RBI in the Sunday finale (April 23).
Led UT's offense with a 2-for-4 effort at No. 20-ranked Texas A&M, making his first start in right field since the Vols' season opener.
Drew his first career start as designated hitter for Tennessee on April 19, going 2-for-3 with one RBI vs. UNC Asheville.
Went 1-for-1 with one RBI as a pinch hitter in UT's series finale at No. 7-ranked Florida.
Recorded his first career RBI for the Big Orange as a pinch hitter in UT's Saturday matchup at Mississippi State on March 25.
Scored his first collegiate run for Tennessee on March 15 vs. Austin Peay, having reached base via bit-by-pitch and coming around to score as part of UT's 18-4 victory.
Made pinch-hit appearances in Tennessee's Friday and Sunday contests vs. Norfolk State, reaching base via walk in the series finale (March 3-5).
Luc and his brother, Andre Lipcius, became the first-known set of twins to start for the Volunteers in school history.
Made Tennessee's Opening Day lineup against the Memphis Tigers, starting in right field and going 1-for-4 in his collegiate debut. He was one of four true freshmen to start on Opening Day.
On July 17, Lipcius went 2-for-4 and hit his 10th double of the summer vs. Lumberjack. The Virginia native is tied for fourth in the VBL in both doubles (10) and home runs (four). In addition to competing for the North All-Stars in the 2017 Valley Baseball League All-Star Game, he also participated in the 2017 Prospect Showcase, inaugural Southern Collegiate Showcase and the 2017 SE Prospect Showcase. In the non-league games, Lipcius recorded two hits, scored three times and drove in two runs.
HIGH SCHOOL
Four-year letterman and team captain from Lafayette High School in Williamsburg, Virginia
Helped lead Lafayette to a 3A State Championship title in 2015 and hit the game-winning home run to clinch the state title
Hit .375 with three home runs and 18 RBI during his senior campaign in 2016
Ranked as the No. 15 left-handed pitcher and No. 106 overall player in the state of Virginia during his senior season
Named a First Team All-Conference, All-Region and All-State player as a senior in 2016
Over the course of his high school career with Lafayette, he earned All-Conference, All-Region, All-State and All-Gazette honors
Played travel ball with the Richmond Braves out of the state of Virginia
Appeared in the Perfect Game WWBA Underclass World Championships four consecutive years (2013-16)
PERSONAL
Full name is Luc Roger Lipcius
Born on May 22, 1998
Son of Rochelle and Romuald Lipcius
Twin brother, Andre, also plays for Tennessee
Member of the honor roll, math club & National Honor Society as a student at Lafayette High School (Virginia)
Majoring in Nuclear Engineering