News
Stout Pitching, Timely Hitting Highlight Saints' 4-3 Victory Over Foresters
By Arroyo Seco Saints June 14, 2019 08:26am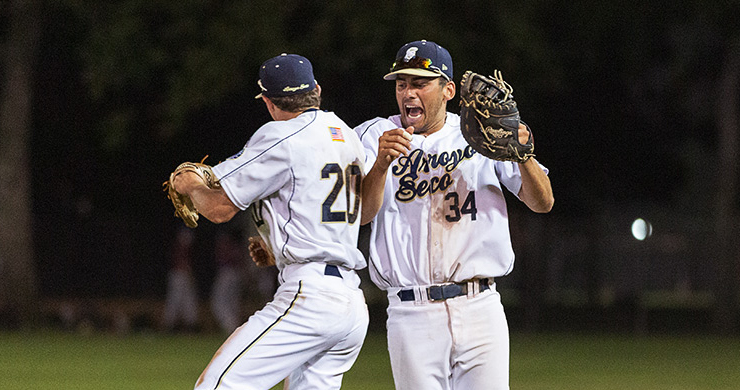 PASADENA, CA – The Arroyo Seco Saints took on the Santa Barbara Foresters at Jackie Robinson Memorial Field on Thursday night, walking away with a 4-3 victory.
After two scoreless innings, the Foresters got on the board with a single run in the third. However, the Saints took the lead in the bottom of the third. With center fielder Christian Scott (Tennessee) on first after being hit by a pitch, second baseman Justin Watari (New Mexico) sent a bomb to center field for a double. The Foresters then walked third baseman Morgan Allen (St. Edward's) to load the bases. Designated hitter Thomas Luevano (San Diego) doubled into the gap in center field to bring in the Saints' first two runs of the evening.
"I was just trying to put the ball in play, something up the middle," Luevano said. "I got lucky, the ball just fell in there, and it worked out."
The Foresters tied it up in the fifth inning after scoring on a passed ball.
After eight strikeouts and only allowing two runs, starting righty Colin King (Regis) was relieved by righty Cade Bullinger (Texas) midway through the fifth. With a runner on first and second, Bullinger was able to get the Saints out of the fifth without allowing anymore runs.
Watari was hit by the first pitch thrown in the bottom of the fifth inning. He then advanced to second on a fielder's choice before stealing third. Right fielder Andrew Garriola (Old Dominion) brought Watari home after grounding out to short.
In the bottom of the seventh inning, Scott drove a fastball to center field and scored on Allen's single to right field, raising the Saints' lead 4-2.
The Foresters managed to score one final run in the ninth, but it wasn't enough to get them the win, as the Saints left with a 4-3 victory.
"Pitching wise, it was a bulldog effort from both guys," head coach Aaron Milam said. "[Our team] can really pitch and pitching wins a baseball game."
Bullinger pitched 4.67 innings, allowing only one run and striking out six.
"I thought I competed well, I just went out there and competed with everything that I had," Bullinger said. "When we pitch, it's when we show our strong suit. Our ability to pitch and pitch well is going to determine how we do this year."
The Saints will host the Orange County Riptide on Friday at Jackie Robinson Memorial Field. The first pitch will be thrown at 6:05 p.m.
—-
Contributors:

Saints Reporters Grace Mikuriya and Giselle Jimenez
Saints Photographer Garrison Pena

View the live stream of the game on the Saints' Youtube Channel
What to Read Next