News
Saints Win Close Game in Extra Innings
By Arroyo Seco Saints July 22, 2023 04:11pm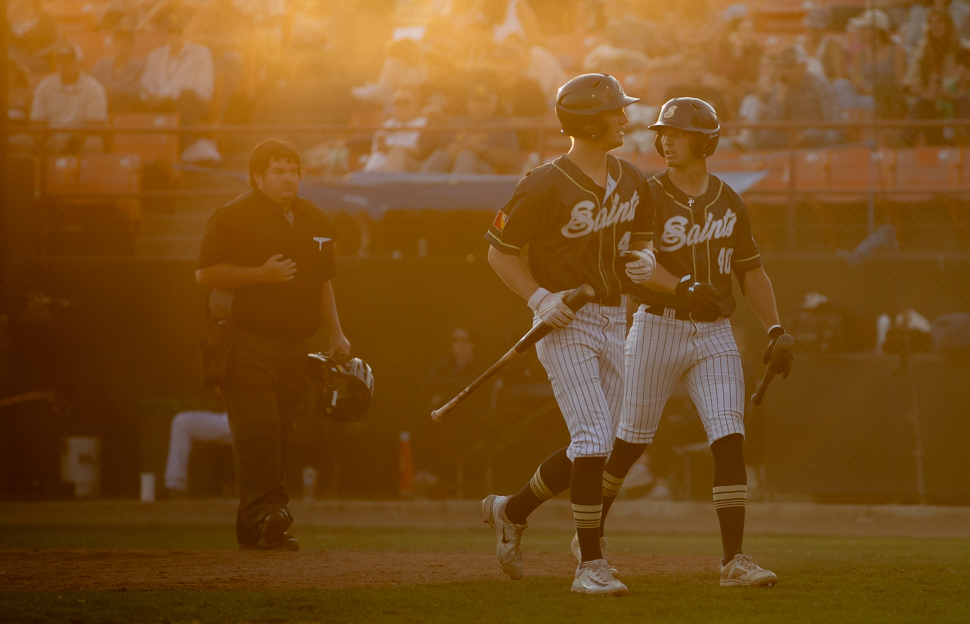 SAN LUIS OBISPO, CA — Away from the sweltering heat of Pasadena and in front of a packed crowd, the Arroyo Seco Saints eked out a victory in extra innings against the San Luis Obispo Blues. It was a big win, as the regular season is quickly approaching its conclusion. 
Caleb Reyes (Cal Poly Pomona), one of the Saints most consistent arms this season, started on the mound last night. In 4 innings pitched, he allowed no earned runs and only 2 hits.
The Saints found the board first in this matchup, bringing a run across in the 2nd off of an RBI single from Kyte McDonald (Wichita State). They were unable, however, to build a safe lead before the Blues brought in a pair of runs in the 4th inning. With two runners on, an infield error gave San Luis Obispo a one-run lead. 
The top of the 5th was a big inning for the Saints. Starting off with a single from the Saints' newest player Thomas Golbranson (St. Thomas), the Saints put two on with only one out. Jared Quandt (Hawaii) delivered a single to place the Saints within one run of the Blues. Jordan Rogers (Wichita State) roped a two-run double to put the Saints back on top heading into the 6th. 
Murphy Brooks (Louisiana Lafayette) and Anthony Giannette (LA Tech) held the Blues' lineup for the next four innings, and the Saints were looking to close out the win in the 9th. The home team, however, seemed to find their groove again in their last three outs. Three hits and an error allowed the Blues to scratch two across and send the game into extra innings. 
The 10th inning was uneventful for both sides, and resulted in a runner being left on base each. The 11th, however, had the remaining fans sitting up in their seats. 
The Saints started with a runner on per International Tiebreaker rules. Alex Birge (Wichita State) successfully moved the runner to third with a sacrifice bunt. Mason Hammonds (Tarleton State) took first after being hit by a pitch, and the Saints two on with only one out. The go-ahead run came off a balk, which also resulted in one of the Blues' outfielders being ejected from the game. Golbranson came in clutch with an RBI base hit that he turned into a triple with some heads-up baserunning. 
The Blues came close after scoring in their half of the 11th, but were unable to catch the Saints. The game ended in a 6-5 victory for Arroyo Seco. 
The Saints will be remain in San Luis Obispo for game two today against the Blues. Tune in to our Youtube Channel at 4:00 p.m. PST to watch live. 
Contributors:
Saints Reporter Sydney Barragan (New York University)

Saints Photographer Sonny Tapia (Cal State Long Beach)
What to Read Next