News
Saints Begin 15th Season on Right Note, Top Defending CCL Champions OC Riptide 6-2 in 2018 Season Opener
By Arroyo Seco Saints June 07, 2018 11:31pm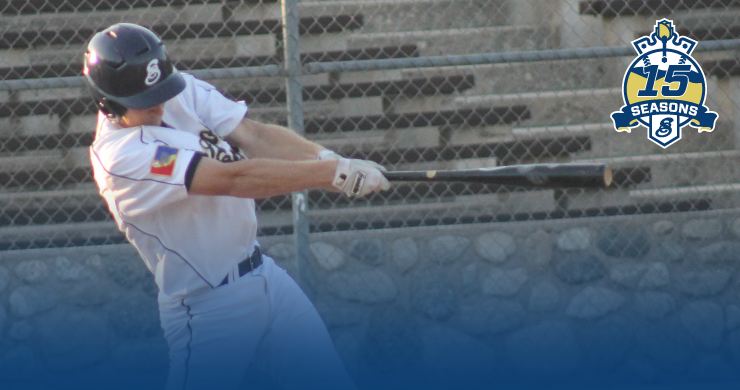 By: Henry Rounds, Cole Stevens; Photo: Emily Moran
PASADENA, CA – First baseman John Thomas notched three hits and a walk as part of a 3-for-3 night at the plate to go with a late inning RBI, the bullpen added five innings while allowing only one run, and the Saints used a pair of Riptide errors late in the seventh inning to help put up a big inning and cruise by Orange County 6-2 in the season and California Collegiate League opener for both teams on Thursday night at Jackie Robinson Field.
With the Saints down 2-1 in the sixth inning, and a new reliever in the game for the Riptide, the Arroyo Seco bats would begin to go to work. John Thomas led off with a double to left-center field, and one batter later, Colin Shepherd laced a single up the middle that tied the game 2-2.
The very next inning, Arroyo Seco would strike again to take the lead and add to it. The Saints started out with back-to-back singles by Brennan McKenzie and Tristan Peterson. The next batter, Jacob Jenkins, would lay down a bunt to third that was thrown away, allowing McKenzie to score from second. Still with no outs, Bennett McCaskill and John Thomas would chip in RBI singles that gave the Saints four in the inning and gave Arroyo Seco a 5-2 lead that would become a 6-2 lead when Colin Shepherd's routine ground ball to second was mishandled. It was the second Riptide error in the inning, and allowed McCaskill to score from third to give Arroyo Seco a comfortable 6-2 lead.
Having only met his teammates on Monday, Saints (1-0, 1-0 CCL) starter Colin King began the season strong, firing four innings to go with just one run allowed to begin the 2018 season. King would have a smooth first outing, allowing only a Riptide (0-1, 0-1 CCL) solo home run to left field, but would settle down and add two more scoreless innings. After the fourth inning, the Saints bullpen faced a tall task looking at five innings of work ahead, but would hold the Riptide to only one run, and end the game with three scoreless innings.
Arroyo Seco had opportunities to score, advancing a baserunner to scoring position in each of the first two innings. However, the Saints could not capitalize until the third inning, with Brennan McKenzie grounding into a fielder's choice to score Drew Cowley for the tying run from third base. The run was set up by heads-up baserunning by Drew Cowley, who raced from first to third on an error by the Riptide infield.
Following the Saints' big seventh inning right hander Joey Steele (1-0) would cruise through a second inning of scoreless work to go with an impressive five strikeouts, and fellow righty Reed Osborne would contribute a scoreless ninth inning to wrap up the Saints' first win of the 2018 season.
They Said It
Head Coach Sean Buller: "Jenkins's bunt that he put on was what we believe was the game changer right there. It's not necessarily the big home run, the big double but that's what set things in motion to make the hits become contagious."
"I like the fact that we threw strikes. We competed and guys had a plan going in just to be able to attack and make it happen. It was good to see guys ready to go."
First Baseman John Thomas: "Every at bat was a little different. First at bat we had take first pitch and I think that was a good idea from the coaching staff to kind of let us see pitches from that guy and it worked. After that, it was moving off the plate a little bit and hoping they throw it where I like it and I got some pitches that I could drive the other way so that was good.
"With guys in scoring position, you expect a lot of pitching backwards so off speed early in the count so I was kind of looking for that. He gave me one first pitch and I kind of just froze and it got to two strikes right away. It was kind of all about just battling, trying to put the ball in play and luckily it found a hole out here."
RHP Joey Steele: "I was getting ahead throwing the breaking ball for a strike and able to use the fastball late. I think that really worked off the curveball in the earlier at bats."
"I just want all the pitchers and everyone to just attack their job and try to execute at the best of their abilities so we can get another win tomorrow."
Next Up
Arroyo Seco hits the road to complete the home-and-home series against the Riptide tomorrow in a California Collegiate League matchup at 4:30 pm. The Saints then return home to Brookside Park on Saturday to take on the San Diego Force on Saturday at 1:05 pm.
What to Read Next