News
Saints Turn Out The Lights On Power 6-2, End Palm Springs' 36-Game Win Streak
By Arroyo Seco Saints July 13, 2019 11:57am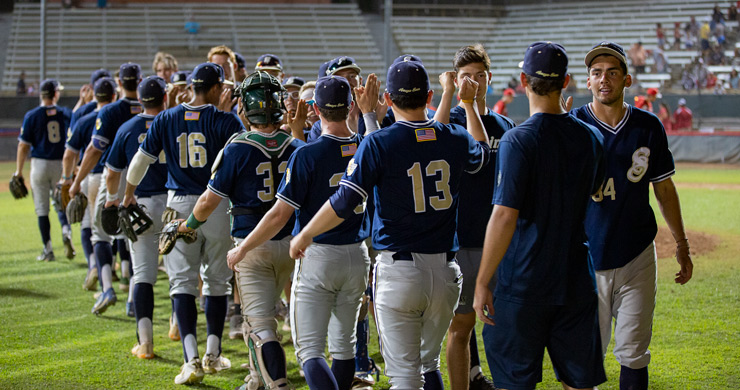 PALM SPRINGS, CA – The Arroyo Seco Saints turned off the lights on the Palm Springs Power's 36- game winning streak, defeating the Coachella Valley team 6-2 on Friday night.
The Saints' bats were on fire in the third inning. A two-out rally resulted in Arroyo Seco taking a 4-0 lead. Center fielder Christian Scott (Tennessee) hit a grounder to the pitcher but was safe at first on a fielder's choice. Right fielder Anthony Forte (Richmond) then slammed a line drive to left field for a single. Left fielder Evan Russell (Tennessee) doubled to left field to score Scott. Then, Forte and Russell made their way home after shortstop Drew Cowley's (Pomona) infield single. Cowley scored the fourth run of the inning when designated hitter Andy Garriola (Old Dominion) cracked a line drive double to the gap in center field.
"With runners on, I was just trying to put a ball in play and make them field it because when you strikeout, it's an easy out," Cowley said.
The Saints tacked on two more runs in the fourth inning. First baseman Pete Derkay (Tennessee) doubled to right field. Then, third baseman Jayson Gonzalez (Vanderbilt) hit a hard line drive to the Power's shortstop and was safe after the ball knocked the glove out of his hand. Catcher Thomas McCarthy (San Francisco) was walked to load the bases. With the bases loaded and no outs, Scott's infield single allowed Derkay to score. Gonzalez then scored off a sacrifice fly to center field by Russell.
Left-handed pitcher Eli Riechmann started on the mound for the Saints pitching an impressive 4-2/3 innings allowing one run and striking out nine.
"I just really filled the zone up at first and gave my team a good chance. Towards the end, I started falling off a little but I kept us in there," Riechmann said. "Everyone did their part, we hit and pitched well."
Riechmann will be joining the Big 12 Conference next year, recently signing with Texas Tech.
"It's an awesome school and baseball team, I'm really excited to go out there and see what I can do for them," Riechmann said.
Riechmann was relieved by left-handed pitcher Trevor Beer (Santa Barbara) in the fifth inning.
The Power put up another run in the sixth inning but the Saints held them off for the remainder of the game.
Beer pitched 3-1/3 innings, allowing one run and striking out seven before being relieved by left-hander Hayden Harris (Georgia Southern) in the ninth.
Arroyo Seco's pitching staff combined to strikeout an impressive 18 Power players.
"We played a good game tonight, our arms came to play," head coach Aaron Milam said. "One of the things that I think really helped us was the weather, it's hot out here and our arms were really loose."
The Saints will head north to take on the Santa Barbara Foresters on Saturday at 6 p.m.
—
Contributors

Saints Reporter Grace Mikuriya
Saints Photographer Garrisson Pena
What to Read Next