News
Saints Top Blues 6-5 in 2019 Season Opener
By Arroyo Seco Saints June 07, 2019 11:19am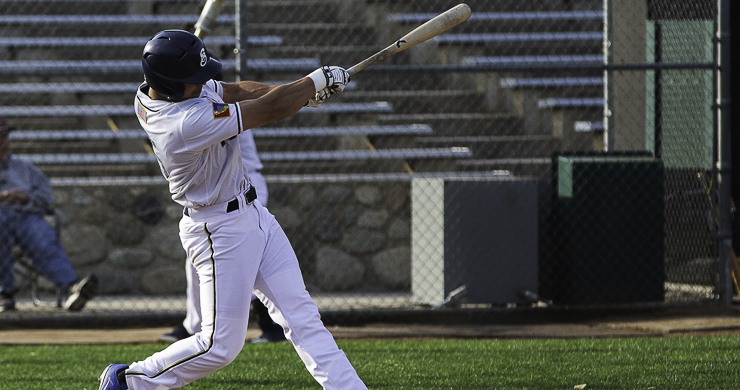 PASADENA, CA – The Arroyo Seco Saints kicked off the 2019 collegiate summer baseball season with a 6-5 victory against the San Luis Obispo Blues at Jackie Robinson Memorial Field in Pasadena, Calif. on Thursday night.
The Saints got the scoring started in the bottom of the first when second baseman Justin Watari (New Mexico) singled to center field. Watari made his way home after left fielder Andy Garriola (Old Dominion) sent a line drive to left field.
In the top of the second, Blues' catcher Brendan Kemps evened the score after finding a gap in center field, bringing in a runner from second.
The Saints quickly rallied in the bottom of the second inning to take back the lead. With no outs and a runner on second and third, catcher Thomas McCarthy (San Francisco) singled, bringing in one run. Right fielder David Reyna (Arkansas Monticello) then singled in McCarthy to make the score 3-1.
Righty Drew Atherton (Cal Poly Pomona) started on the mound for the Saints, pitching a total of three innings. Righty Cade Bullinger (Texas State) relieved Atherton in the top of the fourth.
After two scoreless innings, the Saints added another single run in the bottom of the fifth inning. Third baseman Morgan Allen (St. Edward's) tripled to right field and scored on center fielder Nolan Tressler's (Georgia Southern) ground out to shortstop.
The Blues' bats got hot in the top of the sixth, scoring a total of four runs, to take a 5-4 lead. The Saints brought in lefty Jaime Robertson (Emory), who was able to keep the Blues' scoring at bay and finish out the inning.
In the bottom of the seventh, the Saints took back the lead. With a runner on first, Allen sent a line drive single to right field, he advanced to second on the throw, then advanced to third on an error, bringing in Watari to tie the game. Garriola put the Saints on top with a rocket to center field to bring in the final run of the evening.
Righty Zachary Griggs (UT San Antonio) made his way to the mound in the top of the ninth, giving up no runs and leaving the Saints with a 6-5 victory.
The Saints will take on the Conejo Oaks on Friday at Jackie Robinson Memorial Field. First pitch will be thrown at 6:05 p.m.
—-
Saints Reporter, Grace Mikuriya; Saints Photographer, Garrison Pena
View the live stream of the game on the Saints' YouTube channel.
What to Read Next