News
Saints Tied for First in CCL South After Defeating the Riptide
By Arroyo Seco Saints July 27, 2023 11:51am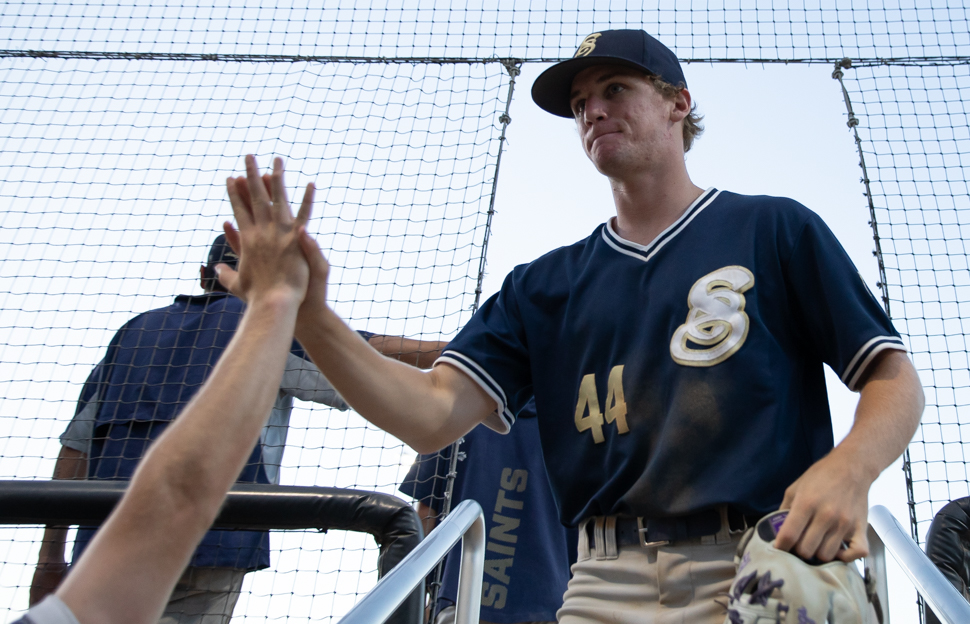 IRVINE, CA — After several games in which the Arroyo Seco Saints came within just one run of the win, they finally managed to defeat the Orange County Riptide. The two are now tied for first in the CCL South just three games away from the conclusion of the regular season. 
The Saints jumped out to an early lead tonight. In the second inning, Spencer Rasmussen (Azusa Pacific), in his second game as a Saint this season, had an RBI double to put the Saints on the board. Building off his momentum, Thomas Golbranson (Chapman) followed up with a single to score the second run of the inning. Jared Quandt (Hawaii) had an RBI single as well and later scored on Max Blessinger's (Belmont) groundball, extending the lead to four. 
Meanwhile, pitcher Carter Hererra (Cal State San Bernardino) was throwing a nearly flawless game. In six scoreless innings, Herrera struck out five and walked none, cementing his role as a surefire arm for the team this season. 
Three singles in the 5th inning scored the Saints 5th run of the evening. They added a run in each of the following three innings as well. 
Quandt started the 6th inning with a triple, scoring on the successive sacrifice flyout. Raider Tello (Iowa) singled in the 7th, eventually scoring on a wild pitch. The 8th and final run for Arroyo Seco came off Blessinger's bat. 
The Riptide finally managed to score in the bottom of the 8th, but were still chasing 6 heading into their final at-bat. Despite the substantial deficit, a rally in the bottom of the 9th had the home team's fans cheering with renewed fervor. The Riptide managed to load the bases and score two before the Saints put one away, but were unable to catch up. The Saints defeated the Riptide — for the very first time this season — 8-4. 
The Saints will be at the MLB Youth Academy tonight to take on the Barons. Tune in to our Youtube Channel at 6:00 p.m. PST to watch live. 
Contributors:
Saints Reporter Sydney Barragan (New York University)

Saints Photographer Sonny Tapia (Cal State Long Beach)
What to Read Next