News
Saints Take Their Second Win in a Row Against the Conejo Oaks
By Arroyo Seco Saints June 25, 2023 02:45pm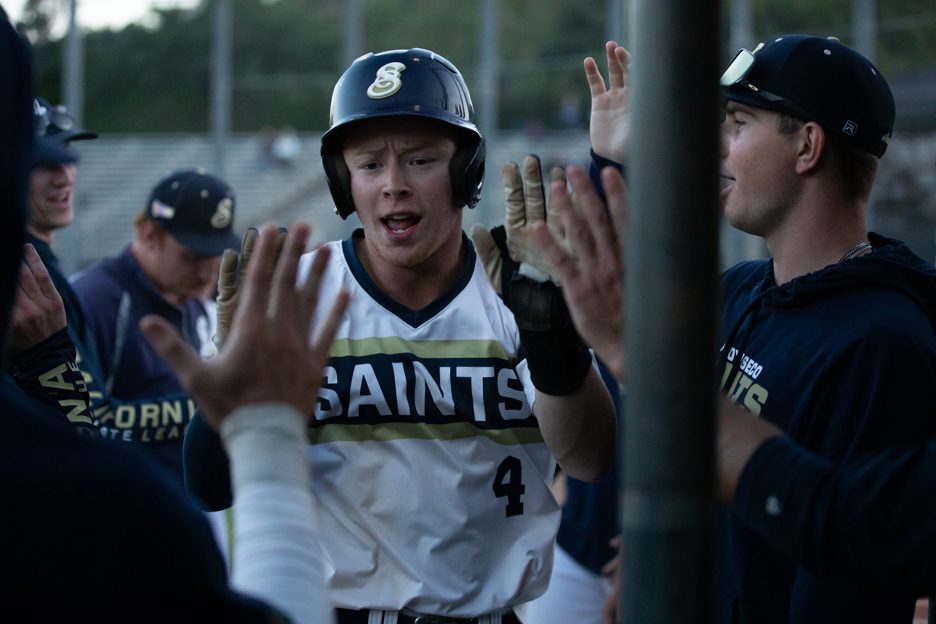 PASADENA, CA — In 75 degrees and under clear skies, the Arroyo Seco Saints faced off against the Conejo Oaks in game two of the series. Despite a rocky start and several stagnant  innings, the Saints hit their stride in the bottom of the 8th and emerged with a victory. 
The Oaks put two on the board in their first at bat, but the Saints were able to cut the lead in half in the bottom of the 1st. Alex Birge (Wichita State) chopped a ground ball up the middle to put runners on the corners. Raider Tello's (Iowa) RBI groundout to the right side brought in Blessinger. 
Carter Herrera (Cal State Fullerton) seemed to find his groove in the second inning, and kept the Oaks scoreless for 3 innings, recording 5 strikeouts before exiting the game. 
While the offense faced difficulties, the defense remained errorless throughout the game. Centerfielder Julian Alvarez (Cal Baptist) contributed with an impressive put out at third in the 6th inning. 
The Saints made it back into the hit column in the 7th inning with Alec Jones' (Cincinnati) single. Kyte McDonald (Wichita State) appeared to beat out a double play and place runners on the corners, but an interference call at second base ended the inning prematurely. 
Like last night's game in Thousand Oaks, the Saints kept fans on the edges of their seats with a late-game rally. A lead-off double from Roberto Gonzalez in the bottom of the 8th put the tying run on second. Richie Morales' (Arizona) line drive to left field had Gonzalez rounding third, but he wasn't in time to score. Max Blessinger (University) scored Morales with a single, and the Saints tied up the game.
With only one out to go, Birge chopped a ground ball that just barely skipped over the Oaks' 1st baseman, resulting in a wild throw from the second baseman. Blessinger scored and took the lead for the Saints. 
Despite multiple setbacks and a one-run deficit hanging over their heads for a majority of the game, the Saints were able to keep spirits high and stay focused. 
"We play nine innings in this league," said Hayden Lewis (Arizona). "It doesn't matter who's winning after four."
The Saints are looking to take game three against the Conejo Oaks tomorrow at Jackie Robinson Field. Tune in to the game live on our Youtube Channel at 6:05 PST on Sunday. 
Contributors:
Saints Reporter Sydney Barragan (New York University)

Saints Photographer Sonny Tapia (Cal State Long Beach)
What to Read Next