News
Saints Take Series Opener in 14-1 Victory
By Arroyo Seco Saints July 28, 2023 10:25am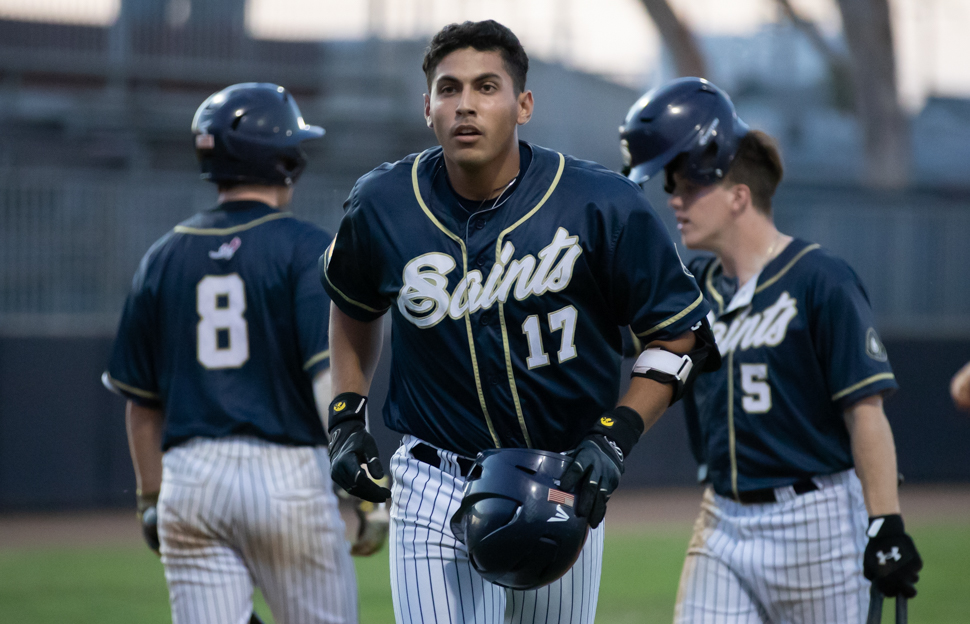 COMPTON, CA — The Arroyo Seco Saints made their way down to Compton to take on the Academy Barons, and emerged with a staggering  victory. It's the first game in the final series of the 2023 CCL regular season. 
A hit batter and two walks loaded the bases with no outs in the top of the first. A groundout double play gave the Barons two outs, but allowed the Saints to get on the board. 
Connor Bradshaw (Pepperdine) took first after being hit by another pitch in the third inning. An overthrow and a single from Max Blessinger (Belmont) put him in position to score on a sacrifice flyout. Blessinger came all the way around the horn on a crushed double by Chase Meggers (Oregon). Meggers scored the third run on a wild pitch.
Blessinger singled again the following inning, where the Saints seemed to really hit their stride against the Barons' pitching. Bradshaw hit a triple to the wall to score the fifth run, then came across himself on an overthrow to third. Raider Tello doubled in his at-bat, and was able to score the 7th run of the game after two back to back singles from Meggers and Kyte McDonald (Wichita State). The fourth run of the running came across off an infield error. 
Tello, after being robbed of a home run in the third, finally sent one over the wall in the 6th. The Saints' 10th run came in on a sacrifice fly out.
Blessinger had his third single of the night in the 7th. Another pair of walks loaded the bases, and the Belmont player was able to score on McDonald's single. Spencer Rasmussen (Azusa Pacific) cleared the bases with a two-out double, and the inning concluded with the Saints leading by 14. 
The Barons were able to ruin the shutout in the bottom of the 9th, but never came within reaching distance of the lead. 
The Saints will return to Compton tomorrow night for game two against the Barons. Tune in to our Youtube Channel at 6:00 p.m. PST to watch live. 
Contributors:
Saints Reporter Sydney Barragan (New York University)

Saints Photographer Sonny Tapia (Cal State Long Beach)
What to Read Next