News
Saints Take Series at Sinsheimer Park, Top Blues 5-3
By Arroyo Seco Saints July 19, 2021 08:29am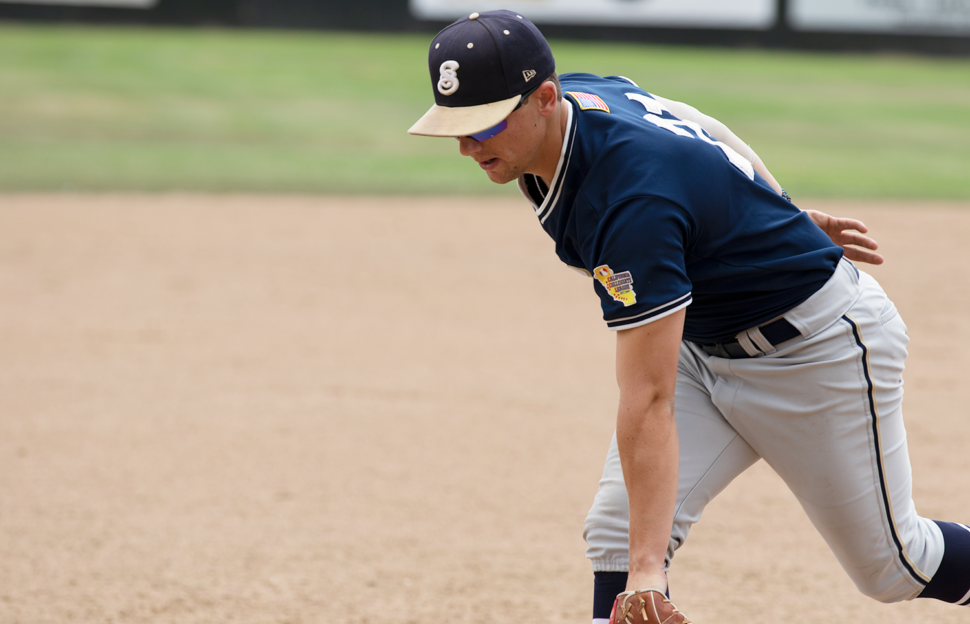 SAN LUIS OBISPO, CA — Drew Cowley's (Cal Poly Pomona) solo home run into left-center field was the cherry on top, as the Saints defeated the Blues 5-3 at Sinsheimer Park.
The first inning kicked off with a Jake McMurray (Oral Roberts) blooper into right field. Cowley then crushed a stand up RBI double into right field to make it a 1-0 Saints lead.
Connor Bradshaw (Pepperdine) walked to start off the third inning, and Cowley delivered again with an RBI sac fly to extend the lead to 2-0.
Josh Cowden (BYU) and Tanner Lindsly (Oral Roberts) both drew walks in the top of the fourth. Brandon Bohning (Cal State Northridge) slammed an RBI double over the left fielder's head, giving the saints a 4-0 lead.
As for pitching, the Blues had no answer for starter David Vizcaino (UC Irvine). He went a solid two innings, with no runs, no hits, and two strikeouts.
The Saints used seven different pitchers, including Rashad Ruff (Coppin State) and Korey Shepard (Azusa Pacific) who made their pitching debuts for the Saints. Ruff forced three consecutive infield fly outs, while Shepard gave up just one hit and had one strikeout.
The seventh inning rolled around, and Cowley's bat didn't stop there. He wasted no time at the plate and crushed a solo home run to put the Saints up 5-1.
"I was just trying to jump on some pitches early, and got a few over the plate and I put some good swings on it," Cowley said.
Coming into this two-game series, the Saints were sitting in first place in the CCL South Division. The Saints are now a game and a half ahead of the Santa Barbara Foresters, and Cowley emphasized how crucial it was to take both games against the Blues.
"It's big. We won the week, swept the week actually, so it's nice to get an off day tomorrow and then back to it, so hopefully we can take this momentum into next week," Cowley said.
The Blues only runs came from an RBI double in the fourth inning, a sacrifice fly in the seventh, and a passed ball in the bottom of the ninth.
Daniel Ritcheson (San Diego State) came in and struck out the last batter looking on a full count to end the game.
The Saints have an off day on Monday, but are back in action against the MLB Academy Barons at Jackie Robinson Memorial Field on Tuesday, July 20, at 6:05 pm PST. Catch the action on the Saints Youtube and social media channels.
Contributors:
Saints reporter Gianna Cefalu
Saints photographer Tom Stafford
Saints videographer Lucas Banks
What to Read Next