News
Saints Take Early Lead, Ultimately Fall 8-6 to Blues
By Arroyo Seco Saints June 19, 2022 01:36pm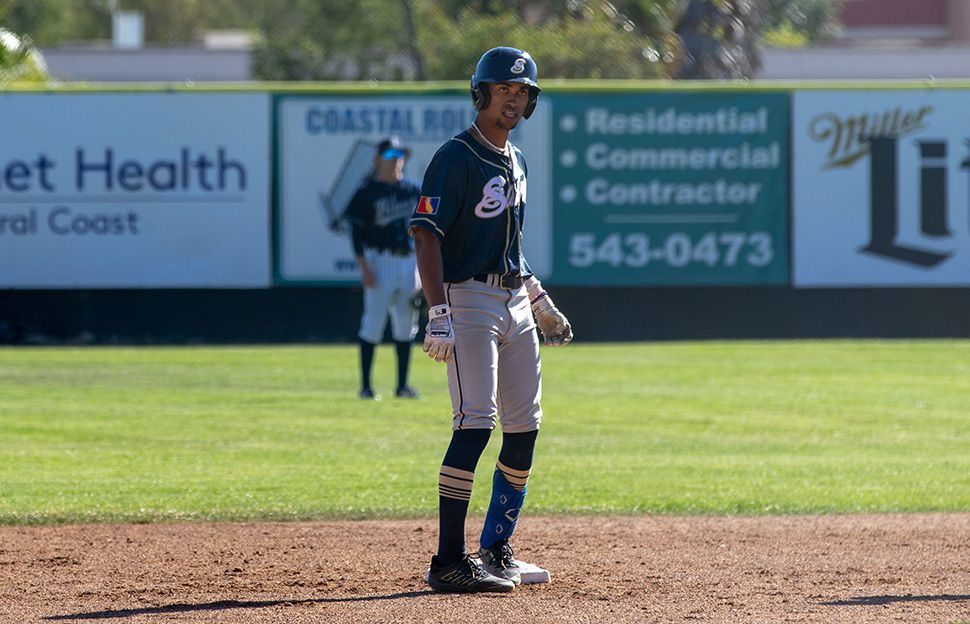 San Luis Obispo, CA – On Saturday, the Saints squared off against the Blues for the third time in five days, traveling 190 miles up the road to Sinsheimer Stadium in San Luis Obispo, Calif.  While the visitors went up 5-0 in the fourth inning, the Blues tallied eight unanswered runs en route to an 8-6 victory. 
The Saints' offense drew first blood in the third when Max Blessinger (Pasadena CC) drilled a double off of the center-field wall. Kyson Donahue (Hawaii) continued his strong start to the season, scoring Blessinger with an RBI single into right field. The third-inning rally continued with Matt Wong (Hawaii) going deep for the first time this season to put his team up 3-0. 
Arroyo Seco's momentum carried into the fourth inning, as Jashia Morrissey's (Long Beach State) RBI single made it a 4-0 ballgame. Another base hit by Donahue allowed Morrissey to score, giving the Saints their largest advantage of the evening. 
However, San Luis Obispo came to life, putting up a three-spot in the fourth and adding two more runs during the next inning to tie the game at five. 
The Blues completed their comeback in the bottom of the seventh when Collin Villegas (Cal Poly San Luis Obispo) launched a solo shot into left field. They would tack on two more runs in the eighth to go up 8-5 and seemingly seal the victory. 
An RBI double by Wong proved to be too little and too late, as the Blues held on and escaped with an 8-6 win. 
Despite the loss, Morrissey believes there were many positive takeaways from Saturday's contest, as he praised all of his teammates for showing improvement every day. 
"I think our defense played well, I think our at-bats are starting to come alive," said Morrissey. "Everybody's starting to see the ball better, and our pitching staff is finally figuring out they have to throw strikes and trust us behind their pitches." 
Saints Manager Aaron Milam shared Morrissey's positive mindset, saying that losses are always tough, but the team needs to have a short memory and focus on their upcoming games. 
"You flush it [the loss] and get ready for tomorrow. That's all you can really do," explained Milam. "Tomorrow's a new day… We play so many games back-to-back that you just move on to the next one." 
The Saints will hit the road again on Sunday, as they are set to take on the Conejo Oaks at 4 pm PST. Follow the action on the Saints' YouTube and other social media channels. 
—
Contributors:
Saints Reporter Sean Brennan (Arizona State)
Saints Photographer Angie Martinez (Mount St. Mary's)
What to Read Next