News
Saints Sweep the Blues
By Arroyo Seco Saints June 22, 2023 01:19am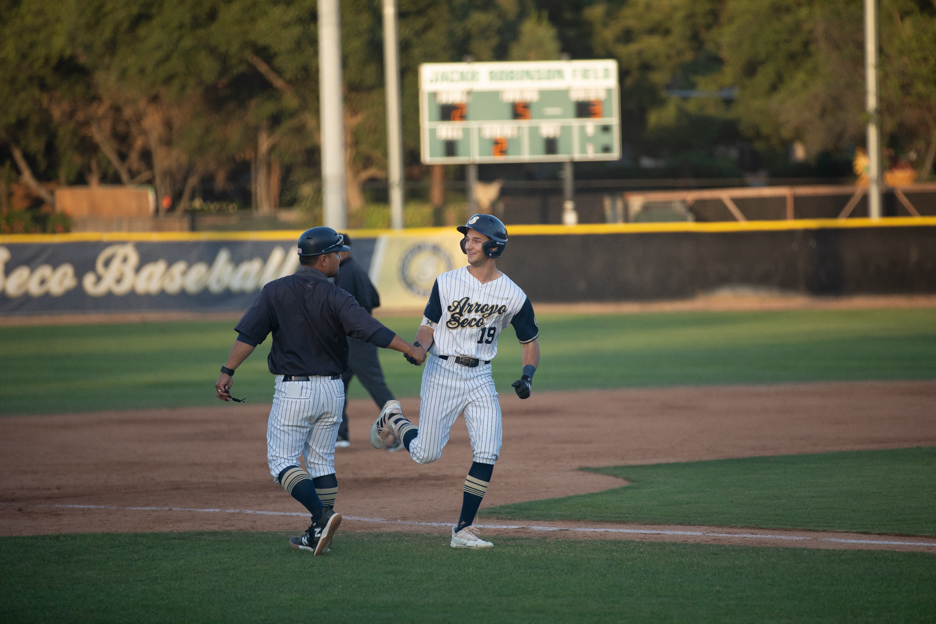 PASADENA, CA — Back in Pasadena, The Arroyo Seco Saints stayed hot coming off yesterday's win and swept the San Luis Obispo Blues in a 6-4 victory — their first at-home win of the summer. 
The nearly four-hour-long bus ride last night couldn't drain the Saints' energy following last night's win on the road. Jared Quandt (Hawaii) put the Saints on the board early with a 380-feet shot to right field in the first at bat of the game. Two back-to-back walks and a successful bunt from Jack Little (Wichita State) put three runners on. A ground ball to the right side from Jaime Perez (Tarleton State) brought in the second run of the evening.
It was clear the Saints were eager to win in front of a familiar crowd. 
"You want to win everywhere, but it's important to win at home," said Quandt. 
The Blues took a one-run lead in the top of the third with a couple of RBIs and a passed ball, but it wouldn't last long. Lefty Kevin Warunek (Longwood) kept the Blues' bats quiet the next two innings with five strikeouts. 
Quandt's bat was on fire tonight, and he hit his second, 380-foot solo home run of the evening in the bottom of the 5th to tie up the game. Kyte McDonald (Wichita State) kept the momentum going with a successful bunt, and retook the lead for the Saints on an overthrown ball from the Blues' catcher down to second. Jack Hammond (Long Beach State) scored on Perez's hit to cushion the lead. 
The Blues brought in a run in their half of the 6th, and so did the Saints. Mason Hammonds (Tarleton State) singled and stole second before scoring on a wild throw to first.  
The Saints bullpen fended off San Luis Obispo's lineup for the remainder of the game, and secured the sweep with a 6-4 win. The Saints hope to keep up their momentum going into Friday's game in Thousand Oaks against the Conejo Oaks. 
"We're turning it around a little bit. We've won two games in a row," said Quandt. "We're excited to get back in the win column again on Friday."
Tune in to the game live on our Youtube Channel at 4:30 PST on Friday. 
Contributors:
Saints Reporter Sydney Barragan (New York University)

Saints Photographer Sonny Tapia (Cal State Long Beach)
What to Read Next