News
Saints Sweep the Barons and Secure the #1 Seed in CCL Playoffs
By Arroyo Seco Saints July 30, 2023 04:06pm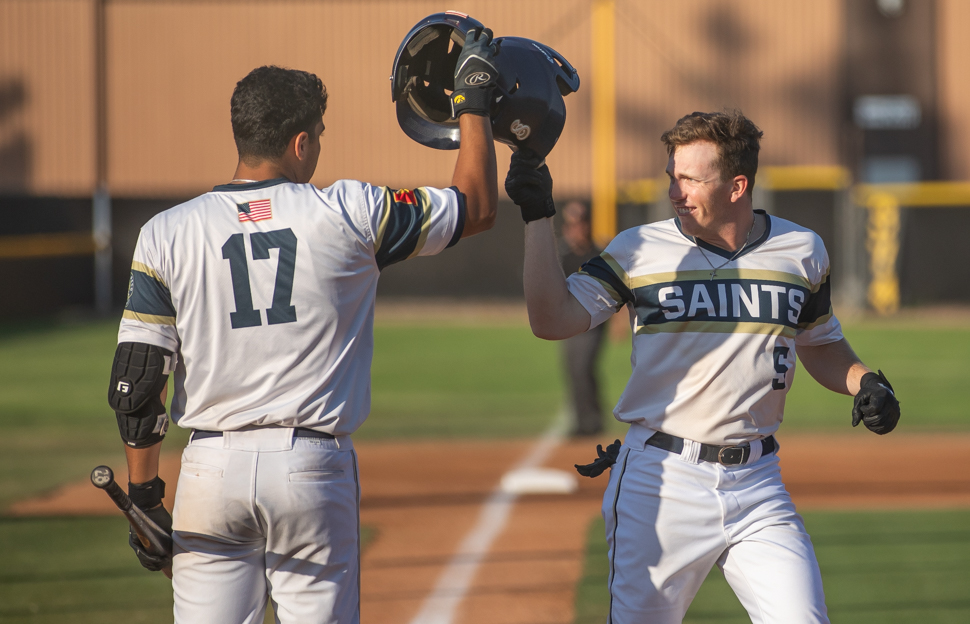 PASADENA, CA — Tonight's game was a big deal for the Arroyo Seco Saints — the series finale against the Academy Barons and the deciding factor for the top seed of the upcoming CCL playoffs. Though not as high-scoring as the previous two games of the series, the Saints emerged with a 5-0 victory. 
Kyte McDonald (Wichita State) put the Saints on the board with a solo shot to left centerfield in the bottom of the 1st. Home runs have apparently become contagious for the Saints. Spencer Rasmussen (Azusa Pacific) sent one over the fence two at-bats later. It echoed yesterday's game where the Saints also had a multiple home-run inning in the 6th, one of which belonged to McDonald. 
The Saints added three more runs in the remaining innings. Chase Meggers (Oregon) brought in the Saints third run with an RBI triple off the wall. He scored the fourth run himself on a pass ball. The Saints scored again in the 6th after a failed double play attempt allowed a run to score. 
Meanwhile, the Saints bullpen were holding off the Barons' lineup. Creighton Hansen started off on the mound, later relieved by Reece Marley (Case Western Reserve) in the 4th. Carson McKinney (Blinn), Gilbert Lopez (Biola) and Kevin Warunek (Longwood) took care of the last three innings, and the Saints took a 5-0 victory to finish a jam-packed regular season. 
Now having secured the 1st seed for CCL playoffs, the Saints will have an extra day off and play their first game on Wednesday at home. 
Contributors:
Saints Reporter Sydney Barragan (New York University)

Saints Photographer Sonny Tapia (Cal State Long Beach)
What to Read Next