News
Saints Stay Hot, Knock Off Blues for Fourth Consecutive Win
By Arroyo Seco Saints July 02, 2021 08:50am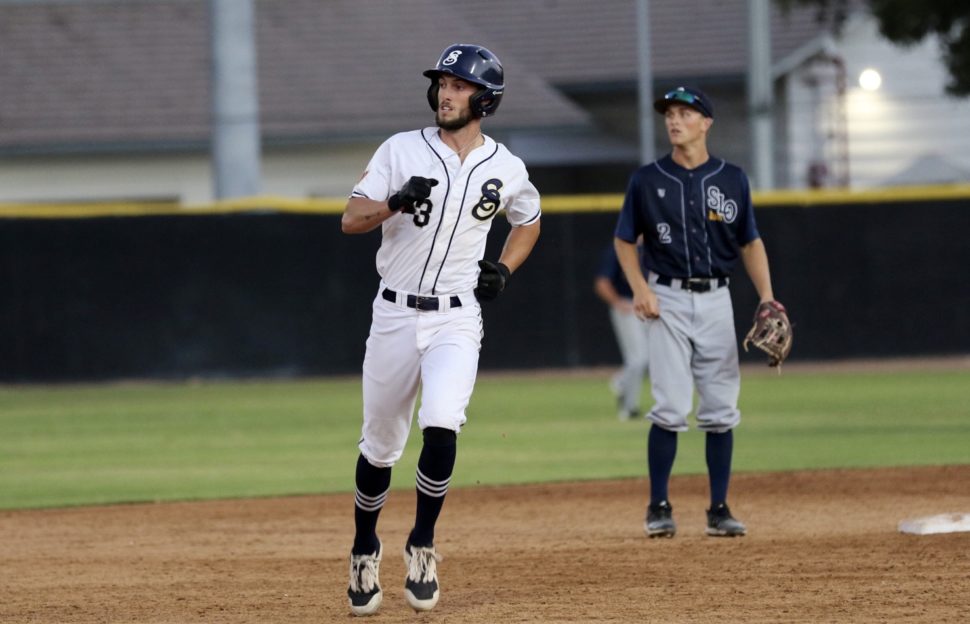 PASADENA, CA - Coming off their biggest win of the season last night over the Santa Barbara Foresters, the Arroyo Seco Saints again proved that they can compete with the top dogs in the very talented CCL South division, beating the San Luis Obispo Blues 5-1 on Thursday night.
In this world, nothing is certain but death, taxes, and Connor Bradshaw (Pepperdine) hitting lead off home runs.  He again started this contest off with a bang, smashing a high fastball over the left-center field wall for his third lead off home run in his last four games.
Besides Bradshaw, pitching has been the story for Arroyo Seco during this four game winning streak. Saxon Andross (Cal State LA) was dominant in a shortened start, hurling three shutout innings and freezing three Blues, the fourth Saints starter in a row to give up 2 runs or less.
The Saints again owned the running game on both sides, getting three huge assists that killed any Blues momentum. Dom DiRado (Binghampton) benefited from two of them in the fourth, one from center fielder Cooper Elliot (Wichita State) and the other from right fielder Josh Cowden (BYU). DiRado found his stroke after that, striking out the last batter of the inning to end the Blues threat.
Besides the homer by Bradshaw, Blues starter Matthew Sox (Utah) had the Saints offense guessing all evening. He struck out 10 while only giving up 2 more hits in 5 innings.
It was a 1-0 game until the bottom of the seventh inning. With one out, Jag Burden (Cal Berkeley) hit grounder to first that kicked off TJ Clarkson's (Utah) glove. That was all it took to get the offense started, as Blake Marsh (Wichita State), Jonah Sebring (Johnson County CC) and Jackson Cobb (Texas Tech) each followed with singles to double the lead.
 Another San Luis Obispo error would allow two more to score. Cooper Elliot (Wichita State)  then smacked an RBI single to center that scored Bradshaw and gave the Saints a 5-0 lead.
Derek Yoo (Columbia) shut down the Blues in the sixth and seventh innings, but ran into a little trouble trying to finish his third inning of the day in the eighth. With one out, Milam called on lefty Chris Stamos (Glendale CC) to work out of the jam.
"Nothing in the pen was working, so that's usually a good sign for when you come into the game," Stamos said, jokingly. "Curveball obviously was good, and the fastball I was just throwing strikes."
He did more than just throw strikes. Stamos struck out the first two batters he faced in the eighth, stranding runners at the corners and again killing any sort of momentum in the Blues favor. He then closed it out with a perfect ninth inning.
"We're playing loose. We're definitely gelling together better," said Stamos. "I mean, we all want to win, but I think we're just having more fun than we are worrying about the scoreboard, worrying about who's in the other dugout. And we're just gonna try to keep it going."
Arroyo Seco will try to do just that tomorrow night as they will play at home against the Orange County Riptide at 6:05pm.
--
Contributors
Saints Reporter Lucas Banks
Saints Photographer Angela Martinez
Saints Videographer Brandon Lin
Highlights From Saints 5-1 Win Against SLO Blues
What to Read Next