News
Saints Split Series in Extra-Inning Win
By Arroyo Seco Saints July 07, 2023 12:22am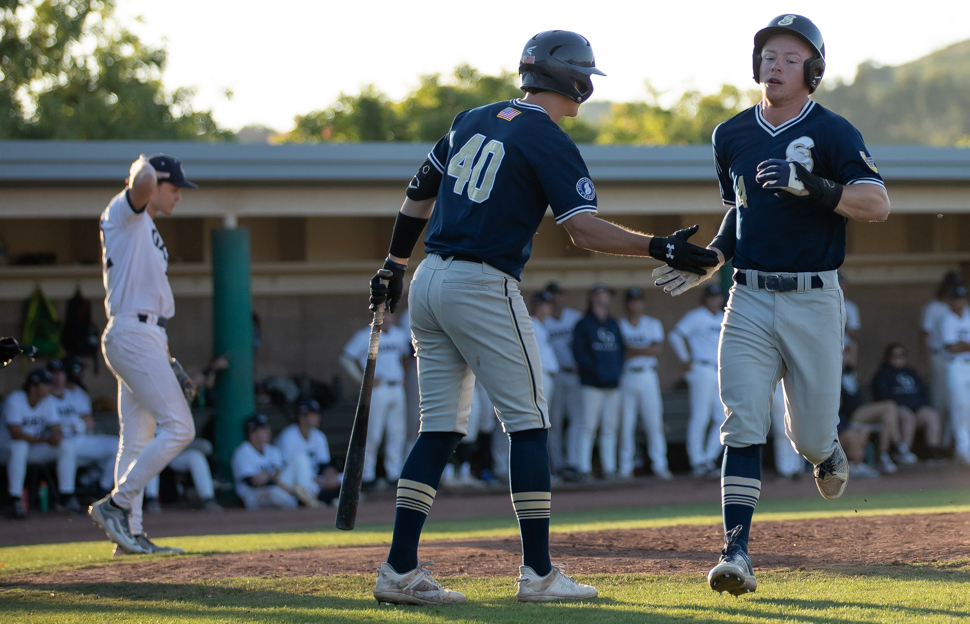 THOUSAND OAKS, CA — Yesterday afternoon in Thousand Oaks, the Saints took game two against the Oaks in a thrilling, extra-inning win. 
Similar to Wednesday's match up, the Oaks jumped out to an early lead. They brought in a run in the 1st and two more in the 3rd.
Despite putting four runners on in the first half of the game, the Saints weren't able to score until the 6th. Jack Hammond (Long Beach State) and Alex Birge (Wichita State), got on base with a pair of singles in time for Mason Hammonds (Tarleton State) to score the first run with a single of his own. 
Saints remained within two runs of the Oaks until the top of the 9th. Richie Morales (Arizona) started the inning off with a single. Max Blessinger (Belmont) roped another single to score the first run of the inning. Connor Bradshaw (Pepperdine), who made his first start of the season yesterday, hit a sacrifice fly to bring in the tying run. The Oaks were unable to post a run of their own in the bottom of the 9th, and the game went into extra innings.
"We've done this a couple times," said Blessinger when asked about the Saints' mindset in late-game deficits. "Let's go do it again."
The top of the 10th started with a runner on 2nd per the International Tiebreaker (ITB) rule. The ejection of the Saints' first base coach and a member of the dugout in the inning prior didn't slow their momentum. Morales took first after being hit by a pitch just in time for Preston Godfrey's (New Mexico State) base-clearing double to take the lead. Bradshaw's second hit of the night was this inning's second two-run double. He then scored on Jordan Rogers (Wichita State) sacrifice fly out, making it 8-3.
The Oaks scored one in their half of the 10th and were unable to recapture the lead.
The Saints are back in Pasadena on Friday or the series opener against the Orange County Riptide. Tune in to our Youtube Channel at 6:05 p.m. PST to watch live. 
Contributors:
Saints Reporter Sydney Barragan (New York University)

Saints Photographer Sonny Tapia (Cal State Long Beach)
What to Read Next