News
Saints' Slow Start Results In 11-5 Loss To Foresters
By Arroyo Seco Saints July 18, 2019 01:28am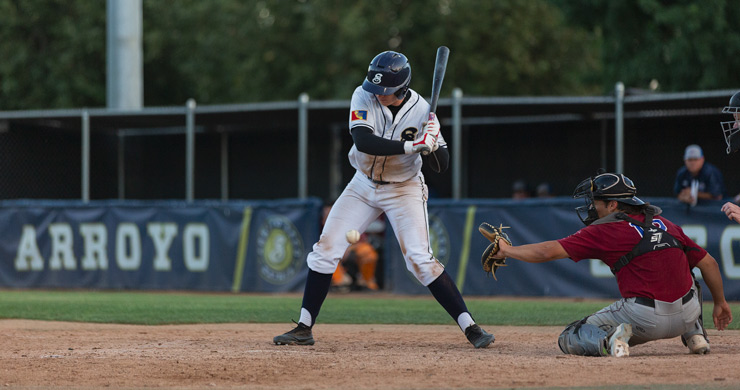 PASADENA, CA – After coming off an 11-1 win on Tuesday night, the Arroyo Seco Saints fell to the Santa Barbra Foresters 11-5 on Wednesday night at Jackie Robinson Memorial Field.
"Defensively we made mistakes in the first inning and that's where we lost the game because the rest of the game was played pretty tight," said head coach Aaron Milam. "I thought we had a chance as we started to come back a little bit but if you can't sustain a drive inning to inning you won't be able to come back."
Alex Cornwell (USC) started the game for the Saints and got into trouble right away in the first. Due to a couple of errors, the Foresters scored six runs in the first inning to give them the early lead in the game. 
After the Foresters scored another run in the top half of the second, the Saints finally got on the board in the third, as Andy Garriola (Old Dominion) hit a double to right-center scoring Wyatt Stapp (Cincinnati) from second.
Down by eight in the fifth, the Saints scored three runs in the fifth to cut their deficit to five. After a leadoff double by Matt Thomas (Harvard), Morgan Allen (St. Edwards) hit a single up the middle to score Thomas. After an error and a walk, Pete Derkay (Tennessee) with the bases loaded hit a slow roller down the first-base line where the Forester pitcher was unable to tag Derkay allowing the Saints to score two more runs.
In the bottom of the seventh down 9-4, the Saints added another run as Derkay hit a sacrifice fly to left scoring Nolan Tressler (Georgia Southern).
Isaiah Ramos (Antelope Valley) pitched five innings out of the bullpen for the Saints. Ramos allowed three runs on three hits while striking out seven batters. After the first inning, Cornwell only allowed two runs in three innings.  
Allen went 2-for-4 in the game with two singles while driving in a run. Derkay led the team with two runs batted in.
The Saints will now head on the road to take on The Academy Barons on Thursday night. First pitch is set for 6 p.m.
 —-
Saints Reporters Jesse Tovar and Talia Cheatham

Saints Photographer Garrisson Pena

View the live stream of the game on the Saints' Youtube channel
What to Read Next