News
Saints Pitching Staff Shines, Drop Saturday Night Game 2-0
By Arroyo Seco Saints June 17, 2018 12:07am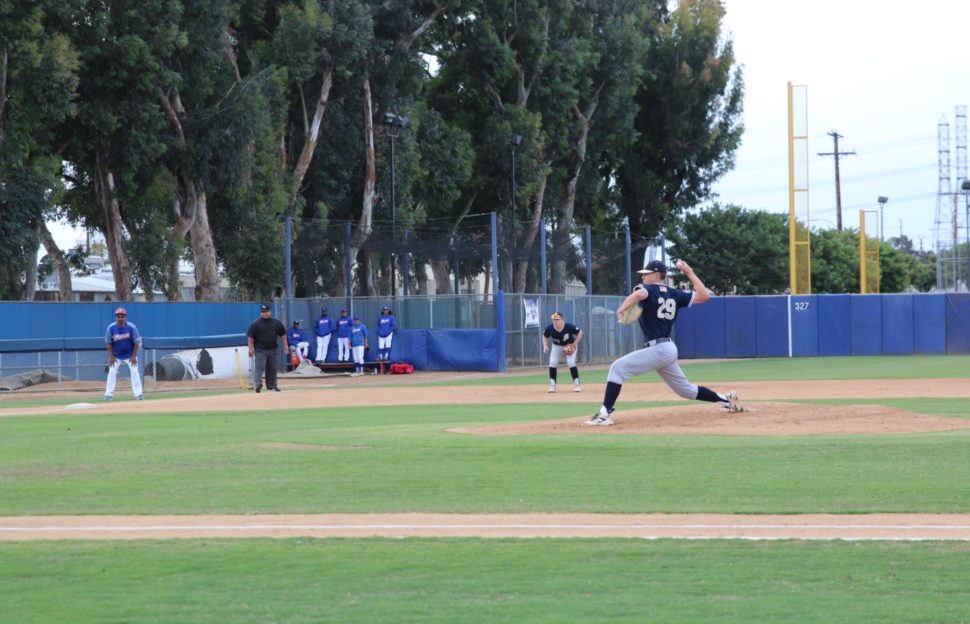 By: Christopher D'Avanzo; Photo by Tom Stafford
Compton, CA – The skid for the Arroyo Seco Saints (2-7, 2-5 CCL) continued on Saturday night as their losing streak reached five, dropping the final game of their three-game road trip to the MLB Academy Barons (4-5, 4-4 CCL) by a score of 2-0. The Saints were winless during the week and enter now begin a two-day break period, meaning that when they begin play on Tuesday, it will have been 9 days since they last won a game.
"I think this is going to be good motivation for our guys to come back. Understand that this is just how baseball is sometimes," said Coach Sean Buller. "I'm a firm believer in the baseball gods. Today we did things right. We hit the ball hard, we pitched well, we played good defense. We didn't get some breaks. They caught some breaks and that's why it's a 2-0 game."
The Saints offense was held in check for the majority of the night, especially during the moments where they needed it most. Arroyo Seco outhit the Barons six to four but left a total of nine runners on base. They had opportunities early on against the Barons' starter Erik Guitterez, who pitched 4.1 innings but managed to avoid trouble in every inning. The Saints stranded a runner in the first, two in the second, and another in each of the third and fourth innings.
Guitterez left the game in the fifth with the bases loaded as the Barons brought in lefty reliever Kyle Salley. Salley induced a double play against New Mexico State slugger Cooper Williams to end the threat. The Barons bullpen didn't allow a single hit in 4.2 innings. Aside from a walk allowed by Salley to pinch hitter Brennan McKenzie in the 6th, they managed to retire each Saints batter.
"The last two games we've pitched well and prior to then we were hitting well," said Michigan Wolverine and tonight's starting pitcher Blake Beers. "I just think when we figure out how to combine those two we're gonna start winning some ball games."
Beers earned the loss despite a good overall performance. He allowed two earned runs on two hits in four innings with four strikeouts. Beers' stuff was electric throughout and he retired the Barons lineup in order their first time through. It was in the fourth inning where he ran into some trouble, giving up a leadoff double and a pair of walks to load the bases with nobody out. Beers would strike the next batter out and induce a pop-up, nearly working his way out of the jam. But with two away, he gave up a two-run single to Andrew Wilson which ultimately proved to be the difference in the game.
"[Blake] is the type of kid where as adversity gets going, he gets better," said Coach Buller. "You could see that in the fourth inning where he lost his focus a little bit, but the hardest balls he threw were after that because he got upset with himself and focused in."
The rest of the Saints bullpen kept the game close, allowing only two hits and no runs.
"We saw it with everybody today, we saw it yesterday as well, that the pitching is right where it needs to be."
UP NEXT
With the day off for Father's Day as well as the regularly scheduled Monday off-day, the Saints have two-days to recover before returning to play on Tuesday at Brookside Park against the OC Riptide.
What to Read Next