News
Saints Shutout by Riptide in 11-0 Defeat
By Arroyo Seco Saints July 22, 2018 12:31pm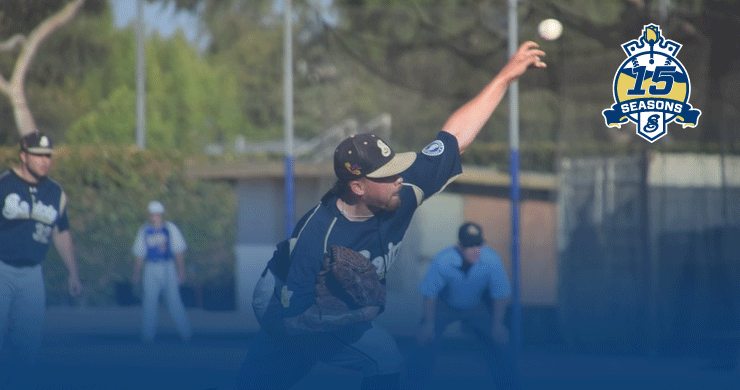 Article by Christopher D'Avanzo
The Arroyo Seco Saints (13-25, 10-22 CCL) struggled to get anything going on Saturday afternoon as they lost to the OC Riptide (19-13, 17-12 CCL) 11-0 in a road contest at Fullerton. After posting 15 runs on Friday night's contest, and winning on a walk-off single, the Saints offense was held in check by the Riptide pitching. Riptide starter Cassious Hamm threw seven innings of scoreless baseball, giving way to a bullpen that continued the effort by posting a pair of zeros.
The Saints started Wyatt Kelley, the junior pitcher from New Mexico State. Kelley has worked his way into the starting rotation, making his 5th start in his 10th game of the season, all of them coming within the last six outings. Fitting for Kelley in his 5th start as the number five appeared throughout his daily line, throwing for five innings, allowing a total of five runs, and striking out five Riptide batters.
Kelley started off very strong, keeping the Riptide off the board until the 4th inning. With two runners on, batter Mason McWhorter blasted a ball well over the fence in right field, putting the Riptide on the board and ultimately giving them a lead that they would maintain the rest of the way. McWhorter had two hits and a total of four RBIs for Orange County. Pitchers Jackson Bond and Jesse Reed also made an appearance, each allowing two earned runs. 
Arroyo Seco had opportunities but was unable to ultimately capitalize. Miami (OH)'s third baseman Colin Shepard lead the way on offense, picking up a total of three hits and going 3-for-4 in the nine spot in the lineup. Lee University's Dalton Ney also had a hit by smoking a double to the wall and getting caught up in the ivy that lines the fences at Fullerton College.
Cameron Briggs, the second baseman from UC Davis, also picked up multiple hits, going 2-for-5, starting the game batting leadoff. Briggs was also brought in to pitch in relief in the 8th inning and threw a scoreless and hitless frame, picking up a strikeout in the process. Briggs, a two-way player, has been primarily used a position player during the summer but in three innings this season, Briggs has allowed one earned run and allowed three hits while striking out a pair of batters.
UP NEXT:
With the season entering its final week, the Saints only have three more league games to play before players and coaches depart Pasadena and head back to their respective university and college programs. The Saints game on Sunday against the San Diego Force has been cancelled as the Force are still alive in their league's postseason. Arroyo Seco returns to action at home on Tuesday against the SoCal Catch, the first in a home-and-home series. The Saints wrap up the season on Thursday against the Academy Barons at home.  
What to Read Next