News
Saints Showcase Offense In 8-5 Win Over Bucs
By Arroyo Seco Saints June 28, 2018 08:53am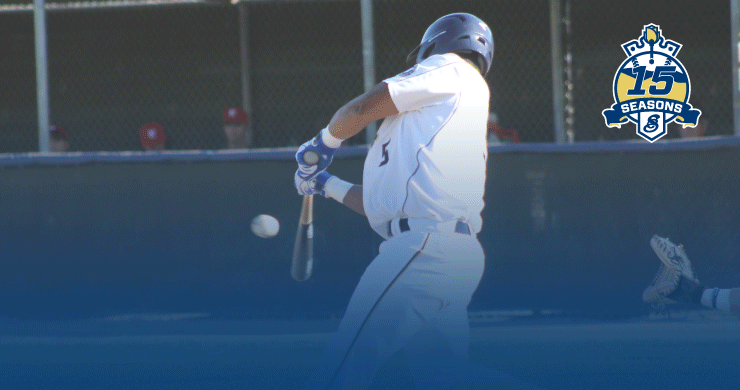 PASADENA, CA – Dalton Ney hit his first home run of the season, Mitch Kerner, Cameron Briggs, and Colin Shepherd each chipped in two hits, and the Saints topped visiting Ventura County 8-5 in a non conference game, taking the season series against the Buccaneers two games to one in the process.
After the Buccaneers countered with a run in the third to pull within two runs, the Saints responded quickly. The Saints started the very next inning with back-to-back singles by Roy Verdejo and Mitch Kerner setting the stage for one of Cameron Brigg's second big offensive play of the night. This time, it was bunt single, followed by a Buccaneers error, allowing Verdejo to race around third and score, giving the Saints a 5-2 lead. The very next batter, Colin Shepherd followed up with an RBI double, bringing Kerner home and giving the Saints a big 6-2 lead.
Facing a 1-0 deficit the Saints responded with game-changing rally in the second inning. Mitch Kerner and Jacob Jenkins got the rally going with back-to-back singles with one out. The very next batter, Cameron Briggs cashed in, hitting a deep double to center, plating Kerner and tying the game 1-1. Then, with runners on second and third, Colin Shepherd gave the Saints the lead, bouncing a chopper to second base and scoring Jenkins to give Arroyo Seco their first lead of the game. Dalton Ney then followed up with a monster home run to left, giving the Saints a comfortable 4-1 lead.
Ventura County got on the board first, taking an early 1-0 lead on a solo home run to left field with two outs, and were primed to add on, but Saints starter JD Russomano worked around a one-out runner-on-third jam with a strikeout and flyout, ending the threat. The Buccaneers chipped away, pulling to within 4-2 after an RBI single in the second inning, but Russomano again rose to the occasion, ending the inning with a pop out and flyout.
Russomano gave the Saints four strong innings while holding the visiting Buccaneers to only two runs. Ventura County tried to mount a rally against the Arroyo Seco bullpen with a run in the fifth inning and a pair of runs in the sixth, but the Saints countered with a run in the fifth inning with Jacob Jenkins racing home from third while Colin Shepherd stole second to give the Saints some needed insurance runs before Arroyo Seco added on a run in the ninth for the 8-5 win.
HE SAID IT
Third Baseman Colin Shepherd:
"Having an approach at the plate and hunting first pitch fastballs. Really trying to pick up stuff the pitcher is doing during the game to help my at bats. Field wise is positioning ourselves in the right places to make the plays."
"They are a good squad, so just playing any good team is going to prepare us for what's to come. We are just trying to focus on one game at a time and do what we can from there. They are definitely a good squad so I think it prepares us pretty well for the rest of this week playing CCL teams."
Outfielder Roy Verdejo:
"It's a lot of fun to play with, it's enjoyable. Everybody gets along with each other. For me as a player, it helped me relax more. Myself, I'm a tense player, but it's summer ball, and I realized that you have to relax and have fun with the game."
"There are things I can work at and get better with in right field and will work on, but even with hitting there are things I can work on too after the surgery. After playing the games I weathered out, there are a lot of things I need to learn and adjust to.
Roy Verdejo is battling a wrist injury and his surgery is set for next week. His full recovery time is expected to be about two months. During these two months, he is expected to lose the stitches after three weeks and expected to resume baseball activities after two weeks. Roy plays his collegiate baseball at The Master's University, and expects to be back with the Saints next summer.
NEXT UP
The Saints hit the road to take on the San Luis Obispo Blues in a CCL game on Thursday beginning at 6 pm. Arroyo Seco finishes up the two-game road trip on Friday when the Saints take on the SoCal Catch before returning home to face the Catch as a part of a road-home-road three game CCL series.
What to Read Next