News
Saints Rally Late to Take Game Two Against the Blues
By Arroyo Seco Saints July 23, 2023 12:02pm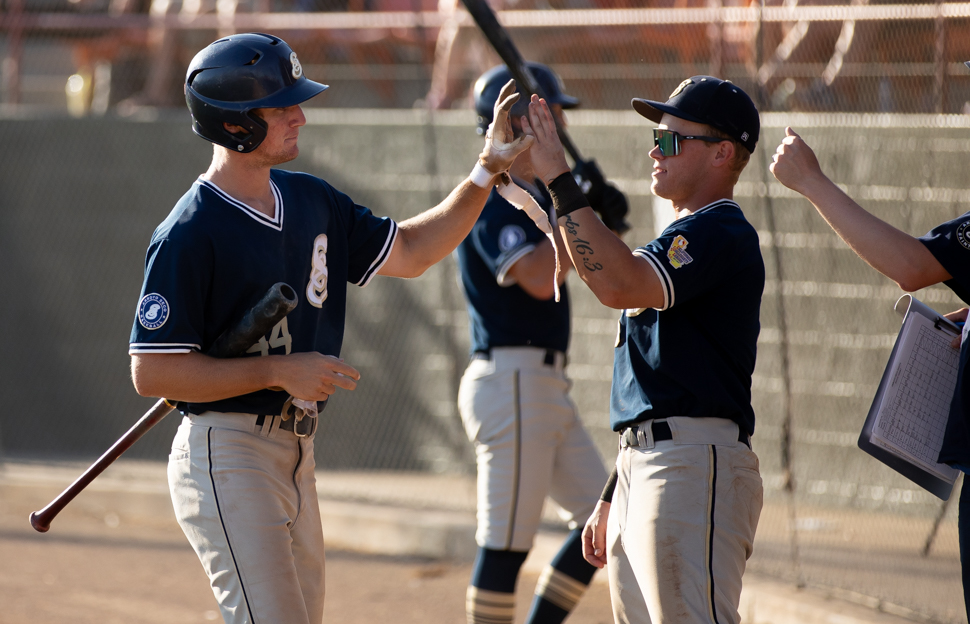 SAN LUIS OBISPO, CA —  This afternoon, the Arroyo Seco Saints hit their way to a 10-7 victory over the San Luis Obispo Blues in game two of the series. Every win counts in summer ball, but especially when the end of the regular season is only five games away.
The Saints were hoping some of the momentum from last night's win would translate into today's play. The opposite seemed true after the Blues scratched four across in four innings while the Saints remained scoreless. They had a big opportunity in the 4th after loading the bases, but were still unable to bring one across. 
It finally happened for the Saints in the 5th. Alex Birge (Wichita State) roped a three-run double, which he turned into a triple on an overthrow. He then scored on a sacrifice fly out from Mason Hammonds (Tarleton State) to tie it up. 
The Blues managed to reclaim the lead in their half of the inning with a solo home run. But the Saints managed to tie the game yet again in the top of the 6th thanks to four walks. 
The "Cardiac Saints" were in full form in the 7th. Hammonds and Kyte McDonald (Wichita State) started the inning with two singles, and thanks to some heads-up baserunning, put runners on second and third. Thomas Golbranson (St. Thomas), a clutch batter in last night's matchup, delivered with a single to bring the two runs in and take the lead for the Saints. Connor Bradshaw (Pepperdine) kept the momentum going with yet another base hit. Jordan Rogers (Wichita State) beat out the throw at first to allow Bradshaw to score on two outs, bringing the lead to 9-5. 
A solo blast from McDonald added another insurance run, and the Saints were looking confident heading into the final 6 outs of the game. A pair of walks and a pair of singles gave the Blues two runs, but the lead was still out of reach for the home team. 
The Saints will be back in Pasadena Tuesday for the series finale against the Blues. Tune in to our Youtube Channel at 6:05 p.m. PST to watch live. 
Contributors:
Saints Reporter Sydney Barragan (New York University)

Saints Photographer Sonny Tapia (Cal State Long Beach)
What to Read Next