News
Saints Rally Late against Oaks in 6-2 Victory
By Arroyo Seco Saints June 24, 2023 03:34pm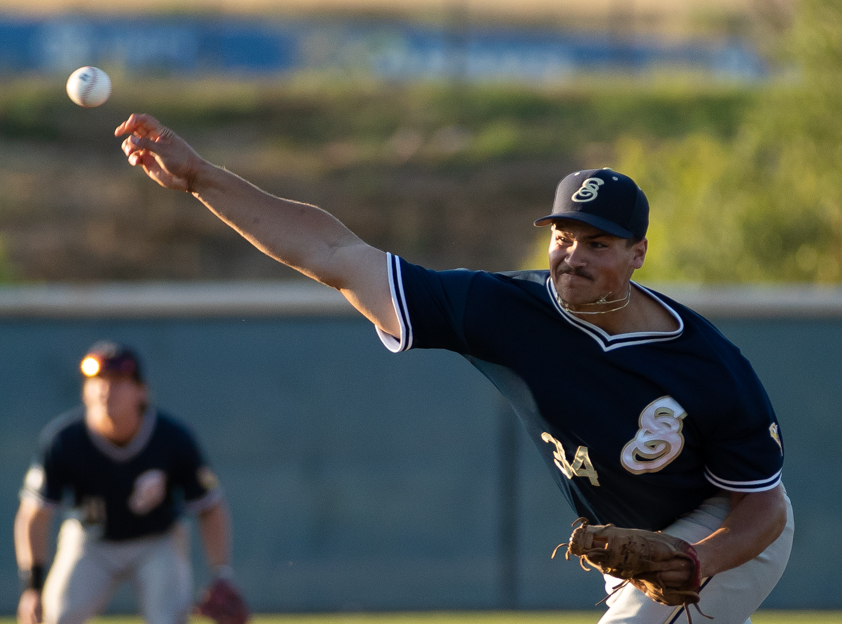 CONEJO VALLEY, CA – What was shaping into a true defensive battle at Sparky Anderson Field in Conejo Valley turned into a thrilling victory for the Arroyo Seco Saints. An eighth-inning rally by the Saints was the deciding factor in this matchup. 
As mentioned, both teams' defenses were on full display early. Caleb Reyes (Cal Poly Pomona) put together his second consecutive scoreless outing for the team. Reyes pitched the first three innings in this matchup as flawlessly as possible. The right-hander retired all nine batters he faced, including three strikeouts. 
Unfortunately for Reyes, Oaks' pitcher Cole Fisher was equally as impressive. Fisher pitched the first four innings for Conejo, allowing only two hits. 
The lack of runs early in this matchup did not come from a lack of opportunity. Extra-base hits from Mason Hammonds (Tarleton State) and Max Blessinger (Belmont) in the middle innings gave the Saints opportunities to find the scoreboard; it seemed they couldn't put everything together. 
Despite allowing two runs in the fourth inning of this matchup, stellar pitching is what kept the Saints alive in this matchup. In this first appearance of the season, reliever Jacob Henderson (Iowa) lived up to the hype. Like Reyes, Henderson retired every batter he faced. The right-hander pitched a successful fifth and sixth inning, holding the deficit at two. 
Heading into the later part of this matchup against the Oaks, the Saints' continued to miss out on opportunities. Runners were left on base in both the sixth and seventh innings. In total, Arroyo Seco left 11 runners on base in this matchup. 
Luckily, everything came together in the eighth inning. Kyte McDonald (Wichita State) continues to display elite base running this Summer. After reaching base on a single, McDonald would take second base on a wild pitch and then time his steal attempt perfectly, taking third base as well. He would eventually score on an error by the third basemen, allowing Jack Hammond (Long Beach State) to reach first safely. The Saints were on the board. 
A single by Jack Little (Wichita State) and Alex Birge (Wichita State) getting hit by a pitch, and all of a sudden, the Saints had the bases loaded with no outs, only trailing by one run. Max Blessinger (Belmont) would deliver once again. His single into left scored Hammond, tying this game at two. 
The Oaks looked like they would stop the bleeding and retired the next two Saints' batters. Unfortunately for the Oaks, Julien Alvarez (Cal Baptist) would not let that happen. 
After watching three straight pitches miss the strike zone, it looked like Alvarez was on his way to drawing a walk and putting the Saints in front. After taking a called strike on the fourth pitch of the at-bat, Alvarez was left with a choice: play it conservative and hope he gets walked, or get aggressive and win this game for this team. 
Swinging on a 3-1 count, Alvarez roped one into the left-centerfield gap. What turned into a likely walk and one run scored turned into a bases-clearing triple with two outs. Suddenly, the Saints had a three-run lead heading into the bottom of the eighth inning. 
"My approach was just trying to get the next guy up," said Alvarez. "I was just waiting to get my pitch; I hadn't gotten my pitch all day. I was waiting to explode on my pitch, and it happened".
Alvarez stayed patient and delivered for his team, as did pitcher Matt Holzhammer (Tarleton State). 
Entering the game in the seventh innings for the Saints, the flame-throwing right-hander dominated. While the Saints' offense was putting pressure on the Oaks, Holzhammer's pitching buried all their momentum in this game. He was the third pitcher of the night for the Saints to retire every batter he faced, retiring the Oaks' final nine batters. 
This win makes it three in a row for the Saints. After a two-game sweep against San Luis Obispo, the Saints' won in the first matchup of this three-game series against the Oaks. Holzhammer touched on how important it was for the team to win this first game. 
"It is always harder to get one on the road; the next two should be a little easier," Holzhammer said with some swagger. 
After three straight wins, this team deserves to play with some swagger and confidence. With a long Summer ahead, this team must keep their energy high. 
Be sure to tune into the following two matchups on our Youtube Channel in this series. First pitch for Saturday night's matchup at Jackie Robinson Memorial Stadium is scheduled for 6:05 p.m. PST. 
Saints Reporter Bennett Snyder 

(Ohio University)

Saints Photographer Sonny Tapia (Cal State Long Beach)
What to Read Next