News
Harris Stars On The Mound, Cowley Follows At The Plate In Saints' 10-Run Defeat Of OC Riptide
By Arroyo Seco Saints July 17, 2019 02:23pm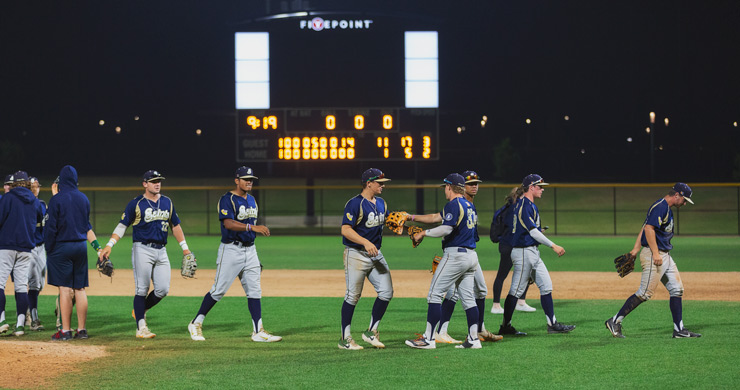 IRVINE, CA – With a combination of strong at-bats and impressive pitching the Arroyo Seco Saints defeated the Orange County Riptide 11-1 on Tuesday night.
The Saints wasted no time putting up runs, scoring in the first inning. Second baseman Thomas Luevano (San Diego) singled to the gap in right-center field. He later stole second and took third on a throwing error. Shortstop Drew Cowley (Pomona) brought Luevano home with a line drive single to the gap between center and right.
The Riptide scored their first and only run in the bottom of the first inning.
After three scoreless innings, the Saints' bats were on fire in the fifth. Catcher Thomas McCarthy (San Francisco) blasted a grounder to left field for a single, before center fielder Christian Scott (Tennessee) was walked. Right fielder Anthony Forte (Richmond) loaded the bases with a line drive to center field. Luevano scored McCarthy with a hard-hit single to right field. With the bases still loaded and one out, Cowley knocked a bases clearing triple to left field. Designated hitter Andy Garriola (Old Dominion) brought in Cowley with a sacrifice fly to left field for the fifth run of the inning.
"Our bats were on fire tonight," Cowley said. "I was just looking for a fastball up and I was able to get one, put a good swing on it, and luckily it dropped and we were able to score those three runs."
In the top of the eighth, Scott pounded a solo home run over the right field wall, increasing the Saints' lead to 7-1.
"I figured he was going to come with fastball up, but you could tell he misplaced it a little bit and I was able to just connect well with it," Scott said.
The Riptide had trouble with Saints' starting left-handed pitcher Hayden Harris. Harris pitched seven outstanding innings, allowing only one run with nine strikeouts.
Right-handed pitcher Drew Atherton (Pomona) relieved Harris in the top of the eighth inning. He was able to hold off the Riptide, facing seven batters and striking out four.  
"We have a good team, if we can control the game from the mound, we are going to score runs," head coach Aaron Milam said. "Hayden Harris was electric and then Drew didn't let them get back in it."
The Saints continued their hitting streak into the ninth inning. Garriola started the inning off with a line drive single into right field. Third baseman Jayson Gonzalez (Vanderbilt) then found a gap in center field for a single. With two runners in scoring position, left fielder Evan Russell (Tennessee) brought both Garriola and Gonzalez home after blasting a grounder down the left field line for a double. Scott then made his way to the plate and scored Russell with a single to right field. McCarthy was walked and later scored the final run for the Saints after pinch hitter Morgan Allen (St. Edward's) hit a grounder to the Riptide's second baseman but was safe at first on a fielder's choice.
The Saints will return home on Wednesday to take on the Santa Barbara Foresters at Jackie Robinson Memorial Field. The first pitch will be thrown at 6:05 p.m.
—
Saints Reporters Grace Mikuriya and Talia Cheatham

Saints Photographer Garrisson Pena

View the live stream of the game on the Saints' Youtube channel
What to Read Next