News
Saints Post Eight Runs in First Four Innings, Cruise to 12-6 Win Against Barons
By Arroyo Seco Saints July 10, 2022 08:48pm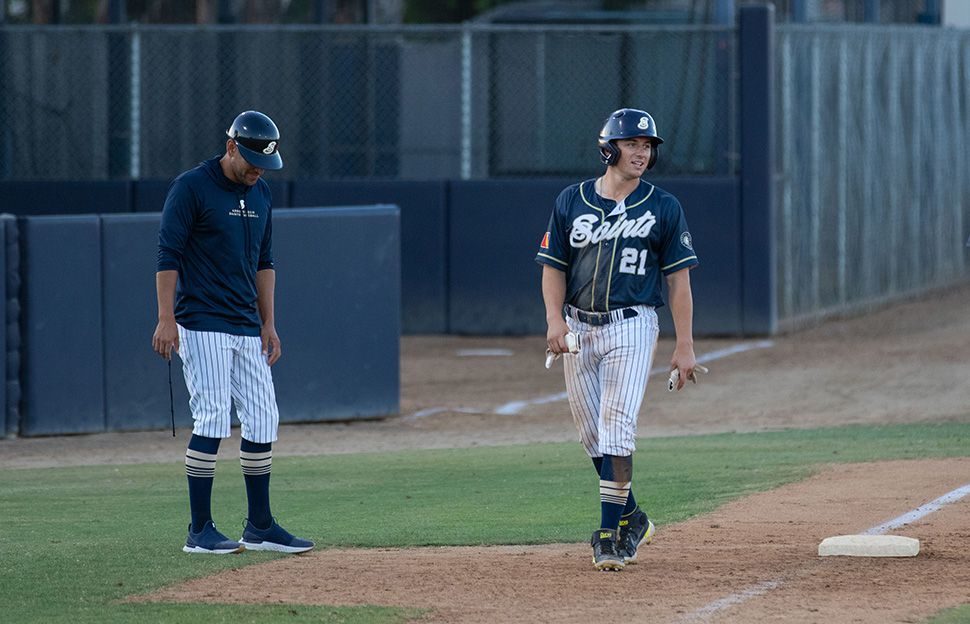 COMPTON, CA – Over the past couple games, the Saints offense has been seemingly unstoppable. This was no different on Saturday night at the MLB Academy in Compton, Calif., as Arroyo Seco put up 12 runs in a convincing victory over the Barons. 
The Saints drew first blood for the third consecutive contest when Jacob Sanchez (Texas – Rio Grande Valley) drove in Nathan Becker (Rice) with an RBI single. Jordan Rogers (Wichita State) and Sanchez then capitalized on an error by Barons' catcher Miles Blackwell (Columbia), extending the Saints' lead to 3-0. Drew Cowley (Oregon) would cap off a four-spot in the second inning with a base hit that allowed Jack Walker (Louisiana Tech) to score an unearned run. 
Two more unearned runs in the third scored by Rogers and Matt Marlow (Regis) gave Arroyo Seco a 6-0 advantage. While the MLB Academy cut the deficit to three in the bottom of the frame, the Saints responded in the fourth as Peyton Holt (Arkansas) and Becker recorded RBI base hits to stymie any momentum the Barons had mustered up. 
In the seventh, Sanchez knocked a single into center field before taking advantage of a passed ball and error by Blackwell to cross home plate and put the Saints up 9-3. Marlow, Rogers and Jeffrey Bauser (Nevada) tacked on three more runs in the final inning, and solid fielding helped the Saints close out the game and secure a 12-6 decision. 
With Saturday's victory, Arroyo Seco won four contests in a row, scoring a total of 46 runs during that stretch. However, head coach Aaron Milam stressed the importance of not getting too comfortable or taking anything for granted. 
It's no surprise that Sanchez was once again a catalyst for the Saints on Saturday. During Arroyo Seco's winning streak, the catcher went a combined 7-12, scoring five runs and driving in six more. And Sanchez attributed his recent success to staying calm and believing in himself. 
"It's just consistency and, throughout my days, trusting my process," Sanchez said. "Earlier on in the season wasn't too hot for me, but I just trusted my process, didn't panic, and eventually my bat started coming around." 
Cowley also played a key role in his team's victory. The designated hitter from Upland, Calif. recorded four hits and an RBI in six at-bats against the Barons. When asked what the Saints can do to continue their winning ways, Cowley said, "I think just have fun. At the end of the day, when we're playing loose, having fun, we're going to put up runs…" 
Despite the Saints' recent surge, associate head coach David Feasler said that going forward, his team should simply think about playing baseball rather than trying to extend their winning streak. 
"Compete on every pitch, don't worry about winning four in a row… compete on every pitch in the book," said Feasler. 
Arroyo Seco will look to make it five victories in a row on Sunday as they travel to Cal Lutheran University to take on the red-hot Conejo Oaks. Conejo has also won four straight games and currently sits at second in the CCL South with a record of 14-8. First pitch is slated for 1:00 p.m. PST. Follow the action on the Saints YouTube and other social media channels.
—
Saints Reporter Sean Brennan (Arizona State)
Saints Photographer Angie Martinez (Mount St. Mary's)
What to Read Next