News
Saints Pick Up Third Straight Win in 9-5 Victory Over Oaks
By Arroyo Seco Saints July 29, 2022 11:47pm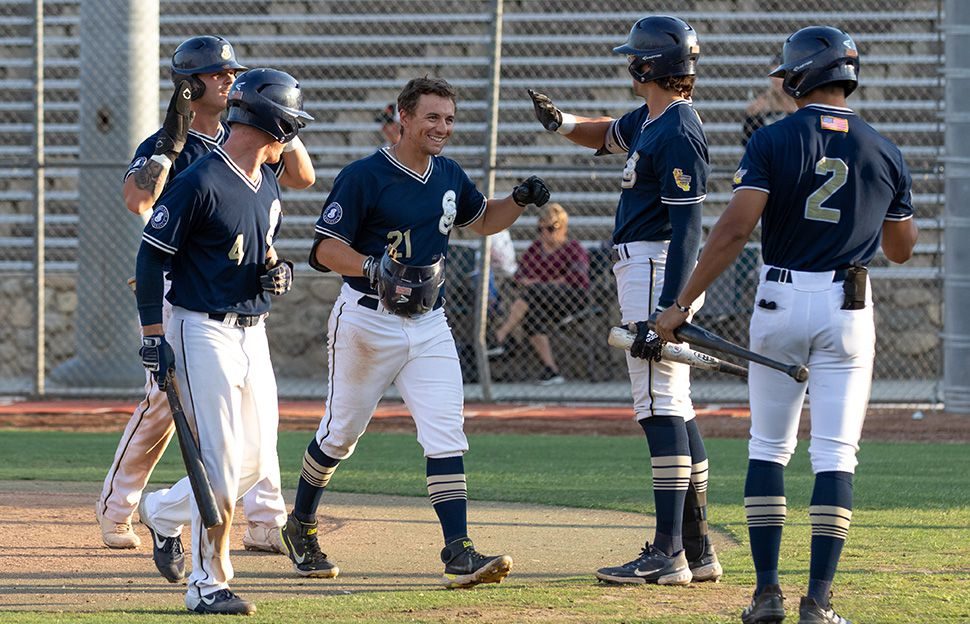 PASADENA, CA – Playing in what was likely the final home game of his decorated Saints career, Drew Cowley (Oregon) created one last memory at Jackie Robinson Memorial Field; a go-ahead grand slam that capped off a six-run second inning. While Conejo clawed back to within a run, lights-out pitching from Mitchell Scott (California) helped the Saints preserve their lead and win their third contest in a row. 
The Oaks didn't waste any time on Thursday evening as they held a 3-0 advantage after one frame of play. However, the Saints' offense came to life in the second and quickly erased the three-run deficit. 
The offensive explosion began when Matt Wong (Hawaii) got on base due to an error by Oaks first baseman Brendan Durfee (Cal Lutheran). Peyton Holt (Arkansas) then singled, and an RBI groundout from Jared Bujanda (CSU – Bakersfield) put Arroyo Seco onto the board.  
Another single from Max Blessinger (Pasadena CC) drove in Holt and made it a 3-2 game. Shockers teammates Cooper Harris (Wichita State) and Jordan Rogers (Wichita State) reached via a walk and single respectively, loading the bases as Drew Cowley walked up to the plate. 
Down 0-1 to Conejo starter Michael Allan Stanford (College of the Desert), Cowley sent the second pitch he saw sailing over the center-field fence to put the Saints up 6-3. The three-time CCL All-League Selection said that he was looking for a juicy pitch to put a good swing on. 
"I was just looking for a pitch I could drive. I'm lucky he left a fastball up and I was able to put a good swing on it, and it left the yard," recalled Cowley. 
The Oaks made things interesting as they put up two runs in the fourth to shrink Arroyo Seco's lead. Cowley wasn't finished making an impact on the game, however, as he responded an inning later by knocking a double into center field. He would later score off an error from Stanford to put his team up by two. 
The Saints struck again an inning later when Cooper Harris ripped a two-RBI single down the middle to score Matt Marlow (Regis) and Max Blessinger. 
Arroyo Seco cruised the rest of the way, winning the game 9-5 thanks in large part to a stellar relief appearance from Mitchell Scott (California). Through 4.0 innings pitched, Scott struck out eight Oaks while conceding a single hit and walk. Following the game, associate head coach David Feasler once again applauded his entire pitching staff, saying that they did their job; throwing strikes and protecting leads. 
"Starting with Gavino [Rosales], honestly, he had a tough first but then battled in the rest of his innings. And then Mitchell out of the pen, and Dom [DiRado], the bridge to Mitchell, was very good," said Feasler. "And that's their job, to come in, fill up the zone and hold leads. So good job offense getting the lead, and good job pitchers holding that lead." 
And in the midst of an intense playoff push, Feasler knows the Saints' remaining two contests are both must-wins. However, he doesn't want to look too far ahead, saying the team needs to take things one game at a time. 
"The only one that matters though is tomorrow's game at the Academy. It matters in that moment, and then we'll get that one, move onto the next one," Feasler said. 
Feasler's Saints are currently a game back of the Orange County Riptide, who hold the final playoff spot in the South Division, with two games left in their regular season. Arroyo Seco will head to Compton, Calif. tomorrow to wrap up their season series with the MLB Academy Barons. First pitch is slated for 6:00 pm PST. Follow the action live on the Saints YouTube and other social media channels. 
—
Contributors:
Saints Reporter Sean Brennan (Arizona State)
Saints Photographer Angie Martinez (Mount St. Mary's)
What to Read Next