News
Saints Offense Stalls in SLO Despite a Luevano Home Run, Fall To Blues 7-3
By Arroyo Seco Saints June 23, 2019 11:03am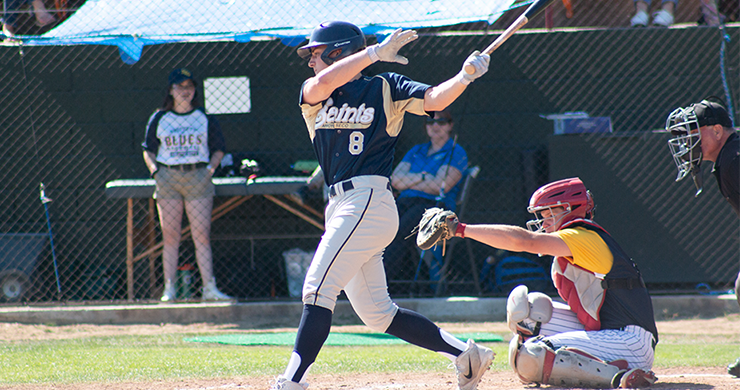 SAN LUIS OBISPO, CA – The Arroyo Seco Saints headed north on Saturday afternoon where they fell 7-3 to the San Luis Obispo Blues at Sinsheimer Park.
The Blues' scoring started early in the first inning, when a single run was batted in. With a runner on first and one out, shortstop Drew Cowley (Pomona) received a grounder to make a double play, which got the Saints out of the first with only run scored against them.
The Blues were able to add four more runs to the board in the second inning and another in the third to increase their lead to 6-0.
Right-handed pitcher Luis Ramirez (Long Beach) started on the mound for the Saints and was relieved by lefty Hayden Harris (Georgia Southern) in the top of the third inning.
In the top of the fourth inning with a full count and no outs, second baseman Thomas Luevano (San Diego) blasted a hard ball over the left field fence for a solo home run, to bring in the Saints' first run.
"I was just trying to hit the ball as hard as I could, he threw me one up right there on a 3-2 count and I just got it," Luevano said. "We need to focus on having good at bats and getting guys in scoring position as much as we can."
The Blues responded in the bottom of the fourth with another single run batted in.
After three scoreless innings from both sides, the Saints scored their second run of the evening in the eighth inning. Luevano singled to left field and later stole second. He was brought home when Cowley hit a grounder to the Blues' second baseman, who fumbled the ball and was unable to make the out.
Righty Michael Hendricks (Lee) was brought out of the bullpen to pitch the eighth inning.
Despite being down by five, the Saints battled through to the ninth inning to put up one final run.
The Saints welcomed left fielder Evan Russell (Tennessee) to the team only hours before the game. After being walked his first three at bats, he doubled to the gap in left field. He was brought home after catcher Jacob Wyeth (Cisco) hit a grounder to the Blues' pitcher, who was only able to make the out at first.
"Evan Russell is a really good player. He is a big addition to us," head coach Aaron Milam said. "He is going to make a big impact on the field but I think he is also going to make a big impact in the dugout."
The Saints are on the road again on Sunday as they take on the MLB Academy Barons in Compton, Calif. This will be the second time the two teams will face each other this week. The first pitch will be thrown at 7 p.m.
"We got a few arms left, we are going to throw a lot of lefties at [the Barons] because that is what seemed to equalize them on Wednesday," Milam said. "Our goal this week was to win the week and we still have an opportunity to do that tomorrow."
—
Contributors:

Saints Reporters Grace Mikuriya
Saints Photographer Riley Watson
What to Read Next