News
Saints' Offense Stalls in 5-1 Defeat to San Luis Obispo Blues
By Arroyo Seco Saints June 24, 2021 07:28am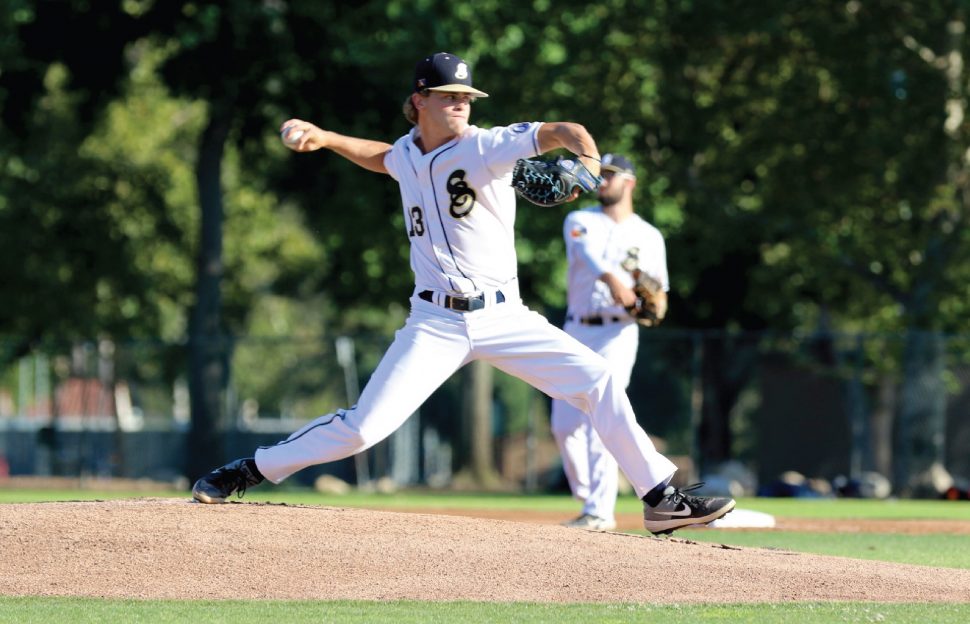 PASADENA,CA- The Saints' bats struggled to get going offensively, as Arroyo Seco fell to the San Luis Obispo Blues 5-1 at Jackie Robinson Memorial Stadium. The only run the Saints were able to muster came in the bottom of the sixth inning, while the Blues were able to capitalize early, putting up two runs in the top of the third inning.
Starting pitcher Tommy Steier (Creighton) had six strikeouts in five innings, allowing just two earned runs and one walk.
 "Just staying ahead, and getting ahead with the fastball," Steier said. "They were a very aggressive team, so I was throwing right at them and not messing around too much or throwing them too many balls."
Steier had 80 pitches on the night, and looks to have more extended starts on the mound.
"Having the endurance right now will help me go longer and later into the season," Steier said. "I think getting my pitch count up now will hopefully help me to do a little better going forward."
 Blues pitcher Heston Tole also had a night of his own, striking out the side in the bottom of the first inning.
 The first hit for the Saints came in the bottom of the fourth inning with a Justin Torres (UC Irvine) base hit into left field. Bo Willis (Northwestern State) had an infield single, but the Saints were unable to score.
 Torres delivered at the plate once again, drilling a double to center field in the bottom of the sixth inning. Jake McMurray (Oral Roberts) hit an RBI double down the right field line to make the score 2-1.
 The Blues were able to get three hits and one earned run off of Saints reliever Dominick DiRado (Binghamton, NY). DiRado quite literally pitched with the lights out, as the game was stopped in the top of the seventh inning to wait for the field lights to turn on.
 The Saints got light back on the field, but were unable to add on any more runs. Saints reliever Diego Avila (Claremont McKenna) had three strikeouts in two innings, while also giving up two runs.
 Saints Head Coach Aaron Milam stressed the importance of managing the bullpen in summer ball.
 "Obviously, these guys are on a loan, and we want to send them back in as good a condition if not better," Milam said. "Anytime you borrow something that's a good rule of thumb, but the rotation will establish itself, the majority of it."
 The Saints are looking to bounce back tomorrow night against the Conejo Oaks at Jackie Robinson Field, with the first pitch at 6:05 PST. Follow the action on the Saints Youtube and social media channels.
Contributors
 Saints Reporter Gianna Cefalu
 Saints Photographer Angela Martinez
Saints Videographer Brandon Lin
What to Read Next