News
Saints' Offense on Full Display in 12-5 Victory Over Barons
By Arroyo Seco Saints June 17, 2023 12:08pm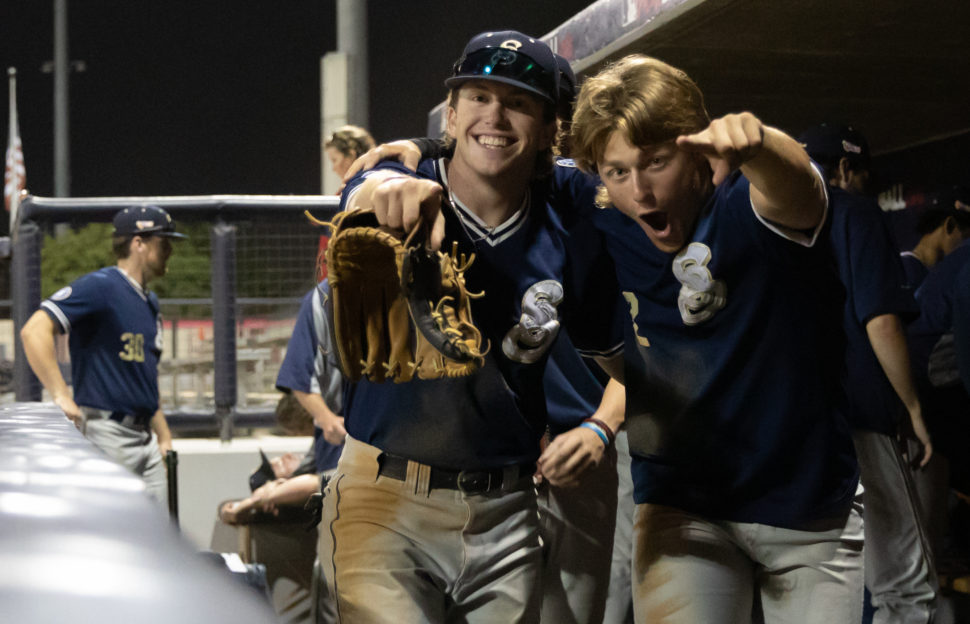 COMPTON, CA – The Arroyo Seco Saints offense was firing on all cylinders Friday night in Compton. Success behind the plate, paired with the team's best base running of the season, led to a 12-5 victory over the MLB Academy Barons. Wichita State teammates Alex Birge, Kyte McDonald, and Jack Little continue to impress for the Saints, contributing different skills to this Saints' roster. 
Infielder Jack Little put the Saints on the board first in this matchup. Little's single into centerfield brought in his two collegiate teammates, McDonald and Birge. 
"It feels like we're back in college," Little said. "We're having a good time, and it really helps me having them here." 
The trio's chemistry is seeping into the rest of the Saints' roster. Smiles were seen throughout this matchup. One guy who never fails to smile for the camera is Alex Birge, and rightfully so. The Saints catcher continues to provide power behind the plate. After clearing the fence in his past two games, Birge nearly put one over for a grand slam in this matchup. His ball traveled deep into right centerfield, resulting in a bases-clearing triple. 
When asked about his now second triple of the season, Birge answered the same as when he was asked about his first. 
"Jack and Kyte are fast man," Birge said with a smile. "I have to keep those guys on their toes!" 
Birge's triple would bring in the teams' final three runs in this ballgame, giving them a season-high 12 runs on the night. In between Little's single in the fourth and Birge's triple in the eighth, the Saints brought in seven more runners. Kyte McDonald, the final part of this three-headed monster, scored FOUR times in this game, putting on a true show around the base path. 
McDonald was one of many Saints with success on the base path in this one. Collectively, the team tallied 11 stolen bases in this game. Kyte McDonald and Jared Quandt (Hawaii) both stole three bases, Jack Little stole two, and Alex Birge, Richie Morales (Arizona), and Roberto Gonzalez (Cal State Northridge) all stole a base. 
After some struggle early in the season running the bases, this type of performance is exactly what this team needed.
On the bump in this matchup, the Saints got another great outing from Carter Herrera (Cal State Fullerton). Herrera added three more scoreless innings to his season totals, giving him six scoreless innings on the year. In those six scoreless innings, the right-hander has given up just one hit while striking out eight batters, truly dominating stuff from the California native. 
While Herrera picked up the most innings by a Saints pitcher in this matchup, the win belongs to reliever Carson McKinney (Texas). McKinney pitched a scoreless fourth inning for the Saints. 
The Saints pick up their second consecutive league win in this matchup. A rematch between the two squads is set for 6:05 p.m. PST Saturday night at Jackie Robinson Memorial Field. Fans are offered free entry in Pasadena but are also welcome to tune into the matchup live on our Youtube Channel. 
Contributors:
Saints Reporter Bennett Snyder 

(Ohio University)

Saints Photographer Sonny Tapia (Cal State Long Beach)
What to Read Next