News
Saints Offense Explodes in San Luis Obispo, Top Blues 14-6
By Arroyo Seco Saints June 11, 2018 08:58am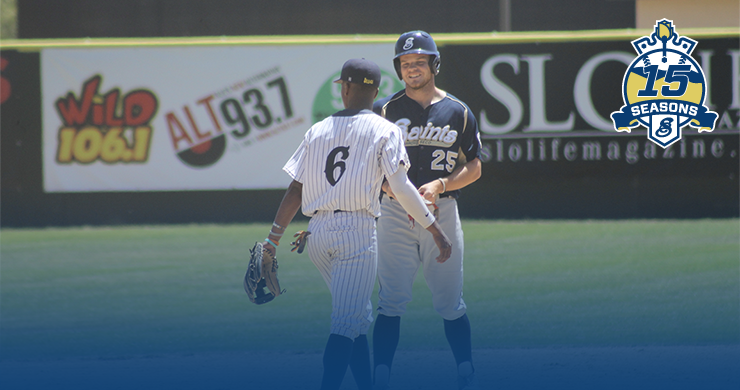 By: Henry Rounds; Photo: Emily Moran
SAN LUIS OBISPO, CA – A day after giving up 14 runs in a loss to visiting Force, the Saints flipped the script, hitting the road to take on the San Luis Obispo Blues for an afternoon CCL matchup and making the most of it, as Arroyo Seco swatted a season-high 13 hits over the course of a 14-6 win that evened the Saints record at 2-2 overall.
The game began with Arroyo Seco (2-2, 2-1, CCL) showing patience at the plate, working three straight one-out walks to load the bases in the top of the first inning. The very next batter, Drew Cowley laced a double down the third base line to plate Jack Smith and John Thomas and give the Saints the early 2-0 lead. This would the first of five a season-high five RBIs Cowley would contribute to the winning effort, including a second RBI double later in the game. The very next inning after a Blues run, Christian Moya would flash the power, sending the belt-high fastball way over the left field fence to increase the Saints' lead to 4-1.
The Saints continued to swing the bats well throughout the game. Arroyo Seco scored in seven of nine innings, and worked a season-high nine walks. For the second straight game, the Saints would find the power stroke, this time finishing with two long balls, including Tristan Peterson's first home run of the season in the ninth inning when the score was all but decided.
This would be all the run support Arroyo Seco starter Cameron Brown (1-0) would need. A day after giving up 14 runs, Brown set the town for a dominant game, striking out the side in the first inning holding San Luis Obispo to two runs over four innings while striking out eight. After the fourth inning, a combination of relievers Michael Gomez, Joey Steele, and Reed Osborne shut the door on any chance of a rally, striking out an additional eight.
NEXT UP
The Saints are off on Monday, but return to Brookside Park for a brief two game CCL series against the Santa Barbara Foresters on Tuesday and Wednesday, with both games at 6:05 pm before hitting the road to take on the Ventura County Pirates for a non-league tilt on Thursday.
What to Read Next