News
Saints Explode for 15 runs in Victory Over OC Riptide
By Arroyo Seco Saints June 18, 2022 12:18pm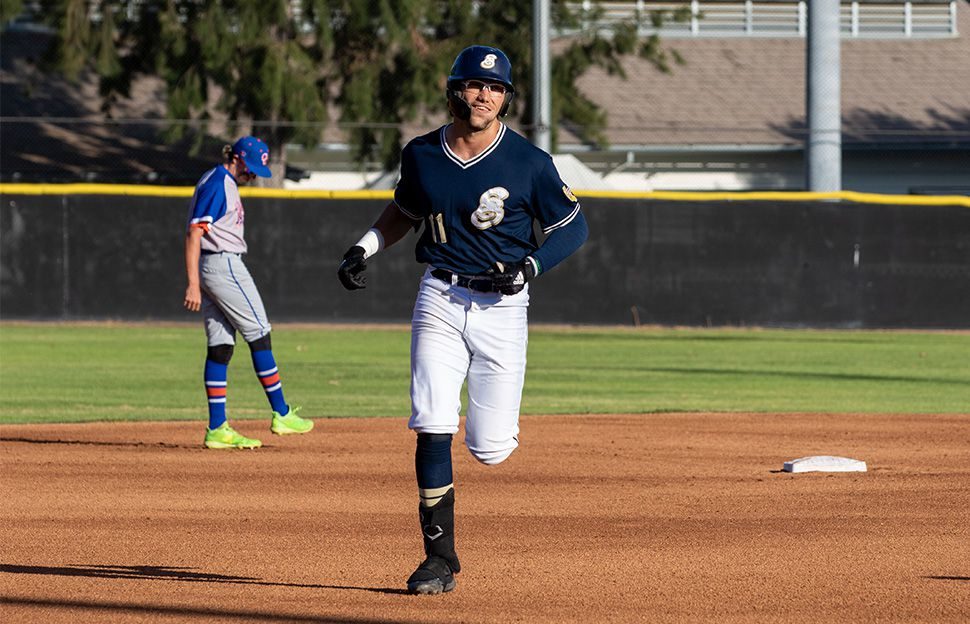 PASADENA, CA — The Arroyo Seco Saints faced the OC Riptide last night at Jackie Robinson
Memorial Field, finishing the night with a dominating 15-10 victory. The Saints jumped out to
an early lead and never looked back. Arroyo Seco's offense racked up 11 runs in the first four
innings led by Kyson Donahue (Hawaii) who went 3-for-3 with a homerun, four RBI, four runs
scored, and a walk. Donahue's blast was one of three home runs on the night for the Saints.
Donahue, who has compiled a .455 batting average, has proven to be one of the most consistent
hitters for the Saints early in the summer season. "I'm just looking for my pitch, looking for fast
balls early [in the count] and then adjusting to everything else," said the 6'-3", 210 lb. shortstop
from Honolulu. Donahue foresees the Saints' bats will continue to stay hot going into the two
games this weekend.
Donahue's college teammate at the University of Hawaii, Matt Wong, also contributed at the
plate. Wong, a left-fielder, went 2-for-5 knocking in three runs.
Nathan Becker (Rice) and Jordan Rogers (Wichita State) both went deep in the 4th and 5th
innings respectively. Becker slammed a massive 3-run homerun to right to put the Saints up 10-
1. The Jersey Village, Texas native also made multiple defensive gems while manning first base.
Rogers hopped on the homerun train with a shot of his own to deep left field.
Catcher Cooper Harris (Wichita State) walked twice and scored two runs.
Jashia Morrissey (Long Beach State) and Connor Beichler (Oral Roberts) each produced
standout defensive plays early in the contest. Beichler made a diving catch in center while
Morrissey made a smooth play in the 4-hole.
Starting on the mound for the Saints was right-handed pitcher Zachary Jacobs (Long Beach
State). He faced 12 batters in 3.0 innings allowing two hits and one run while striking out two.
Head coach Aaron Milam reflected on his team's performance. "The offense turned it on. We
were waiting for that to happen, but it takes a week to a week-and-a-half with the wood bats to
play, but we saw it happen tonight," said Milam.
The Saints travel to San Luis Obispo to play the Blues tonight at 4 p.m. PST. Watch the action
live on Saints' YouTube channel and follow along on social media.
Contributors:
– Reporter Nicola Iannelli (Texas)
– Photographer Angie Martinez (Mount St. Mary's)
What to Read Next