News
Saints Lose Close Battle in First Non-League Game
By Arroyo Seco Saints June 22, 2017 12:14pm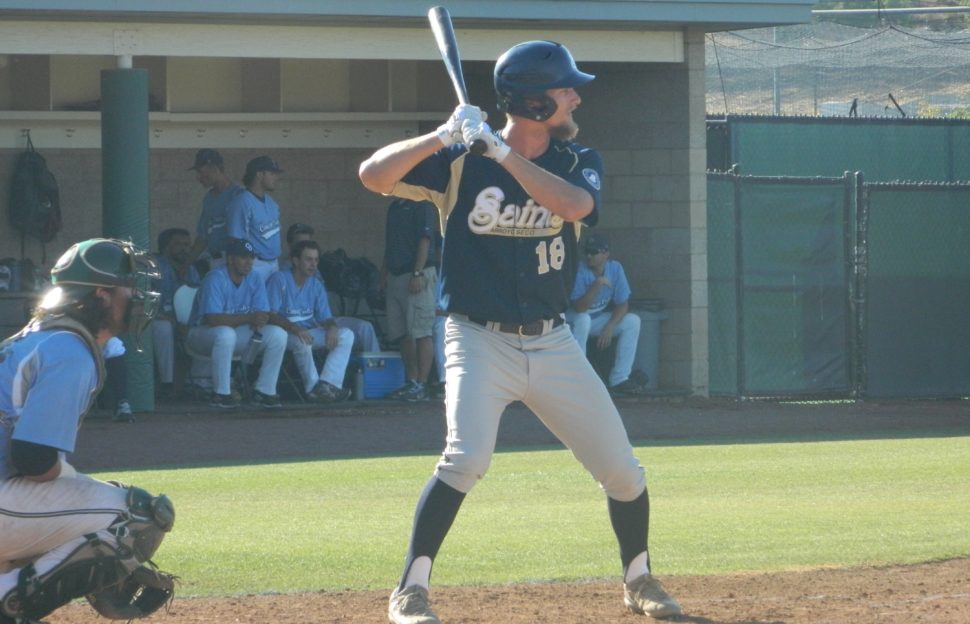 Brandon Rodriguez | Arroyo Seco Baseball Insider
PASADENA, Calif. – The Arroyo Seco Saints dropped their second consecutive game on Wednesday, losing to the San Diego Force by a score of 10-8 in their first non-league game of the season.
The Saints led for the majority of the game, but the Force would mount their comeback in the latter part of the game to secure victory. Saints head coach Anthony Chevrier was proud of his team's effort, but admitted that they were simply outplayed against.
"They were just a little better than us today," Chevrier said. "Their pitchers did a little bit better, their position players didn't make mistakes like we did in some situations and they came up with some clutch two-out hits which tied the game and put them ahead. At the end of the day, they deserved to win. We just got to do a better job at putting our guys in a position to be successful."
The Force would get themselves on the board first after a ground-ball would bring in a runner from third base in the first inning. San Diego would find home plate once more with a single in the second to gain a 2-0 lead over Arroyo Seco.
However, the Saints would respond back quickly as Spencer Mossburg (Lee University) would drill a solo-home run, cutting the Force's lead in half.
"Their starter was leading a couple of fastball's up early in the inning, so that's what I was looking for, and I connected with one," Mossburg said.
After a scoreless third inning, it was in the fourth where the Saints would lead an offensive rally. Now down 4-1 due to two singles that led to two runs at the top of the inning for the Force, the Saints came out swinging.
Mossburg hit a double to left field and brought Dustin Krob (University of Dayton) from second to home. Mossburg would make his way to home plate after Blake Burton (University of Washington) and Greg White (North Carolina A&T State University) both hit singles, now cutting the Force's lead to one.
With bases loaded, Brendan Krob (University of Evansville) would hit a three-run inside the park home-run, giving the Saints a 6-4 lead – their first lead of the game.
"I just saw a fastball up in the zone, up and in, and I felt that I could turn on it. Luckily, I got a piece off it and ran somewhat okay around the bases," Brendan Krob said.
The Force would add another run in the fifth, cutting the Saints lead to only one run. After a scoreless sixth, the Saints would add two runs in the seventh thanks to a double by Tyler Durna (UC San Diego) and giving Arroyo Seco an 8-5 lead.
However, it was in the eighth where the Force would lead their own offensive rally. After a solo home-run, a single to center field, and a wild pitch, the Force would tie the game at eight.
Another single from the Force would bring two runners home, giving San Diego the lead once again, 10-8.
The Saints were unable to score in the ninth, leading to San Diego's prominent victory. Chevrier expressed that San Diego put together key hits when they needed to most, but told his players to learn off of this experience, and to use it to compete in future games.
"It is what it is, and you just hope that your guys can come back, compete, punch back, and we've shown that we can do that all year long…we didn't tonight, but the main thing is make sure that their psyche is in a good strong place and ready to compete," Chevrier said. "So far, they've done a great job – you can't ask for them to rescue it every single time – that's impossible in this game."
Some Saints players admitted that they were surprised by the outcome as they believed they had performed well throughout the game.
"I was a little shocked today to be honest," Mossburg said. "I thought we were playing well all the way around – hitting the ball well and pitching was there when we needed it. A couple things went their way and they found a couple holes, where it turned around really quick, so it was tough."
Mossburg finished the day going 2-4 at bat, with two runs, two RBI's, and one home run.
Brendan Krob agreed with his head coach that this game was a learning experience, and that situations like this are common in baseball.
"This is a constant learning experience, so we just got to come out tomorrow and try to be better," Brendan Krob said. "Obviously, you just want someone to stop the bleeding, whether that be a good play from a defender or a pitcher striking out a guy, but it happens and it's a big part of the game. You see it all the time, but when it happens you just try to find something you can learn off it, so that the next time, you can stop it."
Brendan Krob went 1-4 at bat with three RBI and one home run against the Force. The Saints are currently 6-7 on the season.
The team will play their next game tomorrow at 5 p.m. against the Long Beach Legends at Long Beach City College.
What to Read Next