News
Saints Lose 5-4 to Crawdads Despite Strong Start from Oklahoma's Keegan Allen
By Arroyo Seco Saints June 26, 2022 11:36am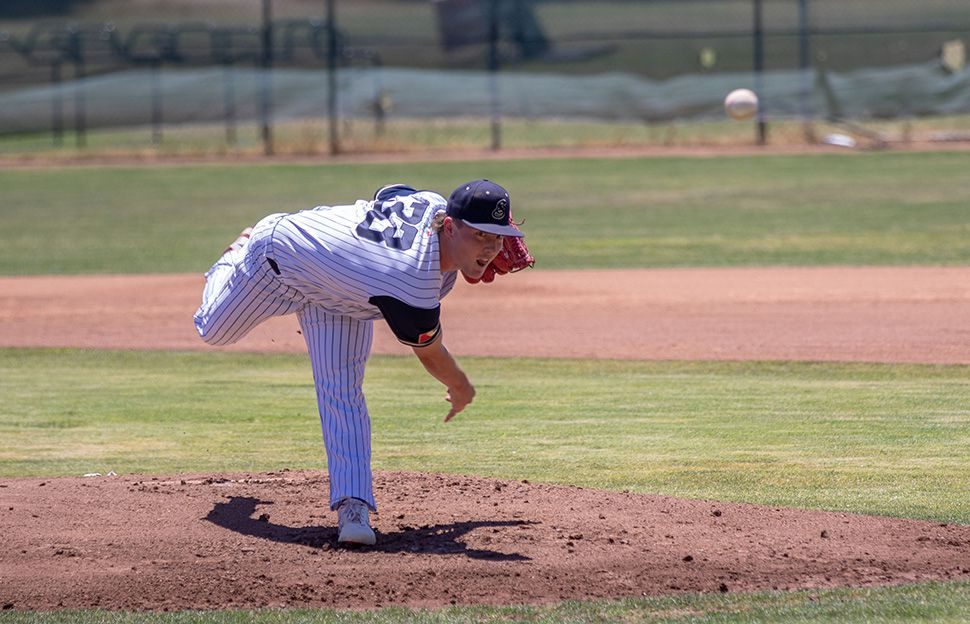 DANVILLE, CA – A walk-off grand slam from Coleman Schmidt (St. Mary's) capped off a five-run ninth inning for the Crawdads, spoiling a near-perfect game from the Saints. 
The Saints shut Walnut Creek down thanks in large part to a dominant start on the mound from Keegan Allen (Oklahoma). In five innings of work, Allen retired four batters while conceding five hits and no runs. The Rogers, Arkansas native gave a lot of credit to his fielders, as the Saints didn't record any errors for the second consecutive game. 
"It's a lot easier to pitch when you know you have a stud field behind you," Allen said. 
Arroyo Seco's offense got off to a quick start, as Matt Wong (Hawaii) tallied his team-leading 17th RBI in the first to put his team up 1-0. In the second frame, Jeffrey Bauser (Nevada) took advantage of two Crawdads' errors to advance to third, before a Matt Marlow (Regis) single allowed him to score. 
The Saints struck again in the fifth, when Marlow led off the inning with a solo shot into left, increasing the lead to 3-0. Beichler would score his second run of the afternoon in the eighth inning courtesy of a line drive single from Drew Cowley (Oregon). 
Down 4-0 in the ninth, Walnut Creek got onto the scoresheet when a wild pitch by Jacob Henderson (Iowa) allowed Kavares Tears (Tennessee) to easily tag home. After Jude Putz (Arkansas) was walked and the bases remained loaded, Schmidt launched the fourth pitch of the at-bat over the left-field wall to secure the 5-4 victory for the 'Dads. 
Saints' Manager Aaron Milam saw the loss as a valuable learning experience, as he discussed the importance of never letting the opposition stay in the game. 
"You'd better bury an opponent," Milam said. "If you don't, and you let them hang around… they'll come back and beat you." 
With Saturday's loss, the Saints move to 1-2 on their four-game Northern California road trip. They will look to end their trip on a high note when they travel to Fairfield, Calif. to take on the Solano Mudcats at 1:00 p.m. PST. You can follow the action live on the Saints' YouTube and other social media channels. 
—
Contributors:
Saints Reporter Sean Brennan (Arizona State)
Saints Photographer Angie Martinez (Mount St. Mary's)
What to Read Next