News
Saints Hold Lead Through Five, Fall To Riptide 6-2
By Arroyo Seco Saints July 11, 2018 12:14am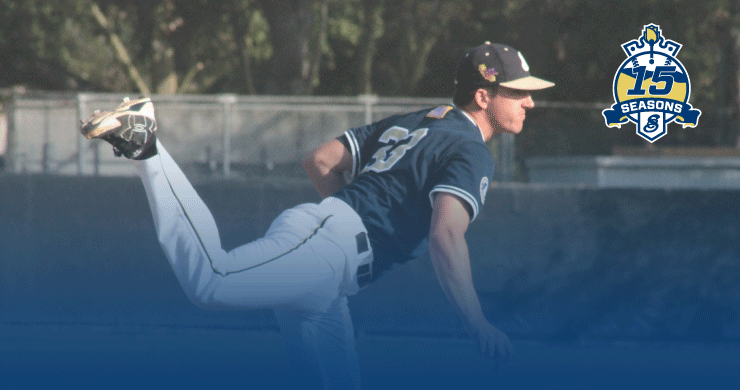 Article by Megan Taenaka; Photo by Emily Moran
PASADENA, CA – The Arroyo Seco Saints and Orange County Riptide went back and forth with the lead in the first six innings on Tuesday night before the Riptide pulled away in the seventh to win the game with a score of 6-2.  The Saints two runs came from Colin Shepherd in the first inning and Jack Smith in the fourth. 
The Saints started off strong with a 1-2-3 first inning by starting pitcher Wyatt Kelley, ending with a strikeout.  In the bottom of the inning, the Riptide's pitcher had a rocky start, hitting Colin Shepherd and Drew Cowley before Nic Lacayo hit an RBI single to center to bring Shepherd home.  Both sides were scoreless in the second inning, but #32 of the Riptide evened the score in the top of the third inning with a solo shot to center. 
The Saints once again took the lead in the bottom of the fourth inning thanks to an RBI triple by Cowley, which allowed Jack Smith to score the second and last run of the night for the Saints.  Right-handed pitcher Jesse Reed took the mound for the Saints in the sixth inning, replacing Kelley.  The Riptide took the lead in the sixth and did not look back, with a run on an error and an RBI single to make it 3-2. 
The Saints sent Luke La Flam in to replace Reed in the seventh, but the Riptide added to their lead with an RBI double and a 2 RBI single.  Bobby Fulkerson then came in for La Flam and was able to get the Saints out of the top of the inning with no further runs from the Riptide.  The Saints tried to make a comeback in the last three innings, but were ultimately unable to record any more runs.  The Riptide were also unable to score any more runs in the remainder of the game, leaving the final score at 6-2.
HE SAID IT
Coach Buller:
[On being able to make playoffs] "We go on a run right here going into the playoffs, we can make it. We've shown we can compete against Santa Barbara, we've shown we can compete against Healdsburg and anybody, so if we get on this roll we can definitely do some damage."
Drew Cowley:
[On his success at the plate] "I just try to stay aggressive, try not to get too behind in the count, jump on a pitch if they leave something over the zone early in the count."
UP NEXT
The Saints will try to bounce back on Wednesday against the Conejo Oaks at 4:30 P.M. at California Lutheran University in Thousand Oaks. 
What to Read Next