News
Saints Keep Playoff Hopes Alive with Win Over Foresters
By Arroyo Seco Saints July 19, 2017 04:00pm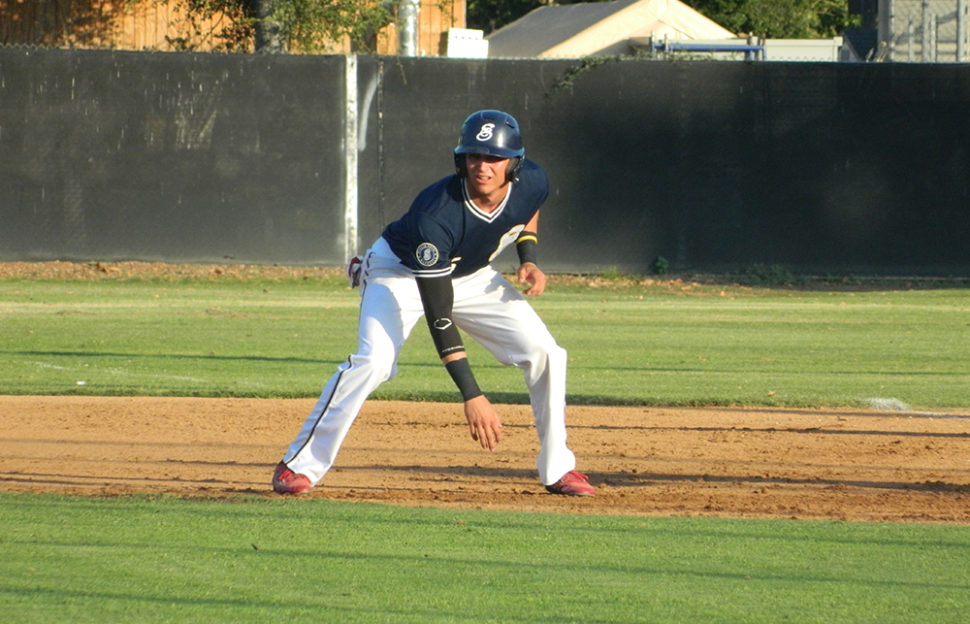 Brandon Rodriguez | Arroyo Seco Baseball Insider
The Arroyo Seco Saints secured their biggest win of the season on Tuesday night against the Santa Barbara Foresters, winning 8-4 at Jackie Robinson Memorial Field. With the victory, the Saints snapped the Foresters 11-game winning streak, and hope to use the momentum to catch up to the Orange County Riptide in the Southern Division of the CCL.
The Saints, who are now 15-12 in league play, were able to take down the Central Division's top-ranked Foresters (21-9 in league) due to a combination of great pitching, defense and batting performances.
"It was great to win this game. Our pitcher came out and did a hell of a job and then we were able to come out and get the sticks going at the end. It was just a really good win overall," Saints shortstop Alex Briggs (LIU Brooklyn) said.
After two scoreless innings, the Foresters would strike first with a 2-RBI single by Joshua Jung. In the third inning, the Saints would add a run of their own after Blake Burton (University of Washington) would hit an RBI single to bring Brandon Shearer (Loyola Marymount) home.
In the sixth inning, Burton would hit a triple to bring in both Brennan McKenzie (Cal Poly Pomona) and Shearer, giving the Saints a 3-2 lead. Shortly after, Corey Harrell (Graceland University) would hit a single past first base to bring in Burton and give the Saints a 4-2 lead.
Burton would have a solid day for the Saints, going 2-3 at bat with one run and three RBI's.
The Foresters would not make it easy for the Saints however, as they would rally back in the eighth inning, scoring two runs and tying the game at four. Yet the Saints would deny the Foresters comeback by scoring four runs at the bottom of the eighth, which began with Briggs hitting a shot to center field, bringing home Shearer for his third run of the game. This was followed by Mitch Kerner (Emory University) hitting an RBI single to bring Joshua Magee (Faulkner University) home. The Saints would not let up as Harrell was brought home due to a walk, and Tyler Durna (UC San Diego) would hit a sacrifice-fly to bring in Briggs, giving the Saints an 8-4 lead over the Foresters.
Briggs explained that he was able to get a good idea of the type of pitches he was going to get, and just looked to take advantage of that.
"I knew that they had a new pitcher coming in and I was watching him warm up, and I knew that his off-speed pitches were not working as well as he wanted it, so I went up there looking for the fastball, and I was able to hit it to the outfield," Briggs said. "I just went up there and reacted, and it worked out."
Shearer, who performed well on both sides of the ball, said that the team's offensive was able to find the right holes and take advantage of the opportunities given.
"It was really nice to win, especially with the way we came back, it was just nice to win against a good team," Shearer said. "At bat, I didn't hit the ball very hard, but I was able to find holes and sometimes that's all you need to do."
Briggs went 1-4 at bat, scoring one run and one RBI for the Saints, while Shearer went 2-4 at bat with three runs scored.
After the dominant offensive performance by the Saints in the eighth, the Foresters would not be able to comeback in the ninth, giving the Saints a much-needed win and their first victory over Santa Barbara this season.
In addition to a great offensive performance, pitching remained strong throughout the day for Arroyo Seco. Starting pitcher Tommy Costello (University of Washington) pitched six innings, recording six strikeouts and only allowing two runs. Costello and the rest of the Saints' defense looked very different from when they last played Santa Barbara on July 9, where the Foresters beat the Saints 14-3. Costello believes that the whole team performed better and that defense is what made the difference for the Saints in this game.
"It was just fun to get out there and compete against a team who beat us last time pretty well. It was great to come out and perform differently, to perform better," Costello said. "I had better command today and was able to keep them off balance. For ground balls and fly balls, our guys made plays and that was the biggest difference in the game – we all competed."
Saints head coach Anthony Chevrier was very pleased with the win and believes that even though the team has gone through a lot this year, they are currently experiencing their second-wind.
"They seem like they've caught their second wind a little bit," Chevrier said. "We've gone through the cycle of guys getting hurt, and coming and going, and getting a few new guys who are hungry and ready to compete. Now we're in a situation where we are competing and playing up to our potential, and that's all we can ask for."
Now the Saints look to carry this momentum into the rest of this week, where the team will be entering their final stretch of the season with the CCL Playoffs quickly approaching on July 28.
"This win was huge, knowing that they are one of the best teams that we've played this summer. Coming out on top here is a big motivation boost for everyone," Briggs said. "I think we're going to come out the next couple of games strong, and get some wins."
The Saints will play their next game against the MLB Academy Barons tomorrow at 6:05 p.m. at Jackie Robinson Memorial Field.
What to Read Next