News
Saints in the Portal: A Pair of Texas Natives Heading Back to the Lone Star State
By Arroyo Seco Saints June 23, 2023 02:25pm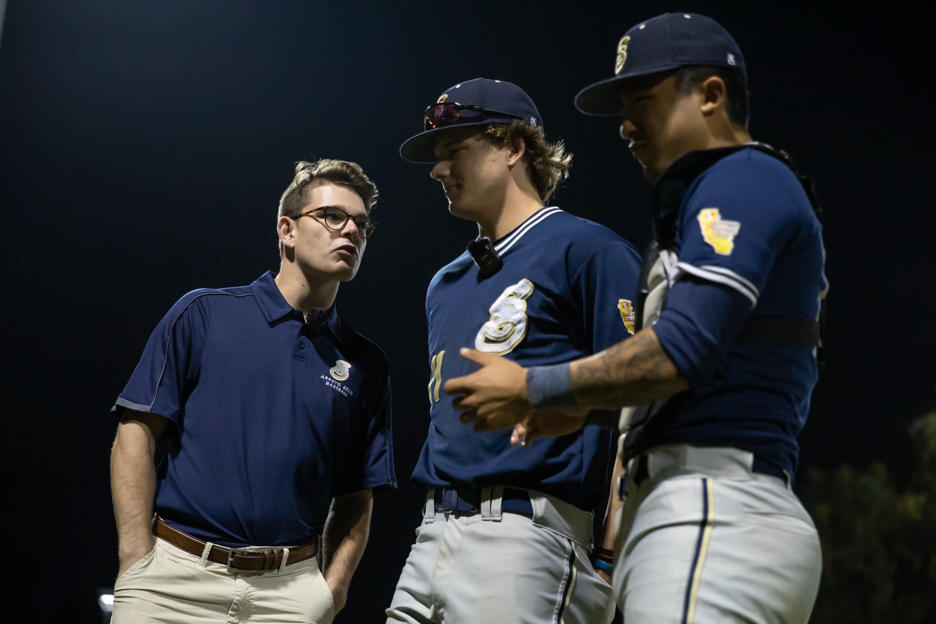 PASADENA, CA – Numerous members of the 2023 Arroyo Seco Saints have exercised their right and entered the transfer portal following the 2022-23 season at their respective institutions. With the many experiences and outcomes the portal can produce, the Saints are happy to see two players commit to schools in their home state of Texas.
Infielder Jack Little has been off to a great start in Pasadena this Summer. Despite an early injury at Wichita State last year, the Freshman started 45 games for the team. His impressive season earned him a spot on the AAC All-Freshman Team.
A coaching change following the season's conclusion at Wichita State led to Little entering his name in the transfer portal. The Katy, Texas native received heavy interest in the portal, receiving calls from multiple programs. Ultimately, he announced his commitment to Baylor University on June 17.
"I love Texas; I hated leaving it in the first place," said Little. "My family is there, and I've gotten to know a couple of people in Waco, so it should be a fun experience."
While returning to his home state of Texas seemed like a golden opportunity, Texas is a huge state; many schools in Texas would have appreciated the glove of Jack Little in the hot corner, so what made Baylor stick out from the rest?
"Well, first off, it's a pretty good school. I'm not the brightest, but I'll get by," Little said jokingly. "But the coaching staff was great too. How they talked to me, they just seemed very interested. They want to develop me while also winning a lot of games; it just seemed like a great fit for me."
With plenty of reps and matchups ahead of the Saints this Summer, Little will have opportunities to develop in Pasadena before heading to Waco. With one Player of the Week under his belt already, the sky is the limit for the Saints' third basemen.
Heading South of Waco is Saints' pitcher Anthony Giannette. After eight appearances in his first year at Louisiana Tech, the pitcher missed his entire second season due to injury. Following the 2022-23 season, the right-handed pitcher entered his name in the transfer portal. Like Little, Giannette is set to return to the Lone Star State after this Summer. On June 21, he announced his commitment to the University of Texas San Antonio (UTSA).
While finding the right program to display your talents plays a significant role in where a player decides to transfer, Giannette joined Little in mentioning that UTSA is the right spot for him academically.
"It'll be nice getting in-state tuition," said Giannette. "They have a good engineering program, which I want to pursue, so it should be a great fit."
With his hometown of Spring, Texas, located just north of Houston, the pitcher knows it will be just a short trip for his family to attend games.
"Everything sort of just feels homier there," the pitcher said with a smile. "It will be nice having family nearby and have them come out and watch the games."
Regarding his game this Summer, he's looking to capitalize on his opportunities on the mound for the Saints. He isn't going to dwell on a bad outing if he feels like he went out there with the right mindset.
"I'm just looking to attack more with all my pitches. Attacking the zone is the game of baseball," said Giannette. "If you attack and still lose, it doesn't matter what you do as long as you attack."
Giannette's mindset is one many Saints' players want to build on. After a successful two-game series against the San Luis Obispo Blues, Arroyo Seco is looking to keep the momentum rolling in a three-game series against the Conejo Oaks.
Keep an eye on our website to follow the various Saints with their name in the transfer portal.
Saints Reporter Bennett Snyder 

(Ohio University)

Saints Photographer Sonny Tapia (Cal State Long Beach)
What to Read Next