News
Saints Improve to 2-0 In 8-3 Victory Over The Ventura County Pirates
By Arroyo Seco Saints June 16, 2021 03:34pm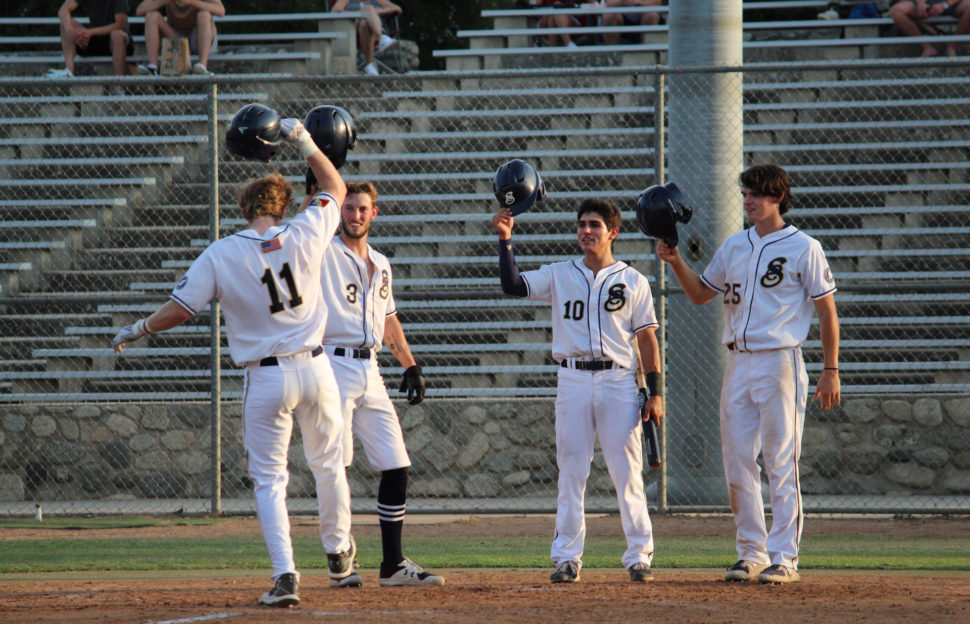 PASADENA, CA  – The Arroyo Seco Saints took a short break after their Saturday win over the San Diego Force, 12-3. Looking to capitalize on their first-game successes, the Saints found the means to maintain a so-far perfect season with Tuesday evening's victory over the Ventura County Pirates, 8-3. 
The opening crack of the bat left the beginning innings relatively quiet with a scoreless first three innings, thanks to the leadership of pitcher Tommy Steier (Creighton), who struck out one batter on the mound. The bottom of the third created swift change and offensive gains. A grand slam by Peyton Lewis (Texas State) ignited the Saints and left the Pirates down four runs in the blink of an eye.
"I had two strikes on me, so I was just trying to stay in there and compete and they threw me something I could handle and did damage with it," Lewis said.
The Pirates would go on to respond to the Saints' statement, locking in a run of their own off of line drive deep into left field.
The bottom of the fifth inning produced yet another long-ball by the Saints. A three-run bomb courtesy of Josh Cowden (Brigham Young) paved the way for Arroyo Seco to sneak away with a comfortable lead, 7-1. Jackson Cobb (Texas Tech) decided there was more to be said by this team, sacking a fly into the outfield, bringing Jag Burden (UC Berkeley) through home plate for the Saints' eighth and final run of the game.
"I like the approach of this group," said head coach Aaron Milam. "Usually, it takes two weeks to get going with the wood bats, but we came out of the gate going. There were a lot of hard-hit balls and I am excited to see where this team is in two weeks."
 With the offense in a strong position, pitching for the Saints continued to be a standout, as the team totaled nine strikeouts on the night. Right-handed pitcher Tommy Hannan (UC Berkeley) added to the defensive domination, throwing perfect seventh and eighth innings. Ventura County mustered up two more runs off of a deep fly by Darren Taylor (Chaffey College), but it was not enough to overcome the Saints, rounding out an 8-3 ball game.
 "This first week is exhibition games for us, non-conference opponents," Milam said. "We will play them again tomorrow and it is going to get a little tougher every night. You get in the league and everyone is going to be good, so we need to find out who we are. I'll take the win any way we can, at the end of the day it is a 'W' in the books."
 The Saints will bounce back quickly and travel to LA Valley College on Wednesday afternoon to go round two with the Ventura County Pirates, scheduled for 4:30 p.m.
—
Contributors
 Saints Reporter Andi Basista
Saints Photographer Angela Martinez
Saints Videographer Brandon Lin
What to Read Next