News
Saints Handed First Loss On Road Against Ventura Halos
By Arroyo Seco Saints June 09, 2017 10:07pm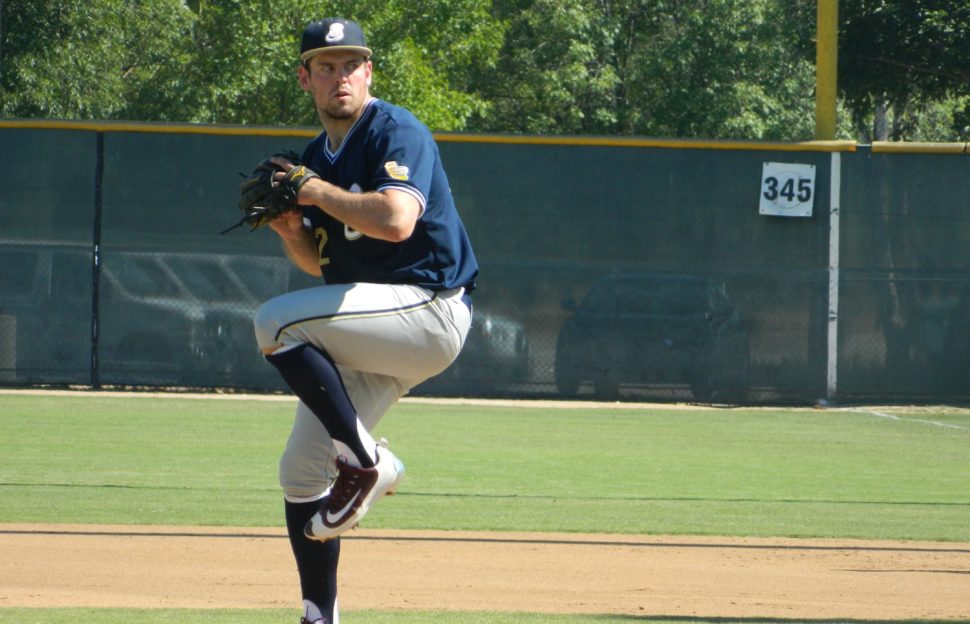 Kyle Pinheiro | Arroyo Seco Baseball Insider
(Ventura, CA) After a two-game home stand to start the 2017 season that resulted in two victories, the Saints were dealt their first loss at the hands of the Ventura Halos. Arroyo Seco traveled to Ventura College for a California Collegiate League match-up only to come up short, 2-0, in a tightly contested ballgame.
Saints starting pitcher, Jumpei Akanuma (Lee University) began the game on a solid note hurling two scoreless innings before allowing a two-run, RBI double in the bottom of the third. This would prove to be the only runs scored on the day from both clubs.
In the fourth inning, Saints Head Coach Anthony Chevrier called upon Corbin Lamb. The left-hander started off hot striking out the first three Halos batters he faced. Lamb, also from Lee University and a teammate of Akanuma, would go on to throw three scoreless innings of his own.
Chevrier was pleased with the pitching performances on the hill. "Both guys on both sides did a very good job…pretty much everyone on both sides that came into the game held their own and expanded [the strike zone] when they got ahead," said Chevrier. "…It came down to their guy getting two outs, [and the Halos]…knocking in two runs, which we failed to do when we had our opportunity."
The Saints had a tough day offensively producing three runners on base in the first five frames and not cashing in runners when in scoring position. Chevrier thinks his club needed to be more aggressive when opportunities presented themselves.
In the top of the seventh, Saints outfielder, Greg White (North Carolina A&T University), was hit by a pitch advancing Dayton University's Dustin Krob to second base. A subsequent hit to center would put the two in motion only for Krob to be eventually tagged out at home plate cutting down the scoring chance and ending the inning.
Despite the loss, Chevrier was upbeat about his pitching core and specifically the defense, which recorded no errors on the day. "We are very pleased in three games to give up only five runs…," noted Arroyo Seco's second-year head coach. "…What we ask is for every player to have a team-first attitude…that will give us a good summer…"
Notable performances: Newly acquired outfielder from the University of Washington, Blake Burton, had two doubles. Derek Gibree, out of St. Leo University, played stout defense and contributed two singles.
The Saints resume play tomorrow at home at Brookside Park against the Urban Youth Academy Barons. The first pitch is scheduled for 1:05 p.m.
What to Read Next