News
Saints-Foresters Compete For Seven Innings And Nearly Four Hours, Play To Be Resumed On July 23
By Arroyo Seco Saints July 12, 2019 06:45am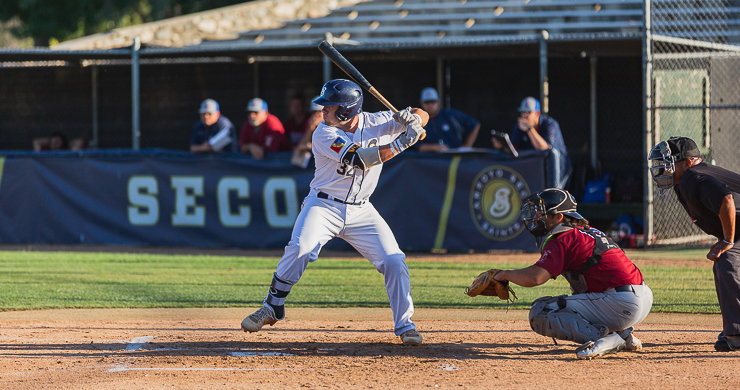 PASADENA, CA – The Arroyo Seco Saints and the Santa Barbra Foresters game was suspended on Thursday night with the Foresters leading the Saints 12-9 at Jackie Robinson Memorial Field.
 Alex Cornwell (USC) started the game for the Saints. Despite a couple of runners reaching base, Cornwell got out of the jam with the Saints offense ready to get some runs.
The Saints offense wasted no time as with runners on second and third and no outs, Drew Cowley (Cal Poly Pomona) hit a double down the right field line to score two runs. Andy Garriola (Old Dominion) hit his own double right after to right center to score Cowley from second. After one inning the Saints led the Foresters 4-0.
 In the top of the second, the Foresters got two runs of their own as they hit a home run to left scoring two runs.
 In the bottom of the third, Garriola hit his second double of the game scoring Evan Russell (Tennessee) from second. In the same inning, Pete Derkay (Tennessee) hit a double of his own scoring Garriola. The Saints got a total of three runs in the inning to give them a 7-2 lead.
 In the top of the fifth, the Foresters scored two more runs on another home run to cut the lead to two.
 The Saints bats kept on hitting as with the bases loaded Russell hit a bloop single to left to score two more runs to extend their lead back to four.
 With the score 9-6 and heading to the seventh, The Foresters scored six runs in the inning to take their first lead of the game.
 After a scoreless bottom of the seventh for the Saints, play was suspended and is set to resume on Tuesday, July 23 at Jackie Robinson Memorial Field.
 The Saints will now head to Palm Springs to take on the Power on Friday night. First pitch is set to be at 7:05 p.m.
—
Contributors

Saints Reporter Jesse Tovar
Saints Photographer Garrisson Pena

View the live stream of the game on the Saints' Youtube channel
What to Read Next